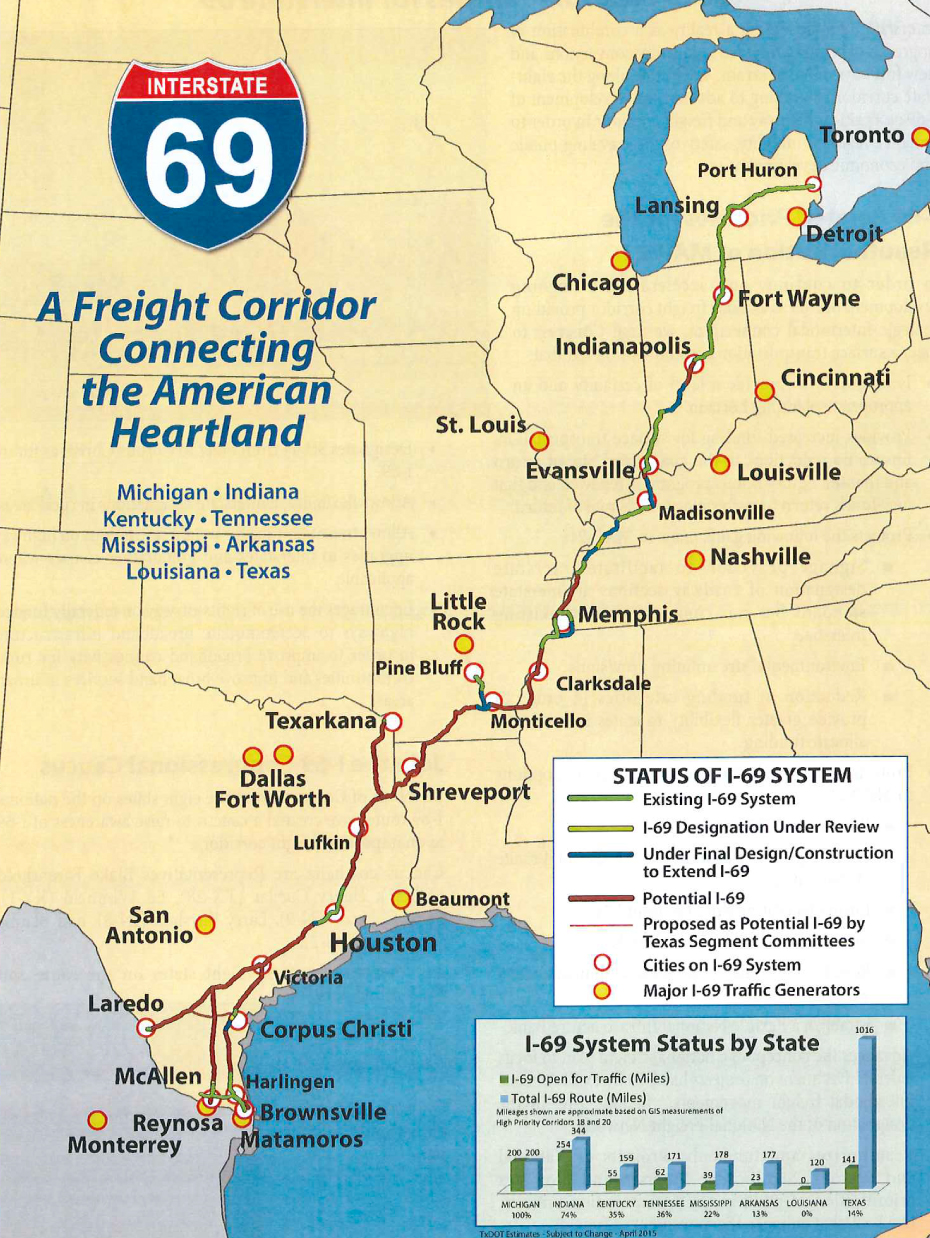 An Interstate 69 corridor has been chosen after 20 years of hurdles and debates.
J.T. Taylor, a long-time advocate of I-69 and Claiborne Parish resident, says the Homer meeting was very informative.
"It brought everybody up to date, where we are and what we're trying to do," he said. "We had a full house. With Section 14, we're going to try to get the money to construct, and get the land we need. We're trying to get that in the next highway bill – designated money."
Minden Mayor Tommy Davis says now that a route has been chosen, it's going to be a big asset to Minden and Webster Parish.
"I think it looks favorable to Minden and to Webster Parish," he said. "When it's going to happen, nobody knows, but when it does happen, it will be a great economic boom because we'll have I-20 and I-49 and I-69 all coming very close to us."
Bossier City Mayor Lorenz "Lo" Walker says the most important issue that came out of Thursday's meeting in Homer is getting funds designated in the National Highway Transportation bill.
The corridor will go through northwest Louisiana, from Eldorado, Arkansas to Tenaha, Texas. In Louisiana, the route chosen is Alternative 4 with Option 3 for SIU 14 proposed in Bossier, Claiborne and Webster Parishes, according to a status report.
The route is expected to run west of Dixie Inn and hit I-20 at Goodwill Road and go south, then east of Haughton. Then it will go from Haughton to Stonewall, according to figures presented in that report.
"At some point, around 2002, it was decided not to swallow it all at once," Walker, president of the I-69 Mid-Continent Coalition, said, "but to separate it into 32 separate independent utility sections running from Indianapolis to below the Rio Grande Valley. Each section of independent utility, if and when built, would have utility in and of itself for that region. There have been several completed already. Texas has really been going gang busters on their side of the river, putting a lot of money into it."
I-69 began in Indianapolis, and Walker says the goal is to complete it from there to central United States to Mexico. It started about 21 years ago in Indianapolis to have a corridor that runs north to south, and vice versa. The United States already has I-20, the corridor that runs east and west, he says. The idea is to have a corridor that runs from Canada to Mexico to increase the efficiency of the trade routes.
"For the past 20 years or so, this coalition has tried to get dedicated funding in the National Transportation bill to build the international corridor," he said. "The cost in today's dollars is about $29 billion. It has about three major bridges it has to cross and that's part of the cost."
As the 32 independent utilities were divided, the utilities that affect northwest Louisiana are SIU 14 and SIU 15, Walker says.
"It starts up around Magnolia, Arkansas and goes through the Shreveport-Bossier area," he said. "It comes through four parishes in the northwest corner, and I can't tell you why this route was specifically chosen, but I do know that the route will be where it is and those two sections of independent utilities come through northwest corner of the state."
When it comes to actual construction, Louisiana will only pour concrete from the border of Arkansas to the border of Texas, he says. The coalition is now trying to get enough money from the state to acquire the rights-of-way to prevent it from being more costly in the future.
"Hopefully one day we'll get enough money to construct it," he said. "In today's dollars, SIU 14, in northwest Louisiana, is around $778 million. From an economic standpoint, when you look at the economic value to the state, if it didn't come through the state, we would not be a part of the whole system."