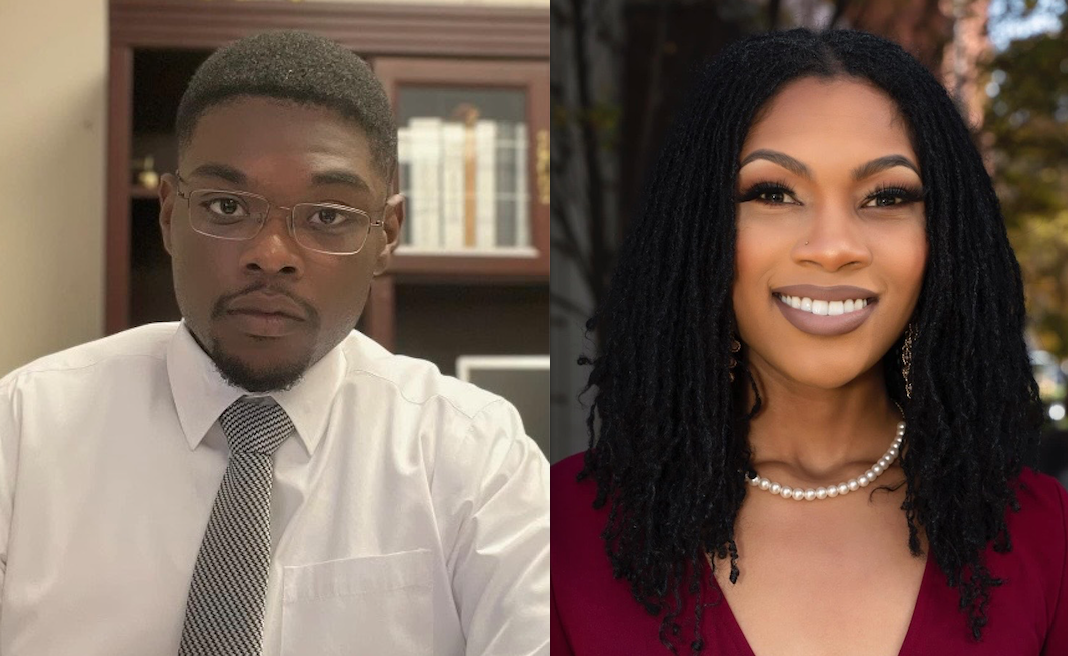 This is the first in a series of interviews to introduce the community to the new administrators in our public schools.
Minden High has begun this school year with two new assistant principals, Mr. Jonathan Washington and Dr. Whittney Polley.
Mr. Washington was born in Minden and, though he has also spent time in Houston, he was a student here since 1st grade, graduating from Minden High in 2009. Even though he comes from a long line of educators, he did not anticipate following in their footsteps. "I wanted to be a marine biologist," Washington said. "My whole family on my mom's side — the majority — were educators and administrators." After graduating from Minden, Washington went to Grambling University and started by majoring in biology, but mentors there felt that he was needed in education and persuaded him to also look at that route. "They convinced me," he said with a smile. "When I got into it and got sent to Ruston Jr. High and Grambling High at the time — now it's Lincoln Prep — I thought, 'I think I'm getting into this, and I think I like it.' They pulled on my heartstrings, and the rest was history." Washington received degrees in both biology and education from Grambling University in 2013.
Mr. Washington spoke about his first three years of teaching, and how he discovered what a difference an administrator can make in a teacher's ability to teach. He plans to provide the help teachers need with classroom management so that all students can benefit from their lessons. Besides being a classroom teacher, Washington was the STEM (science, technology, engineering, & math) coordinator in Bienville Parish and, after earning his leadership degree from Northwestern State University, an assistant principal in Caddo Parish.
Dr. Whittney Polley is also a native of Louisiana. "I'm from Logansport, Louisiana," Polley said. "That's where I graduated high school. I started at Louisiana Tech University and went there for a few years, and then I went into the military. I was in the Army for about six years. When I got back from my training, I transferred to Centenary, which is where I ultimately graduated in business and then in music. Once I graduated from Centenary, I moved to Nashville, which is where I was for the last five years."
Like Mr. Washington, Dr. Polley did not originally seek out education, but it found her as well. "I started my educational journey there [in Nashville] at a school called Lipscomb University. I got my masters from there. I started teaching — well, I was actually a banker first, and I hated it. I tried the classroom and, on my very first day — it was a hard day — I realized that that's where I was supposed to be, and I never left," Polley said.
Unlike Washington, Polley was not encouraged by those around her to pursue education. "I was told that I would burn out — you do so much, it's not going to last — but, this is definitely where I'm supposed to be. I was grateful to be in the classroom for a few years, and then I got promoted out of the classroom and into leadership. I got my doctorate degree at the same university — Lipscomb University — and I wanted to move back home to be around my family, my community, my support where I grew up, and that's what I did."
When the positions at Minden High became available, both Polley and Washington were excited to apply. Mr Washington said, "I wanted to give back to the district that I grew up in. Being back at the school I graduated from, and now being on the other end of it as an administrator as opposed to a student is a benefit."
Dr. Polley said, "I have family and friends from this area, and I've heard a lot about the pride here. When I applied, I heard more and more about the pride here. That's what made me feel that this place was homey and community-oriented enough to say that this is where I want to be an administrator. I was grateful for Minden allowing me the opportunity to be the assistant principal. I'm very passionate about this work. I take it seriously. I'm a change agent, and that's what brought me full-circle back here."
While Mr. Washington is "home grown," with an awareness of the history and families of Minden, Dr. Polley comes with a new outlook: "I think I bring the benefit of being a fresh pair of eyes. I think there is a benefit to having been here and I talk to Mr. Washington about that all the time, how he knows people and he knows just what to do. But I think there's also a strength in not having been here and not knowing, but being able to bring things from other places. I think one of my greatest strengths was leaving my small town of Logansport…there's so much more to the world," she said. "I've alway wanted to learn as much as I could. I'm a life-long learner, so I'm always looking for opportunities to know more. I experienced educational problems — educational inequities — in my own systems so, when I became a teacher, I wanted to dedicate my life to fixing that for students like me — students who went through it, students who are still going through it. I didn't know as a child what was happening but, when I became schooled and educated more on the issues, I was able to do something about it. So that's why I went away and now, coming back, I'm starting to see some similar issues. And not just from an inequity standpoint, but just things that we deal with in school districts in general. I'm excited to work with Mr. Washington to be able to see what the issues are, maximize the great things that are already happening here, and use the community to be able to inform what we do and make informed decisions to be able to make the world a better place — make this school a better place — for everybody. I think that's everybody's goal — the teachers, the principals — not just trying to make all these changes, but working with people. I am an outsider. I want to work with the community to say 'What do you see as the issues? How do you think I can help? What are your strengths and weaknesses? How can I maximize that? How can I help you?'"
Both Dr. Polley and Mr. Washington hope to bring more social/emotional restorative practices to their campus. These practices include a focus on building relationships and fostering respect and responsibility in others.
Mr. Washington is going to be expecting people to be accountable for their own actions. "I'm a big person on accountability," he said. " I hold myself accountable and expect the same in others. I want to be someone that offers stability. I am empathetic to all that's been going on, but we've just got to have accountability."
Dr. Polley will expect dedication to match expectations. "I always want the parents, students, and community in general to know that your expectation of us should match your dedication as a community member. Every kid I see, it doesn't matter what they look like, it doesn't matter what trouble they've been in — and I mean the worst of the worst — I'm going to fight just as hard for them as I am for the straight-A honor student. I mean that. But your dedication has to match that. I can't fight for you if you won't fight for yourself."
"I'm very excited to learn," said Polley. "I'm very loud, I'm very bold, I'm very courageous, but I always come in with a humble posture and a teachable posture so that I'm able to soak in everything that I can to be able to help be a change agent, help build community, help build myself within the community that's already here so that I'm able to be effective. If I don't understand my people, I'm not able to effectively and efficiently lead, and I don't want to waste anybody's time. I'm going to do my job and make the changes that are necessary, but I'm listening. I'm being taught. I'm ingesting information that is necessary for success."
"I have a lot of the same expectations," said Washington. "As much as I can give, I want to take away as well — to learn. I see a lot of administrators come in and bring about changes, but those changes aren't long-standing so it leaves with them. If it's something positive, if it's something great, then we need to build up that capacity within the community so that, once it becomes systemic, it becomes something that you see all the time, like traditions that we have. I want what I bring to the school to carry on as well. Something that can make sure that whoever comes behind me or whoever is with me can carry it on and have a lasting impact."
The school year has just begun, but Minden High's new assistant principals are ready and eager to meet the challenges ahead.