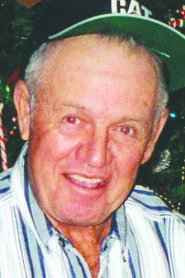 A great man Mr. James Allen Baird, Jr., 87, from another time passed away Saturday, January 12, 2019, with his devoted wife by his side. Born on a hot day in Haynesville, Louisiana on August 5, 1931, to Lucile Bailey Baird and James Allen Baird, Sr., and known to his closest friends as Jimmy, he was a silent, kind soul.
Jimmy grew up in Homer and went on to serve in the United States Air Force after graduating high school. He served 18 months fighting in the Korean War and ultimately came home to be with his sick father. In 1951 he began his life-long career as a heavy equipment operator for Madden Construction Co. in Minden, LA, Jimmy most likely built and rebuilt many of the roads in Louisiana, east Texas, and south Arkansas over his dedicated 50+ years with Madden.
When Jimmy wasn't moving dirt for road construction, he was moving dirt in his own yard. Never sitting still for long, he spent many hours of his spare time as a great gardener landscaping the yard with his many gardens, overflowing with produce that he gave to family, friends and beloved neighbors. Jimmy was a self-taught skilled carpenter and worked many hours in his shop building everything from hot plate trivets to a beautiful playhouse and even made birdhouses to donate to St. Jude.
Jimmy's finest hours in life were devoted to being a member and Sunday School teacher of Calvary Missionary Baptist Church in Minden. He spent countless hours studying the Word and helping others apply the Word to their lives.
A devoted husband, Jimmy leaves behind his wife of 35 years, Kaye Hopkins Baird of Bearden, AR; three sons, Gary Baird of Arlington, TX, David Baird of Bossier City, LA, and Pat Baird of Idabel, OK; four grandsons, Jason Baird, Jeremy Baird, Landon Baird, and Parker Baird; two great-grandsons, Gage and Jeremiah; a cousin, Claire Baird Brown and numerous friends.
A graveside service will be held for Mr. James Allen "Jimmy" Baird, 87, at Arlington Cemetery of Homer, LA, on Wednesday, January 16, 2019, at 2:00 P.M., with Rev. Jim Crain, officiating. The family will receive friends at Rose-Neath Funeral Home of Homer from 1-2 P.M., prior to the service.
In lieu of flowers, contributions may be made to St. Jude Children's Research Hospital.