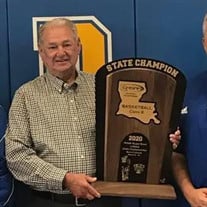 James Douglas Roach, age 84, of Doyline, Louisiana, died on August 6, 2022, at McLaren
Northern Michigan Hospital in Petoskey, Michigan. He was born in Haughton, Louisiana, on November 4, 1937, to Joseph Taylor and Annie Mae (Chandler) Roach.
James grew up in Webster Parish and graduated from Doyline High School with the class of 1955. He attended Northwestern State College in Natchitoches, Louisiana, where he met Patsy Aline Leach and later married in June of 1958. He also attended the University of Mississippi ''Ole Miss" where he received his Masters degree. James began his coaching career in 1960 at Doyline High School. Though James was a teacher for many years he was best known as Coach Roach. He coached for twenty years at Doyline High School before retiring and working in the oilfield for a brief time. He then taught and coached at Plain Dealing Academy and Glenbrook Academy in Minden before returning to Doyline High School in 1985. After retiring in 1995, James and Patsy began visiting the Eastern Upper Peninsula of Michigan to see family. James was a charter member of West Lake Baptist Church in Doyline and has a place in the LHSAA Hall of Fame.
James loved gardening and even while vacationing in Michigan during the summer he and his Son-in-law Dan would plant a big garden. James loved to fish, run yoyo's and trotlines, and never met a fish that wasn't big enough to keep. He also enjoyed tinkering with small engine motors. James was a master duck caller and although he enjoyed hunting he enjoyed "just talking to them" every now and then., James was an avid Louisiana State University football fan and a proud supporter of his grandchildren in all their athletics. Besides Patsy and his family, Coaching was the love of his life and All of his "ball players" were like family to him. He was an inspiration to all that knew him. He was a mentor to many students, families, and friends over the years and he will be greatly missed.
James is survived by his wife, Patsy Roach; son, Jimmy (Sara) Roach of Doyline; daughter, Rachel (Dan) Rambo of Hessel, Michigan; grandchildren, Kelsey Rambo, Kayla Rambo, Taylor Roach, and M'Lyn Roach; two great-grandchildren; sister-in-law, Susie Roach of Baton Rouge, Louisiana; and many beloved nieces, nephews, and cousins.
James is preceded in death by his parents, Joseph and Annie Roach; and brothers, Charles (Nancy) Roach, and David Roach.
In lieu of flowers, the family requests donations be sent to the prayer garden memorial fund in honor of James Roach. West Lake Baptist Church, PO BOX 778, Doyline, LA 71023.
Visitation will be held at Doyline High School on September 17th in the Cafeteria at 11:00 a.m. and services will be at 1:00 pm in the Doyline High School Gymnasium with Bro. Mike Sanders and Richard Jefferson officiating. Final resting place will follow at the West Lake Baptist Church Cemetery in Doyline, Louisiana under the direction of Rose-Neath Funeral Home in Minden, Louisiana.
Pallbearers: Jerry Walker, Steve Causey, Shawn White, Scott Smithson, Louis Ward, and Jerry Nolan.
Honorary pallbearers: Ronnie Watson, Jim Brown, Max Hammett, Ellis Blount, Lynn Craig, Gene Roach, Gary Roach, and Mike Roach.