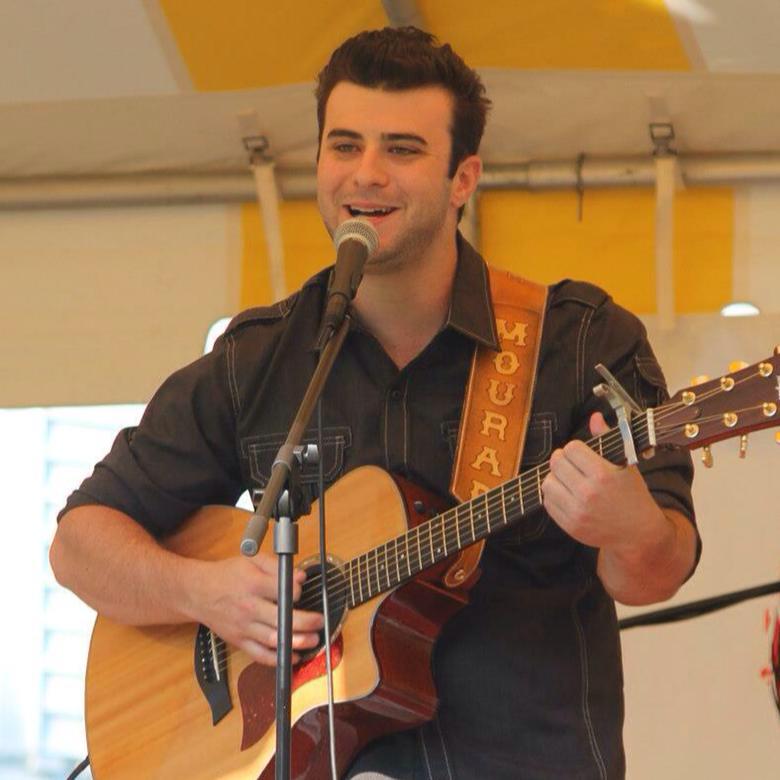 Singer and songwriter Jared Mourad could get a chance to get the judges for NBC's "The Voice" to turn their chairs around if he wins a contest that guarantees him this opportunity.
Mourad, a Minden native and Shreveport firefighter, made the top 20 in a regional talent competition "Sing Your Way to 50K." Saturday, March 7, at 6:30 p.m. He will be one of 20 contestants to compete at Horseshoe's Riverdome Theatre.
"It's a competition a couple of my coworkers made me sign up for," he said. "So, I signed up and they sent you an email with some dates to try out. I ended up going to Louisiana Downs after work, walked into a room with three judges like 'American Idol,' and you introduce yourself. They asked me to sing a song acapella, so I did.
Next thing I know, I'm getting an email a couple of days later saying they'd trimmed it down to 250 out of however many thousands it was."
He competed again and the contestants were narrowed down to the top 20.
"Now it's the finals, and I think it will be like 'American Idol', where we'll have a full house band and we have to rehearse a couple of times for the next week or two," he said. "We'll go up there, do our song and they'll narrow it down to three, and they'll pick a winner after the three perform another song."
The contestants sing cover songs and Mourad chose "How Country Feels," by Randy Houser.
The winner of the "Sing Your Way to 50K" will receive an all expense paid, guaranteed trip to Los Angeles to get a chance to turn around the judge's chairs on "The Voice," a hit show that begins with blind auditions and ends with the live performance shows. Judges include famous singers and songwriters Christina Aguilera, Pharrell Williams, Adam Levine and Blake Shelton.
Rehearsals will be at Blade Studios in Shreveport, which is a huge deal to him, Mourad says.
"He's (Brady L. Blade Jr.) phenomenal," Mourad said. "He played drums for Dave Matthews, EmmyLou Harris; he's the real deal. He's from Shreveport and he opened up a really, really high class studio in Shreveport to kind of give back to the community. He's had all sorts of people come through his studio."
Tickets for the show go on sale Wednesday. Mourad says those who wish to attend should purchase their tickets now because 600 tickets have been sold before sales open.
Jenny Mourad, Jared's mother, says she and his father Kip couldn't be prouder of their son.
"It's a great opportunity for Jared and the other 19 talented people from this region to showcase their talent," she said. "Kip and I have always known Jared had this talent, and it's fun to watch him pursue it."
Mourad has been singing most of his life, and it's only been in the last six or seven years that he's performed publicly. He and his best friend Matt Moseley of Springhill, whom he met playing baseball in 2006, play regularly together now. Mourad says everything in the music business they do together.
"I picked up a guitar maybe six or seven years ago," he said. "I just wanted to learn how to play. Matt gave me some lessons and a few guys he knows, they gave me some lessons too. I just kind of started fooling around and the more you practice the better you get. I really devote a lot of my spare time to both of them."
He and his band, The Jared Mourad Band, sang before a crowd for the first time around three years ago, and he calls it a "horrible" experience. It didn't stop him, though.
"I did a gig there (at a bar in Shreveport), and it was an absolute mess," he said. "Ever since then, me and my buddy Matt, we just never stopped. It's been a fun three years, for sure. It's stressful; the business end of being in a band is no walk in the park, but other than that, just being on stage is worth it."
Songwriting is his main outlet for him, he says.
"I enjoy it, and I've been a team sports guy all my life, and I love my job as a firefighter – the camaraderie," he said, "but it's really had me tap into a part of my brain that I didn't know existed. It's really turned out to be pretty good. It's a lot of work, but when you sit down to write a song, or when you're rehearsing, it's just a good feeling. You just hope that everybody who hears it makes them feel just as good as it makes you writing it or singing it."