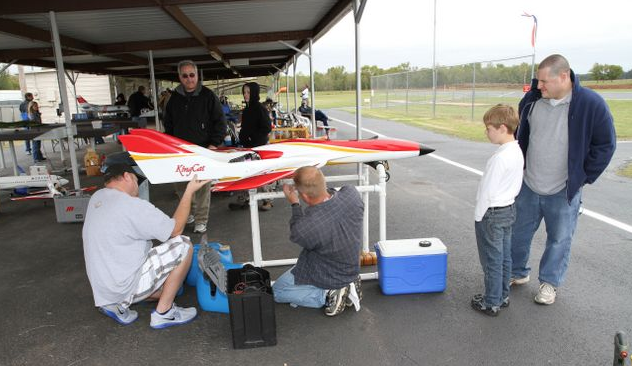 The Shreveport Area Radio Kontrol Society (SHARKS) will be holding their annual Jet Rally at the Minden Airport this Thursday, Friday, and Saturday. SHARKS is a club for people who enjoy radio controlled model aircraft and is a member of the Academy of Model Aeronautics (AMA).
For this event, the Minden Airport will be providing the airfield for these R/C enthusiasts to use.
"We just shut down the airfield for a few days and let them play with their expensive toys," said Steven Burdeaux, airport manager. "It's good fun for them and fun for the community if they want to check it out too."
This type of R/C aircraft requires more than just flying skills. As it says on the SHARKS website, "One of the most important aspects of the AMA is education. While building a plane, modelers learn about math, electronics, mechanics, physics, aerodynamics, and perseverance."
There are no scheduled events. The club members will be getting in as much flying time as possible, while working on their planes in between.
"They'll fly them around for as long as their fuel load will let them, and then they'll land, tinker on them a little bit, put some more fuel in them, and go back up — just fly them as much as they can," said Burdeaux.
The SHARKS will be cooking and selling food on Friday and Saturday to raise funds for their club. While the airfield will be open from 8 a.m. till 5 p.m. each day, most of the flying will occur between 10 a.m. and 5 p.m. The public is welcome to come out and watch these high flyers.