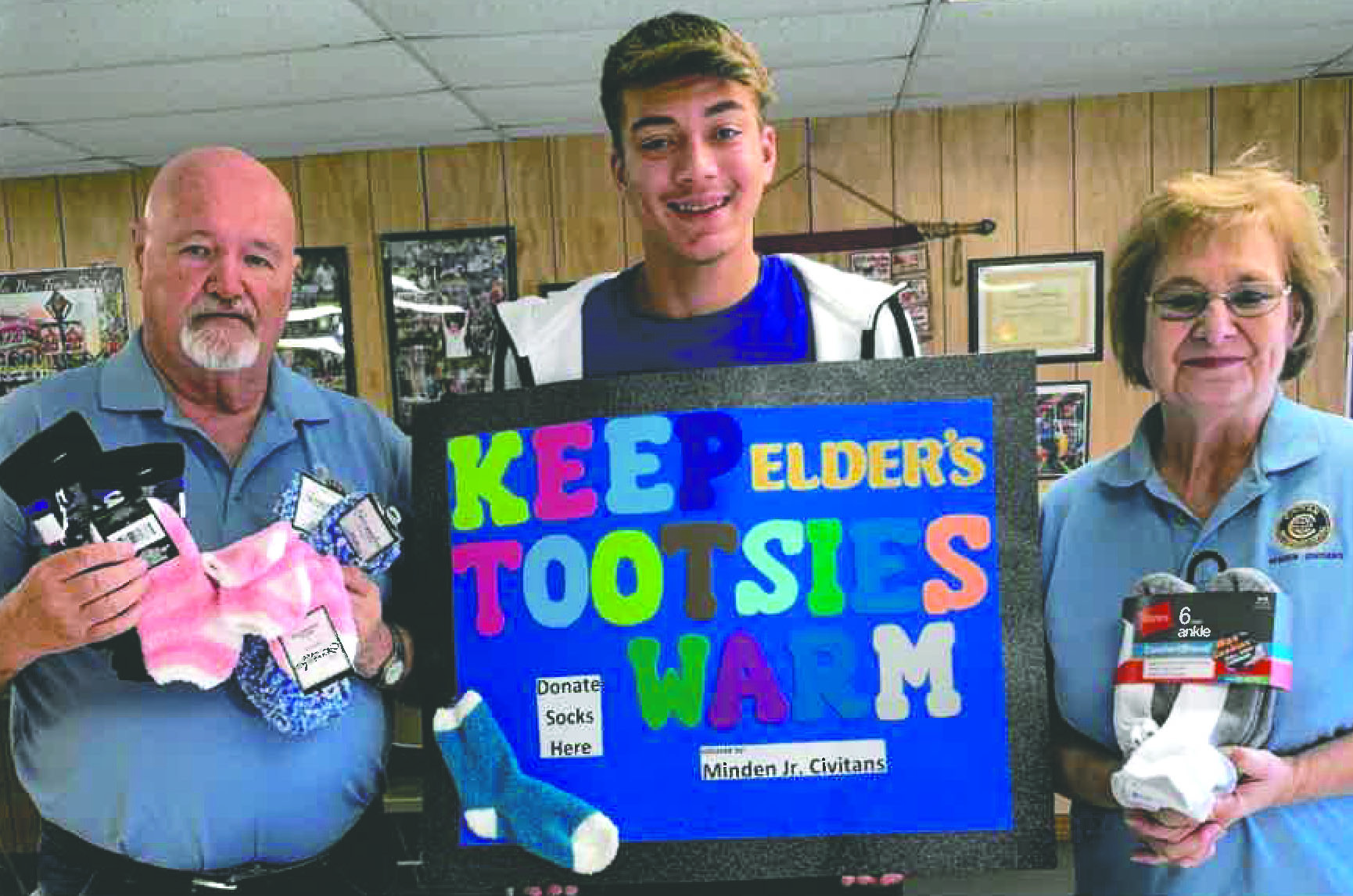 As the temperature drops, the Minden Junior Civitans have initiated a holiday sock drive, "Warming Elders Tootsies."
Throughout the holiday season the organization will be collecting socks to donate to local nursing home residents.
"Sometimes in nursing homes, not all of the families of the residents get to go out and see them and some residents don't really get a real Christmas. So that's what we wanted to bring to them – a Christmas present. We're throwing a Christmas party as well, so we want to give them a full experience," Junior Civitans president Ethan Jeffus said.
The group is requesting donations of new socks into one of their drop-off boxes which are spread from Minden to Shreveport. Minden drop-off locations include Minden Walmart, Minden City Hall, Minden Police Department, Geaux Fresh, and Cone's Farm and Garden.
"My favorite part about helping others during this season is the joy of being able to give back. I was blessed with a servant's heart, so it's always good to see how much of an impact can be made by simple acts of kindness during this season," Jeffus said.
During Minden's annual Christmas parade, the group will have a table outside of the CASA office to collect socks and donations. Outside of the Scarlet Gypsies, parade-goers will be able to buy socks from the location and drop them in the donation box. Momma's Little Corner and More will also be a drop-off location.
"The community should join us in this project because it's a time to meet a real need. There's so much chaos going on with the holidays, the shopping, and the 'me, me, me,' and 'want, want, want.' It's time to step out of what you want and step over into giving to someone else," Jeffus said.
Any kind of socks can be donated. Plain, fuzzy, or diabetic socks are all useful.
"Our goal number is about 150 socks and if we exceed that goal, we plan to move over into, maybe, going over to the nursing home or donating them to CASA," Jeffus said.
The holiday sock drive will continue until December 14 when the group is hosting a Christmas party for the residents of Meadowview Health and Rehab.