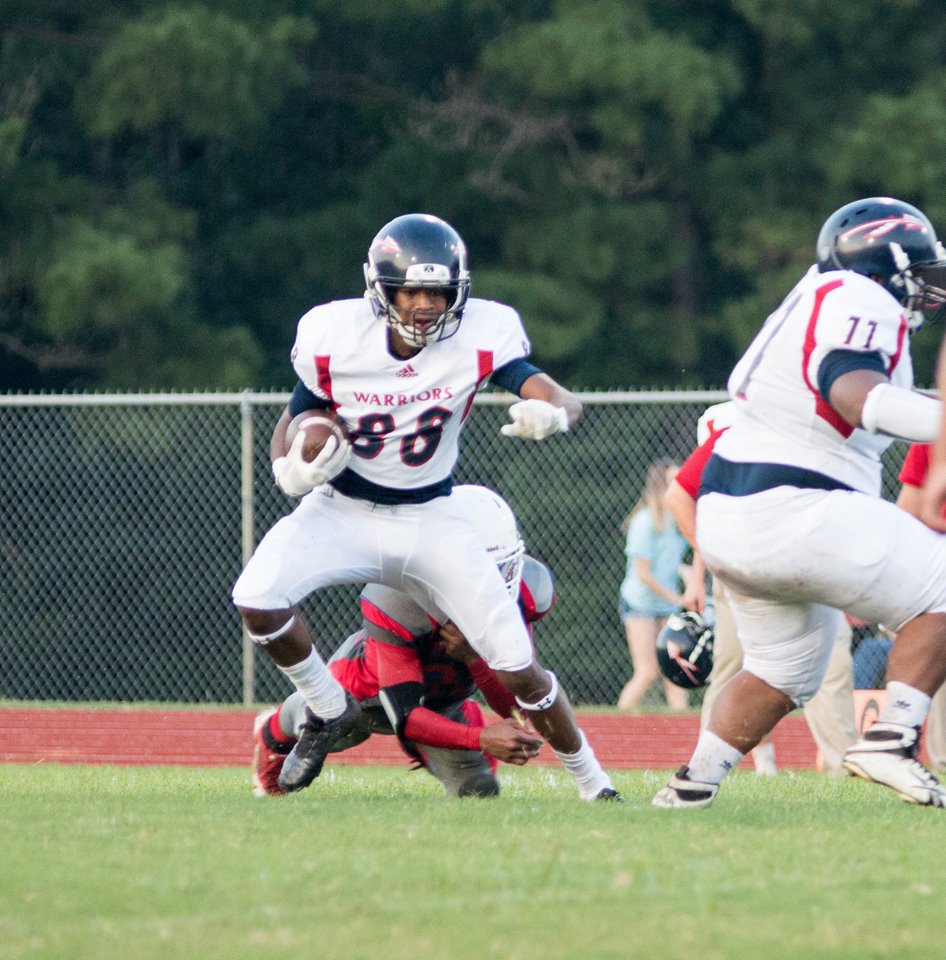 RINGGOLD – It was a special scene Friday night as Lakeside players, coaches and fans celebrated the end of dark days and the dawning of a new one.
The Jason McClendon began with an emphatic bang as the Warriors scored early and often on their way to a 68-0 win, the program's first since 2014, to snap a 23-game losing streak.
"It was really special for our football program, our kids, our school and our community in this part of the parish," McClendon said after the game. "To be able to snap a 23-game losing streak is a big deal. There are a lot of happy kids, a lot of happy parents, a lot of happy people in general and that means a lot to me and my family. It would have been special if we won by 1 point; it really didn't matter."
Lakeside's much-anticipated offensive debut surpassed realistic expectations, as the Warriors hit the Redskins for three first-quarter touchdowns, from Haydon Humphrey, Chase Mitchell and Bo Boley, to take a 22-0 lead after one quarter.
Sophomore quarterback Jordan Preuett had a phenomenal night, taking over the game in the second quarter with a rushing touchdown and a 26-yard touchdown pass to speedy wide receiver Gavin Jones.
The Warriors led 38-0 at halftime and only continued their onslaught, with Jayke Stewart scoring on a 30-yard run on Lakeside's first possession of the third-quarter. Preuett would hook-up with Tyrese Miles from 42 yards out and Buffate Coleman added a rushing score as Lakeside spread the wealth.
"We had everything working," McClendon said. "It was one of those nights where you don't call many plays that don't work. We focused on basic technique and executing and did a great job of that. Our offensive line did a great job of being physical up front and opening holes for our backs, and Jordan Preuett did his deal."
The Warrior defense had a noteworthy performance as well, holding the Redskins to a goose egg, flipping the script on the past two seasons of abysmal D.
"Our defensive line dominated the line of scrimmage," McClendon said. "We were in the backfield all night. We were very physical, we played low and we were shooting gaps and splitting double teams and things like that. Ringgold had a tough time getting any plays started."
The Warriors come home with the monkey off their back at 1-0 next week. They'll take on the Montgomery Tigers of Class 1A, who won 48-40 over Grant in week one.
Preuett finished 10-of-18 passing with 169 yards, 5 total TD's (4 passing, 1 rushing) and one interception. He added 4 carries for 48 yards rushing.
Coleman led the team with 87 yards rushing and a score; Mitchell led the receiving corps with 2 catches for 52 yards and added 21 rushing yards and a touchdown.