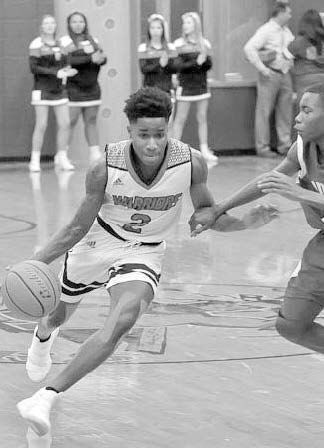 SIBLEY – A large crowd came out to witness the first competitive hoops of the season between the Lakeside Warriors and Minden Crimson Tide in the Lakeside Jamboree.
The enthusiasm in the bleachers spurred the action on the court. The JV boys got the night started, followed by the varsity girls and then the varsity boys.
In the varsity girls contest, veteran head coach of the Minden Lady Tiders Jacob Brown's team squared off against the Lakeside Lady Warriors who were being led by first-year head coach Rendi Dillard.
Both teams performed well, with Minden putting together a strong second half to claim a 44-28 victory. The Lady Tiders showed flashes of why some have them pegged as a top contender
in Class 4A, while the Lady Warriors appear poised to build on last season's playoff berth.
In boys action, the Lakeside Warriors were also debuting a new coach, as Marlon McDaniel has taken over for the only coach in Lakeside's history, Jason Gould.
Rennie Bailey's Crimson Tide showed some resiliency, erasing a 9-0 deficit to start the game with a 7-0 run.
The game came down to the wire with Lakeside hitting a 3-pointer at the final horn to send the crowd into a frenzy with a 45-42 Warrior win.
The LHSAA regular season gets underway for both schools next week as Minden will be at home taking on Ruston (girls) and Gibsland-Coleman (boys) while Lakeside hosts Doyline (4-1) in the Battle for the Paddle.