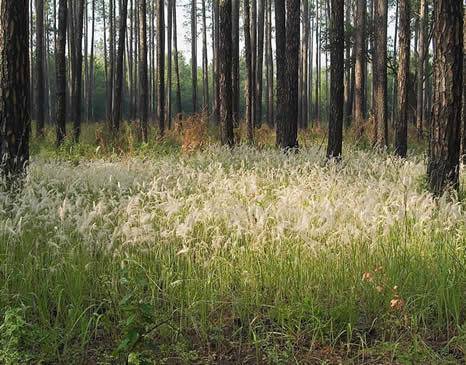 The Louisiana Department of Wildlife and Fisheries is advising private landowners that cogongrass (Imperata cylindrica) is in Louisiana, and now is the time to identify it and treat it. It was first discovered in Louisiana in 1990 in Washington Parish and has since spread to most of the southeastern parishes and some western and central parishes.
Cogongrass, an invasive exotic species, grows in very dense mats and rapidly displaces native vegetation, eventually converting acres of once productive habitat to an ecological desert, void of almost any desirable plants. When this happens, the wildlife species that depend on the native vegetation are displaced and must seek other areas to live, feed and reproduce. Cogongrass spreads by underground shoots called rhizomes and by seeds. The dense stands of grass are very flammable and burn with an intense heat that can damage or kill standing timber. Once burned, however, it comes back as vigorous as ever.
Identification of cogongrass is relatively easy, since it is typically found in dense, often circular, patches, void of any other grasses or forbs. The leaves are long and slender, up to six feet long and one inch wide, but more commonly about two to three feet long and ¾ of an inch wide. The leaves are a light yellowish-green and the midrib is offset to one side. It flowers in late March to mid-June and produces cylindrical fluffy white flower heads 2-8 inches long. The seeds are light and carried by the wind, similar to those of a dandelion.
What concerns wildlife biologists and foresters is the difficulty in controlling its growth. For a long time it was thought that there was no controlling cogongrass, but recent research at the US Forest Service's Southern Research Station in Asheville, NC, has shown that treating stands of cogongrass for three consecutive years with a mixture of a glyphosate and imazapyr herbicides has been effective (always follow label recommendations).
Treatments should occur in May, August or October. Often, a treatment in the spring before flowering and another in the fall before dormancy is effective. After the initial treatments, the area should be closely monitored for re-growth and treated as necessary. LDWF recommends treating this plant when it first appears, which is critical to gaining the upper hand. Left unmanaged, this grass will take over pine stands, pastures, roadsides and anywhere else it becomes established. The cost and effort to control cogongrass can escalate quickly if left unattended. Now is the time to look for it and begin treating your property, if needed.
If you suspect you have this weed growing on your property and need assistance with identification and treatment recommendations, contact your local LDWF Private Lands Biologist.
LDWF Wildlife Division field offices and phone numbers include: Monroe (318-343-4044), Minden (318-371-3052), Pineville (318-487-5885), Lake Charles (337-491-2575), Hammond (985-543-4777), Opelousas (337-948-0255), and New Iberia (337-373-0032).
For more information on this subject go to www.cogongrass.org , or contact Jimmy Ernst at 985-543-4784 or jernst@wlf.la.gov.