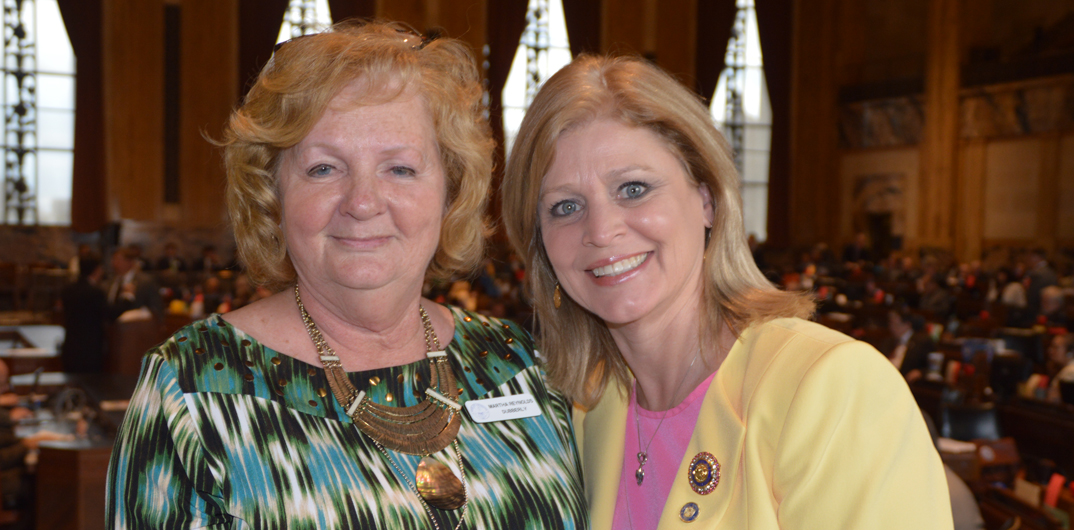 BATON ROUGE – When the Legislature is in session, the separation from family and regular job for almost three months can be tough on lawmakers and their families.
The Louisiana Legislative Spouses Auxiliary serves "like a support group for each other" and for their spouses during sessions, says Carol Shadoin, wife of Rep. Rob Shadoin, R-Ruston. The group is made up of men and women who are married to legislators in the House and Senate.
Carol and fellow LLSA member Martha Reynolds, wife of Rep. Gene Reynolds, D-Dubberly, say that being retired and having grown children gives them and several other spouses an advantage over some of the younger spouses because they can come to the Capitol while the Legislature is in session. Some spouses just come for special events.
"It's tougher on those with young children at home," Carol said. "It's a family sacrifice."
"For the ones who can't come down here, there's the sacrifice of being away from their spouses all that time," Martha added. "I don't know how some of those younger ones do it."
"It really is difficult at times," said LLSA President Rose Long, wife of Sen. Gerald Long, R-Winnfield. "We're there to support our spouses and there to support each other.
"People don't understand the stress (caused by the disruption of family and job routine during sessions) and sometimes the negative things that happen" when someone disagrees with decisions made by legislators, Rose said. "There are a lot of good things, but people have strong feelings about things that happen."
The spouses have that in common and although "we really don't talk about those things, it helps to know that others are going through the same things," she said.
Carol says it's important for spouses to keep up with what's happening in the Legislature so they can straighten out misconceptions. "It's especially important when you have social media that misinforms people."
"People forget we are just regular folks like them trying to make a difference for our districts and state," she said. "Some people think we're down here going to a spa every week and we're living in this fabulous place. They have no idea what The Pentagon looks like."
Carol said she had to laugh at a recent news story that described The Pentagon apartments across the street from the Capitol as being luxurious. "Sharing a two-bedroom apartment with another couple and having only one bathroom? That's not luxury by any means. It's awkward. We have to set a schedule of what time we're going to the bathroom."
Martha and Carol are regulars sitting on the side of the House chamber and sometimes visiting committee rooms.
"It can be a double-edged sword," Carol said. "Sometimes Rob is ready to go to sleep at night and I'm asking 'Why did that guy vote for that?' Five years ago, I wouldn't be able to tell you how many representatives we have."
The Spouses Auxiliary has existed for decades. Before women began to be regularly elected to the Legislature, it was the Legislative Wives Auxiliary.
So far, only one husband has participated in activities this year.
John Davis, husband of Rep. Paula Davis, R-Baton Rouge, attended the organizational lunch at Senate President John Alario's apartment at the Pentagon Barracks and recently got an insider's tour of the Governor's Mansion given by First Lady Donna Edwards. He said he would like to do more but his job gets in the way.
"We got the scoop on the coop," Martha says, laughing. "Gov. John Bel Edwards built a chicken coop behind the mansion."
At the first gathering, spouses introduced themselves and told of their backgrounds – professional and personal. "It was interesting to hear their different background stories," John said. "These are strong, accomplished wives. There are no shrinking violets. This is a comfortable group of folks who understand what public service means."
He said the spouses all feel their other halves are doing important work and that it's important to support them. As for his wife Paula, "If I wasn't supportive of her, it would make her job much more difficult."
The auxiliary meets once a week during legislative sessions for a combination of fun and community service activities. The estimated 50 spouses who are active in the group pay dues of $50 a year to pay expenses of activities and make donations to charities.
"We volunteer in the community and tour sites in some of the districts, so spouses can show us what their areas have to offer," Carol said.
"Sometimes we do fun things, and sometimes we do service projects," Martha interjects.
The group's most recent service project involved reworking and expanding flower beds and painting interior walls at the Salvation Army worship and community center. The Salvation Army serves several parishes in the Baton Rouge area and offers church services, meals, after-school activities and a number of other services in a low-income neighborhood in the Capital City.
The spouses purchased topsoil, flowers, shrubs and mulch and did all the work installing the flower beds. They also painted the interior walls of the Youth Hall inside the community center.
"The paint was donated but we also made a donation to the Salvation Army," Martha said.
Two days later, Kim Allain, wife of Sen. Bret Allain, R-Franklin, returned to plant two trees on the property.
Salvation Army Capt. Mary Meredith said the work done by the spouses "was on my list to do, but it wouldn't have been done so nicely and certainly not as quickly. They were wonderful." She said she considered the volunteer work "a blessing."
The next service project is at Woman's Hospital in Baton Rouge where spouses will tour parts of the hospital. The project will consist of cutting out material that will be used for making caps for women who have lost their hair due to chemotherapy and to make bags to hold patients' medications.
The get-togethers aren't all work. They have informational and fun tours and gather for lunch each week.
They're also scheduled to visit Dufrocq Elementary School in Baton Rouge, which has become an annual visit. "The students love to present a play for us and we're trying to find what their needs are," Rose said. Last year, the group donated a camera for school use, but if there is no need spelled out this time, "we'll pay for a party."
Earlier this session, they had a "Fun Day" in Alexandria hosted by Leetha Harris, wife of Rep. Lance Harris, R-Alexandria. They also toured the World War II Museum in New Orleans and had Lucky Dogs for lunch. Rep Kirk Talbot, R-River Ridge, is co-owner of Lucky Dogs.
First Lady Donna Edwards recently hosted the spouses for lunch and a Governor's Mansion tour. Future field trips include: Windrush Gardens, 25 acres of landscaped property at the LSU Rural Life Museum in Baton Rouge; the Celtic Media Centre, where several movies have been filmed; LSU for Kids and Grandkids Day; and, on the final day of the session, lunch at the Louisiana Midcontinent Oil and Gas Association office, a historic structure on North Boulevard.
John Davis said he has told the other spouses he is interested in several of the trips, but "It's going to be difficult to motivate me to go to a jewelry show." A May activity is a trip to New Orleans for the Helen Brett show.
He said he suggested skeet shooting and a tour of a rum distillery. "Their eyes lit up. They're interested in that," he said.
Spouses Auxiliary officers serve two-year terms with the presidency rotating between the House and Senate. Rose Long is the current president and the vice president is Paula Berthelot, wife of Rep. Johnny Berthelot, R-Gonzales. The treasurer is Charlotte LeBas, wife of Rep. Bernard LeBas, D-Ville Platte, and the parliamentarian is Marilyn Thompson, wife of Sen. Francis Thompson, D-Delhi. Carol Shadoin is corresponding secretary and Martha Reynolds is recording secretary.