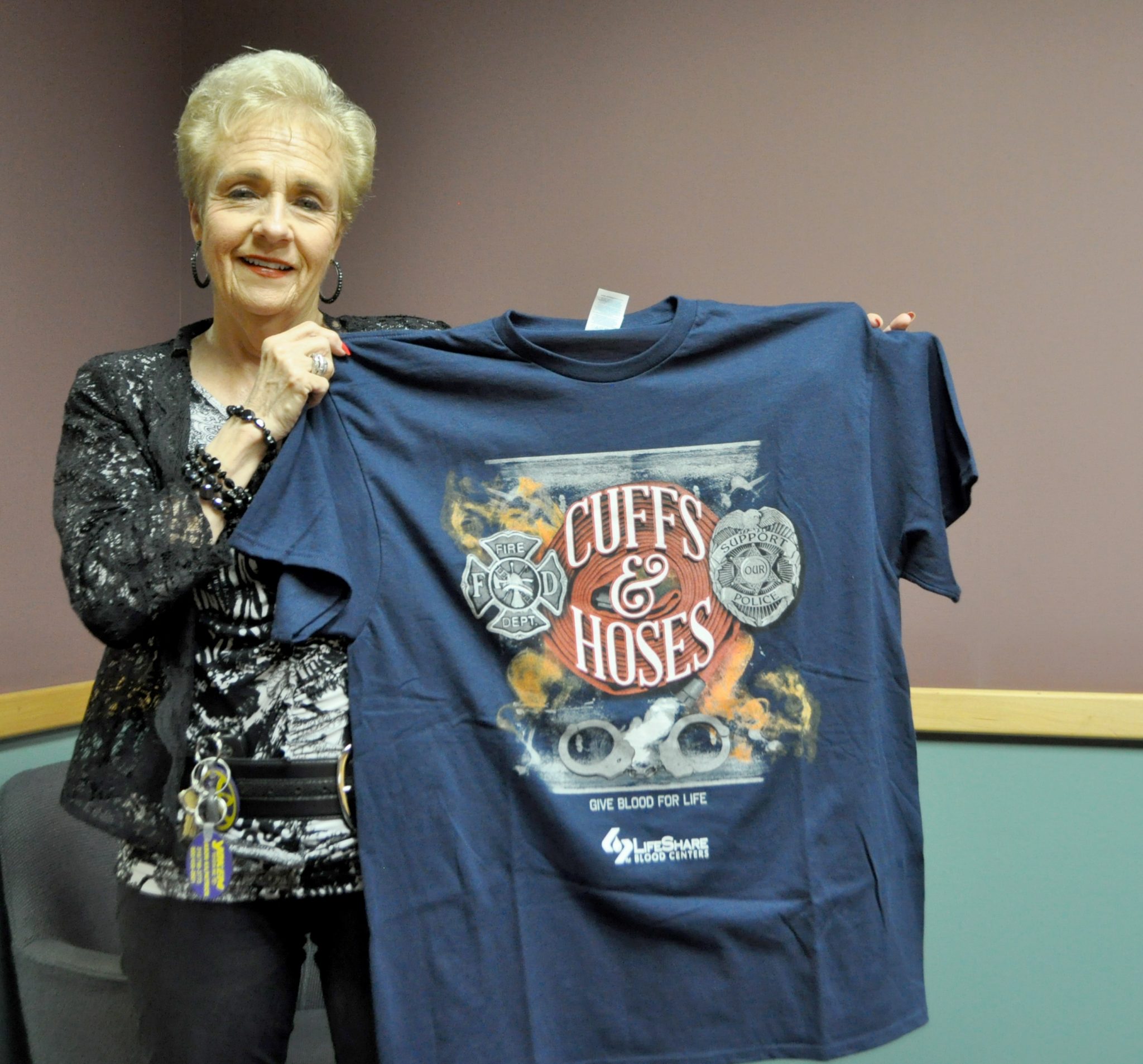 Local law enforcement and the Minden Fire Department are once again being challenged to give blood to those in need.
"Cuffs and Hoses," sponsored by the Webster Parish Sheriff's Office in conjunction with LifeShare Blood Center, will host the blood drive from noon until 6 p.m., Friday, May 29, at the Minden Civic Center.
"This is kind of like a competition (among) the police, the fire department and the sheriff's (office)," Mary Jo Henderson, of LifeShare Blood Centers, said. "Last year, the fire department donated more than the other two departments."
She says the Minden Fire Department donated some 42 units of blood to LifeShare. Fire Chief Kip Mourad says he and his family have always donated blood and it's important to give.
"Anytime somebody needs it, not just for an emergency, there's always a shortage of it," he said. "It's great to have people get out and give blood. It's not like something you can just go out everyday and just buy. I've been giving blood my whole life; it's something that can't be manufactured, so it's hard to get."
Minden Police Chief Steve Cropper says his father gave blood on a regular basis, which inspired him to continue that tradition after his passing.
"My dad was a big believer in donating blood, and he received awards for donating so much blood," he said. "It does save lives. It saves more lives than anyone would ever dream. It's very simple, it's painless and for that little bit of time, people don't realize just how many lives they can save."
Even though it is a competition among the law enforcement and the fire department, Henderson encourages the public to be a part of it as well by coming out and donating. Minden has been one of LifeShare's biggest supporters, and Henderson says she's proud of that.
"This is something that is very, very important, because the blood supply is way down," she said. "Minden does better than any place. It's the best to me. We're in need of all blood types, but O negative is the one that can be used universally."
For those who wish to donate, make sure to eat a good meal and increase fluid intake before donating. Also, be sure to know the names of all the medications you take.
Men must be at least 4 feet, 10 inches tall and weigh at least 111 pounds. Females must weigh at least 110 pounds and be healthy.
Henderson says some people may be temporarily or permanently prevented from donating blood due to certain health conditions or certain medications. Diabetics may give blood, but those who are on blood thinners will need permission from their doctors before giving.
Anyone 16 or older, in good health who meets height, weight and donation eligibility requirements may give blood. All 16-year-olds must present signed permission from a parent or guardian at each blood donation.
A photo ID will be required.