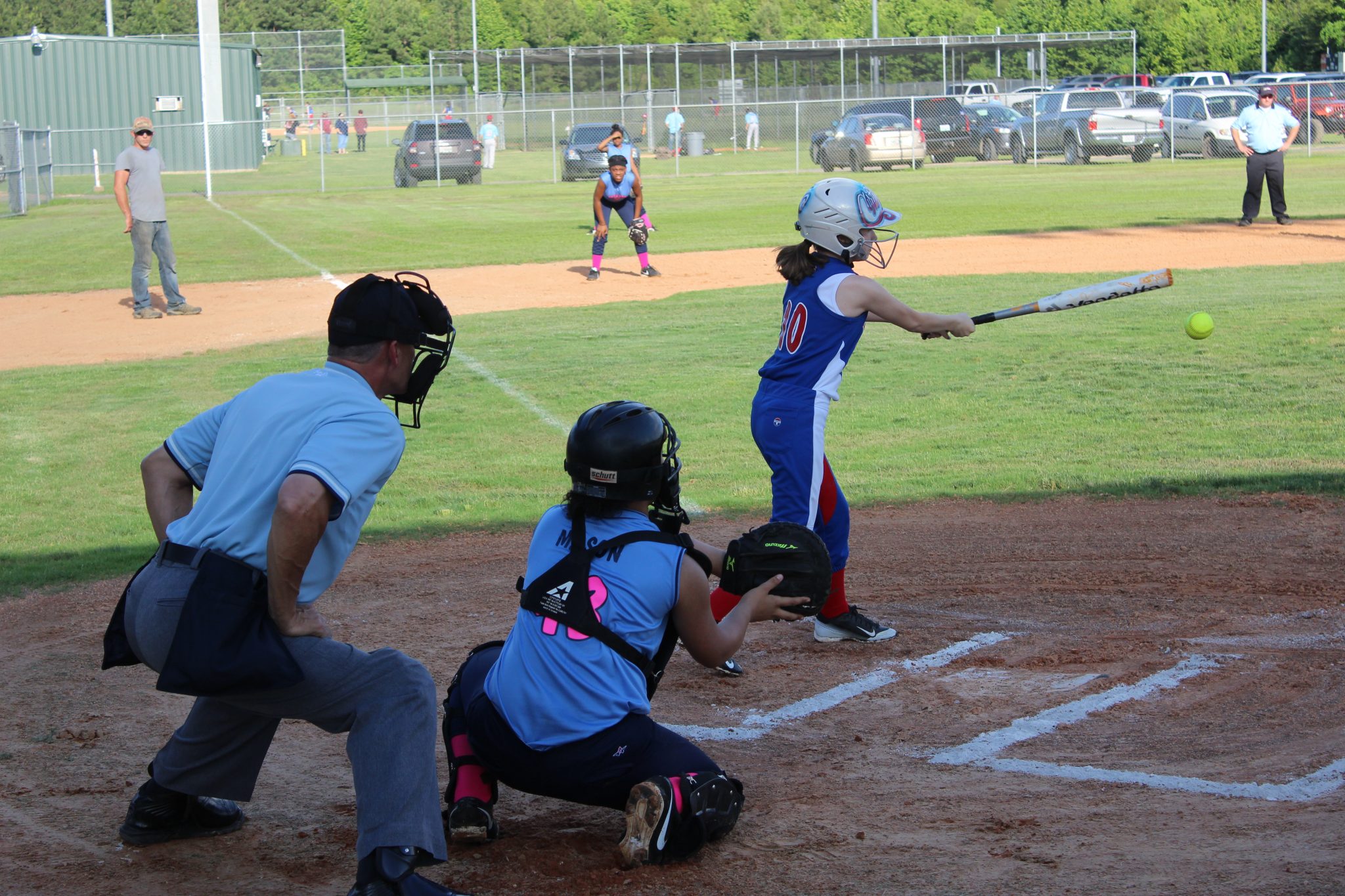 AA
Timberland 3
Braves 2
John Rolen led Timberland with a double, followed by Jaylun Hawkins with two hits and Nolan Still, Levi Miller and Abram Jordan with hits.
Peyton Gray doubled and singled for the Braves, followed by Carmello Smith with two hits and Landon Finley, Jessi Montoya and Eli Campbell each added a base hit.
Roughneck Rentals 3
Lil Soldiers 0
Zander Powell and Gavin Davis had two hits each for Roughneck Rentals. Garrett Simpson, Rion Coker and Braxton Glover added base hits for Roughneck.
Brandon Davis has two base hits for Lil Soldiers, followed by Christian Ambrosio and Blake Maynard with hits.
Wrecking Crew 4
Exterminators 0
Preston Frye singled and doubled to lead the Wrecking Crew, while Jekoye Knowles, Levi Pope, Hayden Hammett, Jack Price and Tucker Simpson added base hits.
Ross Hammett and Hayden Whitehead had the only hits for the Exterminators.
AAA
Alpha Energy 18
Minden Farm & Garden 4
Bradley Dick had two doubles to lead Alpha Energy, followed by J.D. Allen with a triple and Seth Martin and Chelby Hinton with base hits. Jordan Isbell and Hinton combined to no-hit Farm & Garden.
Lions Club 18
Minden Athletic 3
Jake Wilkins hit two doubles to lead Lions Club, followed by Dayton Sims, Brandon Winston, Ethan Latour, Chase Sentell and Keaton Loftin with hits. Wilkins also struck out seven batters on the mound.
Broox Swain had the lone hit for Minden Athletic.
Dixie Youth
Sluggers 6
Bandits 0
Jackson Powell had a big night for the sluggers, hitting a triple and double and adding 13 strikeouts on the mound for a no-hitter to key the Sluggers to victory. Bryce Swain had a big triple, while Brian Foster, Luke Dickerson and Jedyah Taylor had hits.
Jonathan Parkerson struck out six batters for the Bulldogs and Grady Brasher struck out four.
Tigers 8
Rangers 0
Ryan Sheets doubled and singled to lead the Tigers, followed by Christian Stevens and Jakob Walker with base hits. Trenton McLaughlin struck out eight batters on the mound for the Tigers.
Landen Hopkins had the lone hit for the Rangers. Trevor Chachere sat down four batters for the Rangers.
U.S. Silica 10
Minden Athletic 0
Ashton Stewart tripled and singled to lead U.S. Silica, followed by Thomas Rhames who had two hits and Connor Humphreys, Xander Turner and Matthew Seales with base hits. Humphreys also struck out five batters for U.S. Silica.
Drake Freeman struck out four batters for Minden Athletic.
Dixie Boys
Lakeside 6
Minden Elite 4
Michael Watts and Drake Austin had the only hits for Lakeside in the win, while Krystopher Stewart and Eric Lander both struck out three batters.
Treyton Butler and De'Audrick Gill had the only hits for Minden Elite. Butler also struck out four batters on the mound.
Gray's Jewelry 13
Lady Rangers 6
Abigail Clark led Gray's with three hits, followed by Lauren Barnett with two hits and Riley Austin, McKenna Chreene and Madison McGraw with base knocks.
Chelsea Hampton had two hits for the Lady Rangers, followed by Chayanne Smith, Asia Blow, Hallee Bug Smock, Kaybreyia Forbes, Natalie Dodd and Shelby Glenn with hits.
Kennon Krushers 15
Lions Club 4
Belle Douglas had two home runs and a single to lead Kennon, followed by Baleigh Haulcy with a home run and Leyla Slaughter, Brooklyn Davis and Tatum Oliver with base hits.
Keily Sumlin and Devin Harris had the only hits for Lions Club.
Dixie Angels
Timberland 3
Cooksey's Tax 2
Mallory Pesnell had the only hit of the game for Timberland, while Lauren Still, Pesnell and Landry Malone all struck out three batters for Timberland.
Kelsie Morgan and Hilary bates each struck out two for Cooksey's
Minden Athletic 10
Mark Dunn Tigers 0
Maci Tanner had a triple to lead Minden Athletic, followed by Sarah Margaret Mosley, Emma Earnhardt, Ella Floyd, Claire Waites and Ella Williams with hits.
Piper Stephens struck out a pair of batters for the Tigers.
Ponytails
CWW Fire 4
Gotshall Girls 1
Hollie Payne had CWW's only hit, while Laney Taylor struck out 13 batters to lead the way.
Cristalyn McDaniel, Bridget Morgan and Alyssa Oubre had the only base hits for Gotshall. Taylor Bumgardner struck out nine batters for Gotshall.
Sky Rangers 18
Subway 10
NuNu Franklin and Bethani Jackson had the only hits for the Rangers, with Franklin pitching well for the Rangers as well.
Holly Estes pitched well for Subway.
Belles
Haughton Heat 8
OWC 3
Karlee Osbon led OWC with a double and single, while Emma Mayfield added a base hit.
Giese, Sims, Greene, Edmunson, Compton and Ward all had base hits for Haughton. Giese struck out seven.