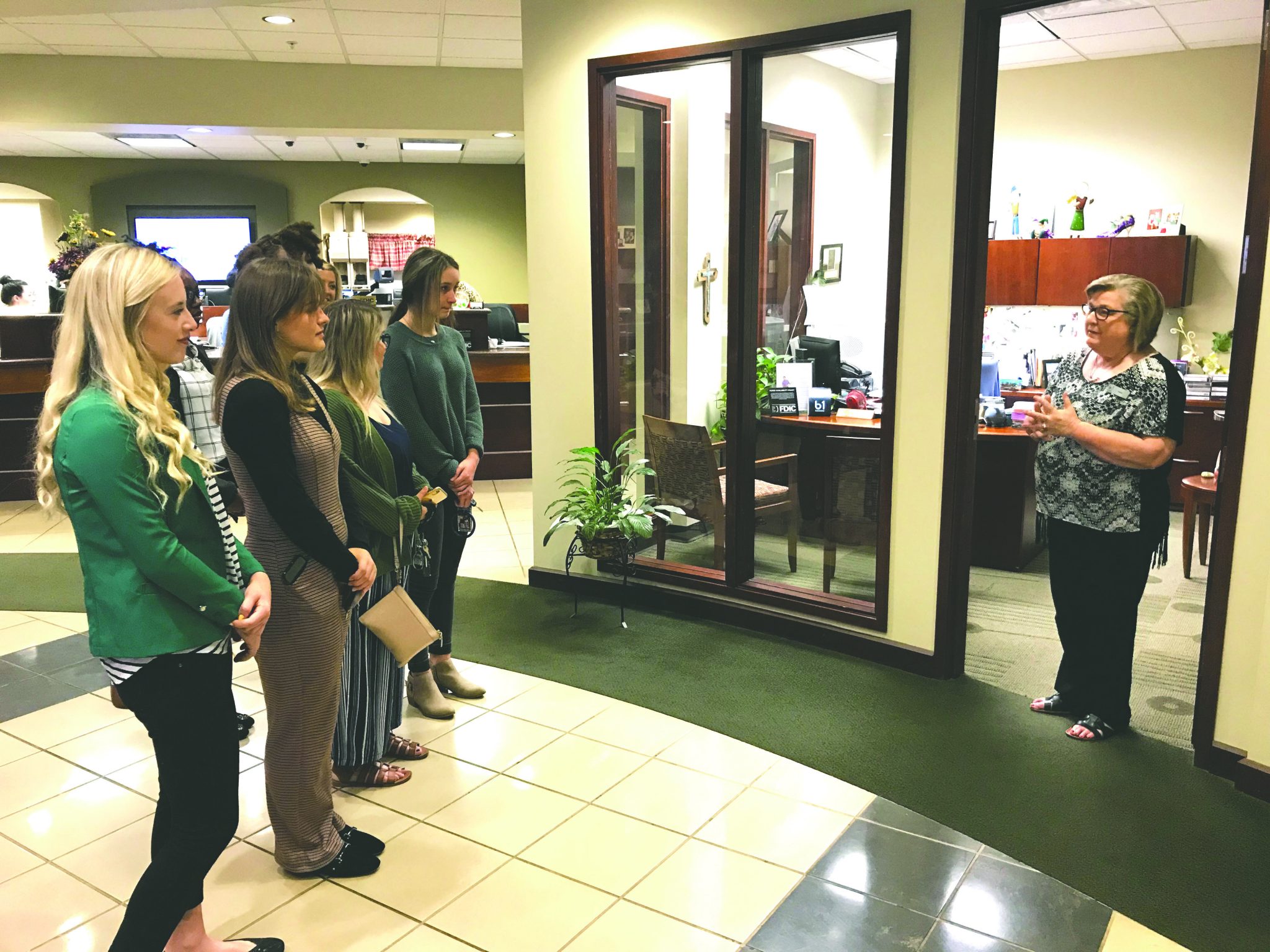 A group of local Minden seniors had the opportunity to tour around some of the banks of Minden as part of the 365 to Rich Bank Shadow Day. According to a letter sent out to the principals to find interested students, "365 to Rich Bank Shadow Day is a wonderful opportunity for high school seniors to spend a day shadowing a banker. The purpose of 365 to Rich is to introduce banking as a career option and to provide financial literacy resources to the students."
The three banks taking part were b1Bank, Gibsland Bank & Trust, and Citizens National Bank, with the representatives being, respectively, Tracy Campbell, VP/Business Development Officer, Jennifer Spurlock, Marketing Coordinator, and Sarah Haynes, Bank Executive.
"365 to Rich Day is an annual event that allows students to learn about the inner-workings of our local banks, as well as be introduced to the different career opportunities in the banking industry. This year, three of our Minden banks worked together to highlight the importance of our local financial institutions and the key roles they play in our communities," said Campbell.
The day consisted of touring the different banks as well as hearing presentations from some of the employees about a variety of topics such as what they do at the bank, financial literacy, saving strategies, and more.
Students participating in 365 to Rich will receive a daily text for 365 days on strategies to become "rich" in all ways such as money, work, knowledge, service, and relationships. 365 to Rich is sponsored by the Louisiana Bankers Association.
On top of that, they will each be writing a 500-1000 word essay that will be judged among others from all across the state. All participants will get a free t-shirt, and the winner will receive an iPad.
"It's a great opportunity for young people to understand that there is more than one career in banking. You're not just a loan officer or a teller, so when they go to college they can make more informed decisions about their careers," said Haynes.
"365 to Rich Bank Shadow Day in Minden was a huge success this year due to teamwork from three local community banks: GBT Bank, b1 Bank, and Citizens National Bank," said Jennifer Spurlock, Marketing Coordinator for Gibsland Bank and Trust.
" We appreciate the support from local schools and administration to allow students to participate and enjoyed giving real-life advice on credit, saving and banking technology available."