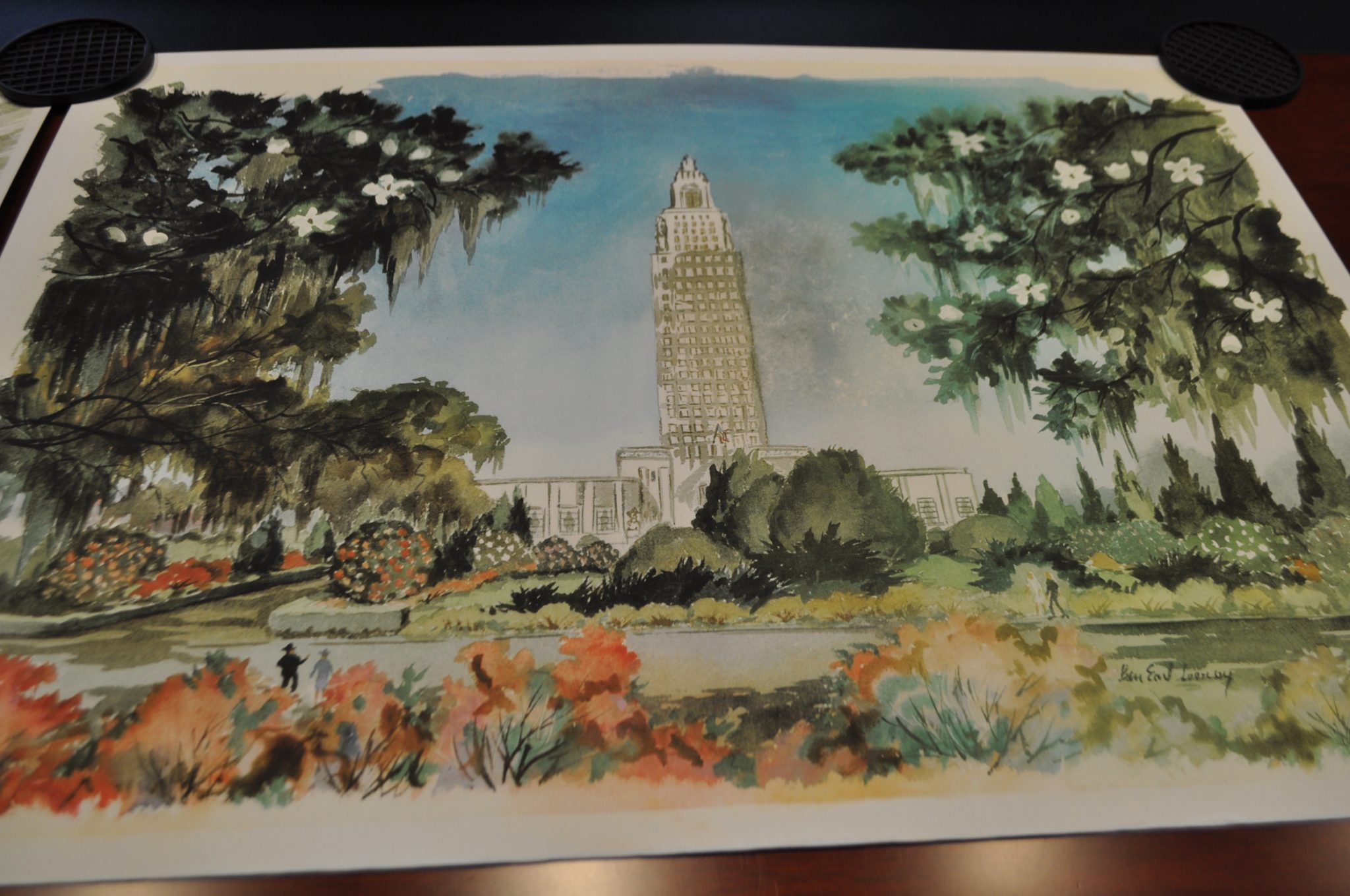 A piece of art history has come home to Minden, all by a chance meeting at the Louisiana Municipal Association convention in Shreveport.
Two prints from the late artist Ben Earl Looney, a native of Webster Parish, were given to the City of Minden from two original paintings of the State Capitol and the Pentagon Barracks in Baton Rouge. Mayor Tommy Davis said he met Keith Ardoin, a councilman for the Town of Krotz Springs, when they sat next to each other at the convention.
"We discussed the paintings, and they are beautiful," Davis said. "One of them is a little faded, we think, due to the age of it. It was painted in the 1960s."
Ardoin is an art collector and owns the original paintings; he had the prints made to give to the City of Minden. He bought them at an estate sale from the Diesi family, of which Frank Diesi was a member of both the House and the Senate in the early 1960s and owned Little Capital Restaurant in Krotz Springs.
"I'm assuming Looney and Diesi were friends since Diesi commissioned Looney to paint the restaurant and he had several assorted prints of Looney," Ardoin said in a letter to Davis.
Looney was born in the Yellow Pine Community in June 1904. He is a 1923 graduate of Minden High School where he was the art editor of the yearbook staff. He attended the Louisiana State University School of Journalism and Centenary College in Shreveport as well as the Corcoran College of Art and Design in Washington, DC. He also attended the Summer School of Arts in Eastport, Maine, and studied watercolor under George Ennis.
His work has been displayed in the Smithsonian Institution.
While he was born in Webster Parish, he died in Lafayette, where he spent the last days of his life. He died of complications from Parkinson's Disease.
The Pentagon Barracks are barracks located next to the State Capitol where they have the distinction of being the place of the birth of a nation, however briefly, of the Republic of West Florida. It has a long history of being a military post, and later military barracks.
Today, they are used to house the offices of the lieutenant governor and private apartments for legislators.
The paintings will be hung in the Cypress Room at Minden City Hall.