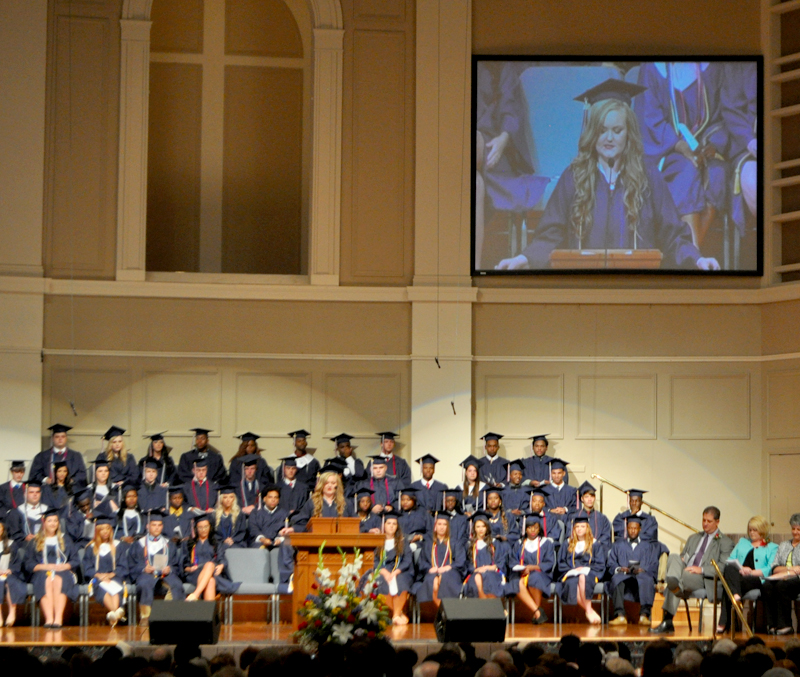 This year's graduating class of high school seniors is the first class to do so without a valedictorian and salutatorian.
Webster Parish Schools has done away with the time honored tradition of appointing the coveted titles. Minden High School Principal Robin Tucker says this policy went into effect four years ago and it began with this year's graduating class.
"The people's progression committee of the parish went with what was going on as a state trend to recognize cum laudes instead of valedictorian and salutatorian," she said. "When it was that year's freshman class, this year's seniors, it was that class it started with."
The cum laude system pulls more students into the pool for recognition with their grade point averages. Tucker explained the range of grade point averages in order to qualify.
To qualify for summa cum laude, a student's grade point average must be 3.9 or above, magna cum laude is a 3.7 to a 3.89 and a cum laude is a 3.5 to a 3.69.
Superintendent of Schools Dr. Dan Rawls says the reason for phasing it out is so that it wouldn't affect the outgoing classes.
"You may have five kids that are summa cum laude, you may have eight that are magna cum laude and 15 that are cum laude," he said. "Before, you would have a valedictorian and a salutatorian and that's all you would have."
He says the decision to make this change is because it allows more students to the opportunities for scholarships to college.
"We had a lot of universities that would recruit students because they were valedictorian," he said.
Also, he says, it took away the possibility of favoritism upon choosing a valedictorian and salutatorian.
"(It was) to alleviate any discussion or contamination of grades," he said. "They went to a system they felt was more fair, that it truly recognized outstanding academic achievement. I think that over the years, there was a lot of criticism over the valedictorian and salutatorian procedures, and I think this just took the bull by the horns and we're going go to a university recognition system."
This system has been implemented statewide, Rawls said.