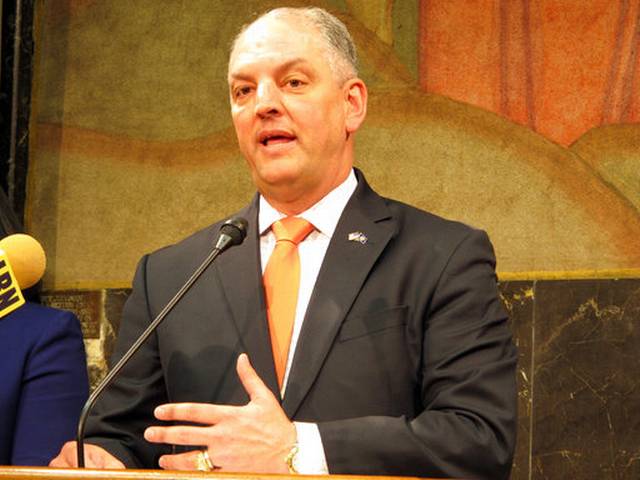 (The Center Square) – Louisiana may begin distributing $375 million in federally enhanced unemployment benefits as early as next week, Gov. John Bel Edwards said Tuesday.
State officials have not yet received the money from the U.S. Department of the Treasury but they hope to have it by the end of the week, he said.
More than 400,000 Louisiana residents will be eligible to receive an extra $300 per week on top of their state benefit of $247 or less. However, those currently receiving less than $100 from the state will not be eligible for the enhancement, which represents a change from state officials' previous understanding of the rules. Edwards said the guidance has changed "two or three" times since President Donald Trump issued an executive order earlier this month calling for the enhancement.
States have the option to match the federal enhancement with an extra $100 a week, which would have cost Louisiana about $48 million weekly and "was not feasible for us," Edwards said.
Louisiana's unemployment trust fund is on pace to fall below $100 million after business restrictions put in place to slow the spread of COVID-19 led to massive layoffs. In order to pay legally required benefits, the state could have to borrow money from the federal government and charge businesses an extra tax to pay back the loan. Edwards is hoping Congress appropriates money to states that could be used to pay back the loan instead, so that higher business taxes can be avoided.
As of noon Tuesday, at least 4,431 Louisiana residents had died from COVID-19, state health officials reported. There were 1,204 COVID-19-positive patients in hospitals, and 187 were on ventilators. More than 139,000 confirmed cases had been reported, and almost 104,000 of those people are believed to have recovered.
While Louisiana recently has seen steady, modest improvement in its hospitalization counts and other factors public health officials monitor, the state currently has the fifth-highest growth rate in the country, Edwards said.
Schools and universities across the state are preparing to reopen if they haven't already. Most are planning to use a mix of online and in-person instruction.
Edwards said universities should share their case counts with the public. He said his administration is working with state Superintendent of Education Cade Brumley to create a reporting system for K-12 schools.
As schools reopen, Edwards urged residents to continue to practice COVID-19 mitigation tactics that include wearing a mask, maintaining physical distance from people who are not part of your household, and avoiding crowds.
"It is especially important that we are vigilant right now," he said.
David Jacobs, Staff Reporter for the Center Square, is a Baton Rouge-based award-winning journalist who has written about government, politics, business, and culture in Louisiana for almost 15 years. He joined The Center Square in 2018.