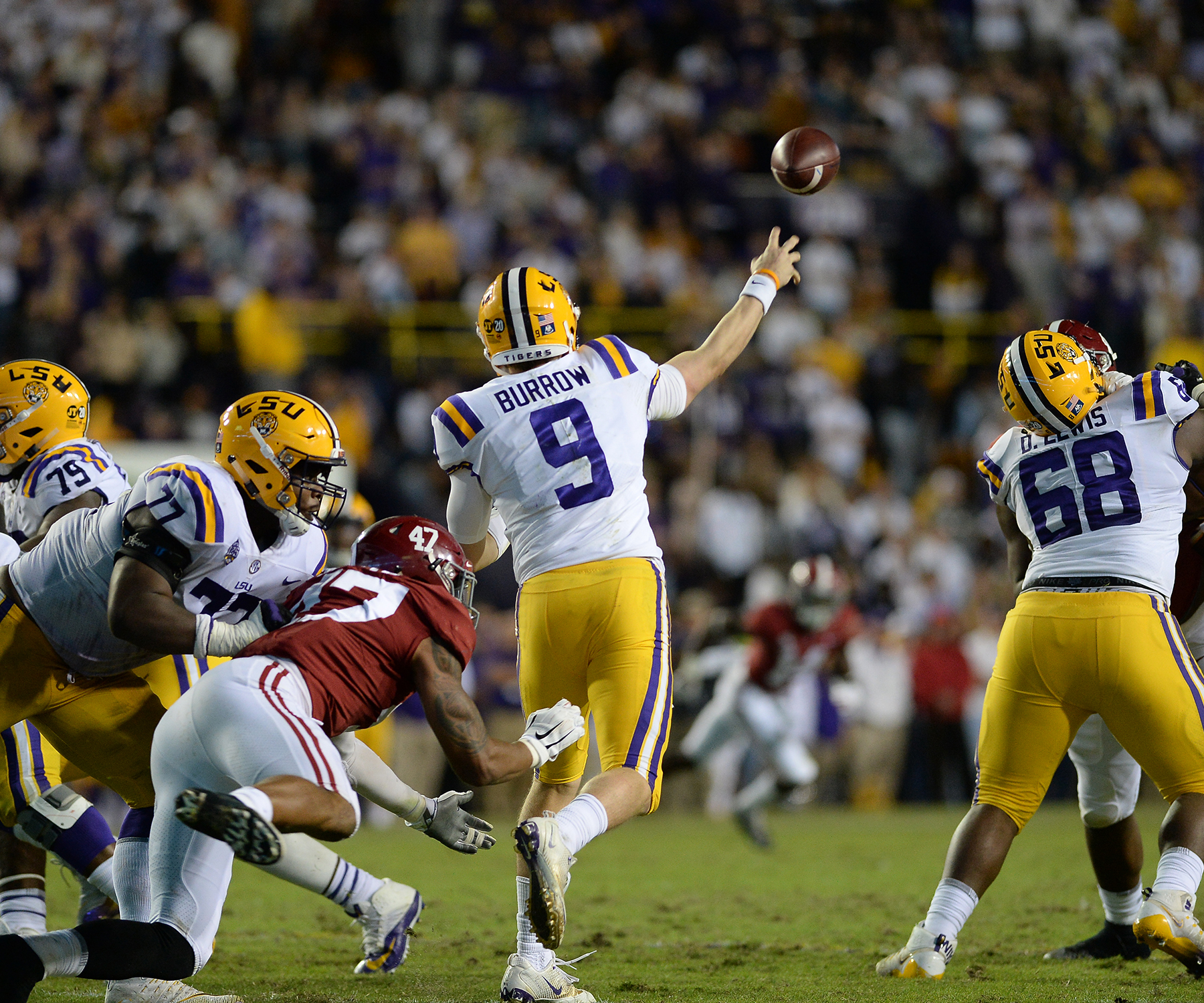 By Aaron S. Lee
Special to the Press-Herald
It was never even close. Not for one solitary second.
LSU's offense was anemic for the entirety of its lopsided shut-out loss to top-ranked Alabama. And it's defense, even when suspended linebacker Devin White back for the second half of the game, was essentially no match for the onslaught of the Crimson Tide.
Final score: 29-0.
That's right, Z-E-R-O!
In fact, Saturday's uncharacteristic defeat in Death Valley is the eighth-straight loss to the Tide and former Fighting Tigers head coach Nick Saban.
Sure, Alabama (9-0 overall, 6-0 SEC) is as close to an NFL-caliber program as any other in college football history, but the throttling of the then-No.3 ranked Bayou Bengals shines a proverbial spotlight on several glaring issues plaguing LSU (7-2, 4-2).
First, the NCAA Division I Football Bowl Subdivision (FBS) polls are seriously flawed. LSU was clearly overrated, and perhaps still is at No.9 in the Associated Press Top 25 — 10th, ESPN — when one scantly analyses that it's other defeat earlier in the season was to an eventual three-loss Florida team (6-3, 4-3) which fell to mediocre Missouri (5-4, 1-4) on Saturday — the Gators fourth loss to the 'Mizzou' in the last six meetings.
Even if all the losses suffered by LSU and Florida this season came while running the gauntlet that is the Southeastern Conference (SEC), good teams rise to the occasion and neither showed signs of greatness this past weekend.
The talent divide between Alabama and LSU proved enormous. Grand Canyon-like. No, make that the Mariana Trench. LSU failed to generate any offense in the first half and only 196 total yards compared to Bama's 576.
The Tigers defense kept the game somewhat manageable in the first 30 minutes of play by holding the high-powered Alabama arsenal, which averaged 54.1 points per game entering Saturday's showdown, to just 16 points while White sat on the bench due to a highly contested first-half suspension following a 'targeting' penalty two weeks earlier.
Even with White's return in the second half, Alabama continued to move the ball at will — recording 29 first downs to LSU's 13.
"We got beat at the line of scrimmage. I gotta recruit better defensive linemen. Gotta recruit better offensive linemen. Same old thing. Gotta beat Alabama at the line of scrimmage," admitted LSU head coach Ed Orgeron. "When you max protect you're doing everything you can in protection and they're beating you, you have to look at personnel."
As Orgeron mentioned, the disparity in talent was magnified on the line with Alabama's defensive front rapidly smothering the LSU offense. Not even the speedy Tiger tailbacks could escape Tide defenders whether running inside or out. Sophomore defensive lineman Quinnen Williams repeatedly disrupted the LSU backfield with 10 tackles (seven solo) and 2.5 sacks.
In total, LSU surrendered five sacks and 10 tackles for a loss.
According to current 247Sports recruiting polls, eighth-ranked LSU trails chart-topping Alabama by 26.47 points on the 2019 recruiting trail despite having two 5-star commitments compared to the Tide's one. However Alabama possesses 19 4-stars to LSU's nine. In total, Alabama has won the recruiting race every year since 2011, with only Georgia stopping the streak this year.
Meaning the rich get richer.
One thing Orgeron did not address was the team's lack of urgency down by 22 with more than a quarter to play. Despite Clyde Edwards-Helairre breathing life into the listless Tigers with a crowd-arousing 57-yard kickoff return with 5 minutes 14 seconds on the clock in the third, the Joe Burrow-led offense looked lethargic with little — if any — sense of urgency.
As a result the Tigers went three and out and squandered its best opportunity of the game to start a rally. On the following drive, LSU managed to march 64 yards on 12 plays — thanks in large part to a 15-yard face mask penalty on Tide defender Raekwon Davis on a play were Burrow was sacked for a loss of seven. But LSU was unable to put avoid the shutout when placekicker Cole Tracy missed a 33-yard FG with 10:45 to play.
The Tigers, which have three national titles to its credit, including Saban's 2003 squad and most recently Les Miles' 2007 team, have not won the SEC West Division title — let alone an outright conference title — since 2011.
However, if the nation's top offensive guard recruit and LSU commitment Kardell Thomas (Southern Lab) has anything to do with it, the 'tide' is about to change.
"Mark my words. We will beat Bama all my years here," emphatically tweeted the Baton Rouge native in all caps. "Remember this tweet. I don't care what anyone has to say. It's a bold statement and I will be ready to back it up. Good game Alabama, but enjoy this last win against us."
Bold statements from the 6-foot-3, 356-pounder, but if Orgeron cannot find a way to out-recruit Saban, the drought for championships could continue at LSU.