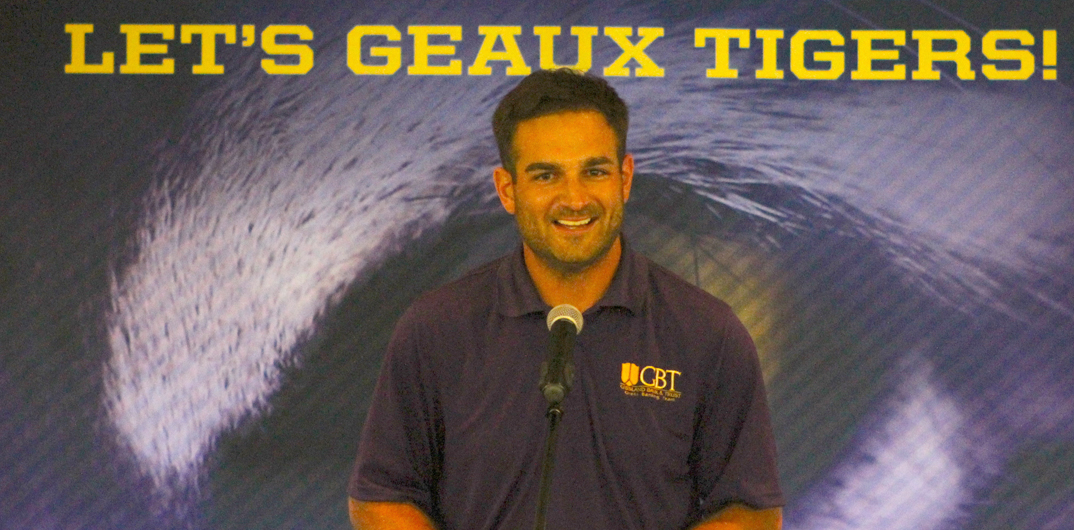 It was a great day to be a Tiger.
Jacob Hester reminisced on his days running over Southeastern Conference defenders, expressed his admiration for coach Les Miles and gave his thoughts on the 2016 Tigers Thursday night at Pine Hills Country Club as the guest speaker for the 2016 LSUAA Webster-Claiborne Alumni Banquet.
Hester spoke to the crowd of over 100 for roughly an hour, at one point turning things over to the crowd for questions.
Preceding Hester was the presentation of two, $1,000 per year scholarships to North Webster graduating senior Brianna Coleman and Glenbrook graduating senior Emily Addington. Event organizer Gary Haynes spoke to the interview process and entertained the idea of expanding the scholarship amound, or number of scholarships in the years to come.
Several items were up for raffle and auction such as a signed Odell Beckham Jr. No. 3 LSU jersey, a signed Billy Cannon jersey, a signed Jacob Hester picture from his winning touchdown against Florida in 2007, signed Jacob Hester football and a framed Freddie Haynes LSU football photo. The photo of Haynes sold for $700 and was immediately given to Gary Haynes, the brother of the late Minden Crimson Tide star and LSU quarterback.
LSU Alumni Association President Cliff Van Noy was on hand and spoke to the crowd about the 27 percent increase of funds raised by the LSUAA in 2016, as well as the six chartered airplanes LSU fans will be
taking to Green Bay, Wisconsin for the Tigers opening football game against the Badgers of Wisconsin.
The day started much earlier with the LSUAA Webster-Claiborne golf tournament.
Winners of the first flight were Casey Carter and Randy Soileau, the second flight was won by Wood and Lawson Wilder and the third flight winners were Mike Wise and Benny de Pingre'.