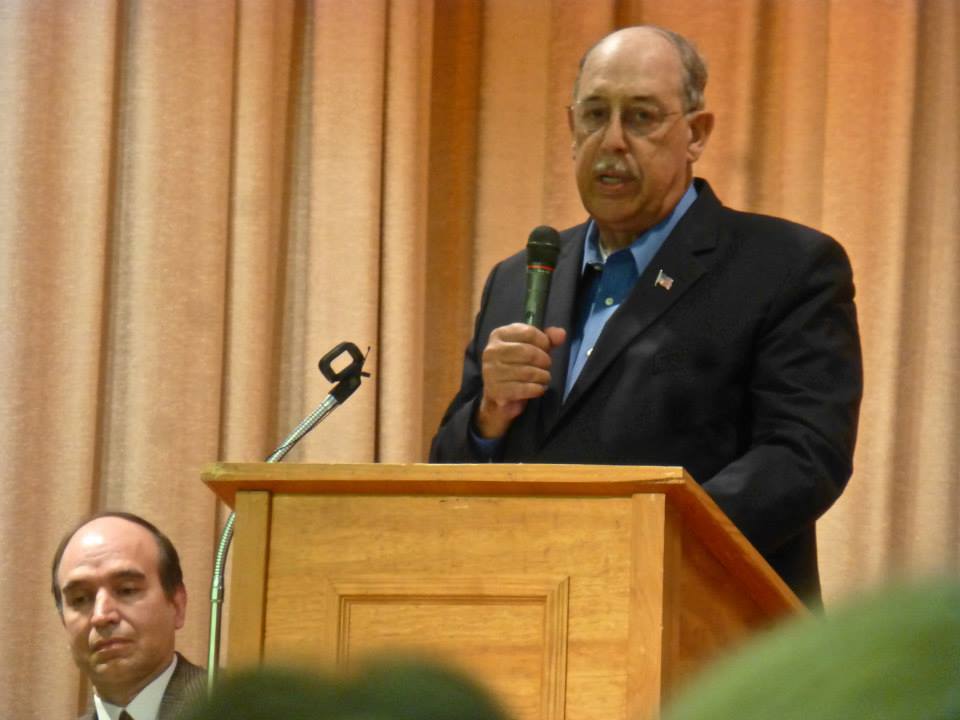 Lt. Gen. Russel Honore rallied the troops, so to speak, at the community rally against the open tray burn method of disposing of millions of pounds of M6 propellant at Camp Minden.
Not only did he talk about the issue at Camp Minden, but he gave what could be considered little known facts about the effects of toxic waste dumping all across Louisiana.
"This is being done because Louisiana has lax laws," he said to roughly 400 people in attendance. "Camp Minden was a Superfund site before the M6 got here."
According to figures he showed, Camp Minden was designated a Superfund site in the early 1980s, meaning it has been designated by the federal government as an uncontrolled toxic waste site by the Environmental Protection Agency.
He also showed a graph of all the natural gas pipelines running through Louisiana, which showed north Louisiana saturated with pipelines carrying natural gas to the rest of the country. He touted it as a cleaner fuel source for electricity and other power sources.
"We should be the richest, most well-resourced state in the United States," he said, adding the state has spiraled into a deficit because, in part, of all the tax breaks given to oil and gas companies.
He talked about other areas that have been literally wiped off the map in Louisiana because of companies' alleged disregard for the environment, saying Louisiana has paid a heavy price to develop the state economically.
He touched on Bayou Corne in Assumption Parish which began as a sinkhole the size of a tennis court but is now as big as 39 acres. He talked about Grand Bois, accusing the mega-petroleum company Exxon of destroying it.
He even says the two beautiful bodies of water near the Louisiana State Capitol are polluted.
The Green Army, which Honore began when the sinkhole at Bayou Corne became a huge issue, has an agenda to make Louisiana a better environmental state. That includes local control, he says, which means the people have a say in which companies come into their communities.
Another part of the Green Army's agenda is to bring in 21st century air monitoring, which means bringing in modern equipment to test air quality and inform the public through media and telephone to notify them if toxic emissions have hit the air if an incident occurs at a chemical plant. Other items include safe school sites, reformation of the governance of Southern Hills Aquifer and restoration of Louisiana's coastal wetlands.
Before closing, he said, "We are an insurgency. We are a guerilla, and our weapons are our words. We are volunteers."
Other speakers included local and state officials as well as scientists and activists.