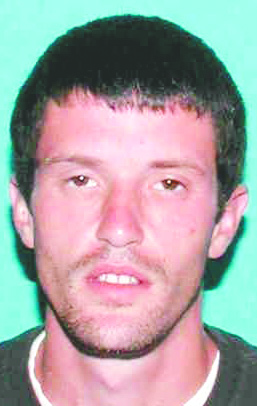 15-mile chase ends in arrest
A Heflin man led police on a high-speed chase from Dixie Inn to Heflin last Thursday, June 21, before finally being caught the next day.
Dixie Inn Police Sergeant Josh McCormick spotted Christopher Miller, 29, in a Dodge pickup cutting through private property to get from one street to another. The Dodge then got onto Interstate 20 heading east and accelerated. McCormick attempted to stop the vehicle for the traffic violation, but Miller refused to stop. The vehicle then exited at exit 47 and went south on highway 371, doing 60-70 mph in a 45 zone, with McCormick and now Dixie Inn police Sergeant Robert Davis in pursuit.
Upon reaching Sibley, Sibley Officer Cody James joined the pursuit, as well as Webster deputies Shawn Jenkins and Chase Wimberly. The pursuit continued south on 371, with speeds reaching 100-110 mph. Miller showed no regard for safety and endangered the lives of other drivers by forcing several oncoming vehicles to the shoulder of the highway and passing others in "no passing" zones.
After turning off of hwy 371 and traveling down several side roads, the Dodge finally came to a stop on the corner of Bossier Street and Pelican Street near Diamond T Road, at which time the driver jumped from the truck and ran.
Several of the officers and deputies attempted to locate him, but due to the wooded area and the darkness of nighttime, they had no luck at that time.
Upon looking in and around the Dodge truck, officers found a cell phone lying on the ground. By using the information from the cell phone, along with contacting the registered owner of the truck, Miller's identity was determined, along with a last known address on the 1300 block of Diamond T Road in Heflin.
Once a photo of Miller was obtained, officers were able to positively identify him as the driver of the truck.
Miller's driver license showed to be suspended. Also, inside of the truck, a small clear bag of suspected methamphetamine was found. The Dodge truck was impounded.
A check of Miller's criminal history showed that he had an active arrest warrant for contempt of court. Early the next day, Miller was located at a residence off of Diamond T Road and arrested and booked into Bayou Dorcheat Correctional Center by Webster Parish deputies. Miller admitted to deputies that he was the driver of the truck.
Miller was re-booked into BDCC by McCormick on charges of aggravated flight from an officer, resisting arrest, possession of Schedule II CDS (methamphetamine), driving under suspension and driving through private property. The pursuit covered about 15 miles from start to finish.