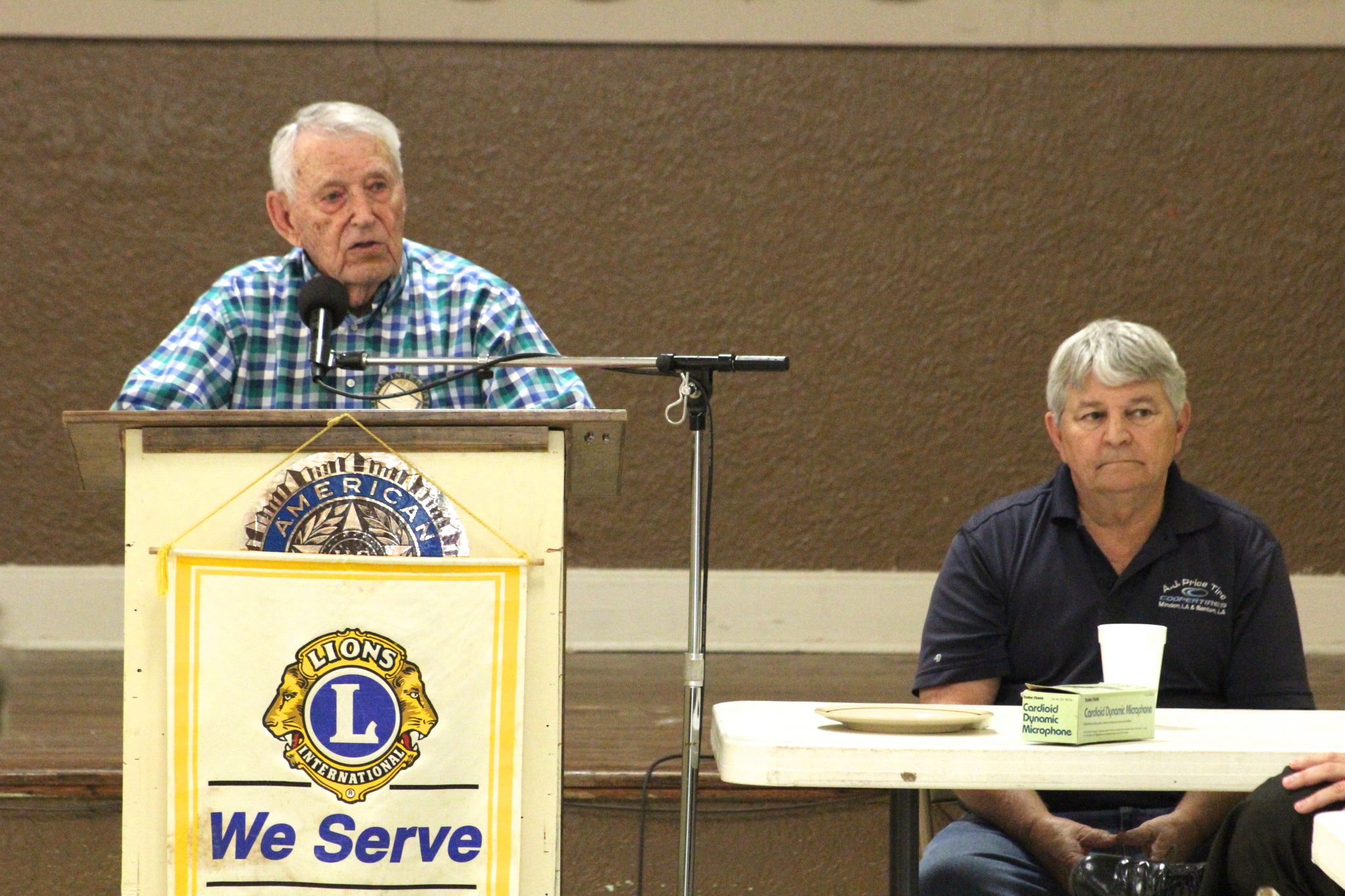 World War II veteran and lifetime Minden native Marcus Wren brought the Lions Club to their feet for a standing ovation at Thursday's Lions Club Luncheon.
Wren was asked by Lion President Clay Johnson to share the journey of his lifetime, the two years he spent serving in the U.S. Army's 32nd Infantry fighting the Japanese, and he did not disappoint.
His two-year deployment began the day he boarded a ship in San Francisco bound for the Pacific Theater. The three-week journey was anything but pleasant.
"There was 5,000 G.I.'s on that boat," Wren said. "They fed us two meals a day. The water was so rough it made us vomit. I threw up on a soldier manning a gun turret and he said if that turret would turn back my way he'd shoot me; there was no air conditioning, when you wake up there would be water in your bed from all the sweat."
By the time Wren and his outlet arrived in Japan the battle was beginning to end, but the Japanese were still dug-in and determined to take out American soldiers.
"The Japanese, I don't know how much you all know," Wren said. "But the Japanese were really, really tough. They would rather die than surrender to us."
Wren recalls one of his mates in the foxhole telling him to memorize every "snag and stump" in the field before them.
"He said if you see anything different out there it's a Japanese soldier, but don't shoot him with your rifle, because they'll see the fire from the end of your barrel and throw a grenade in here," Wren said.
To make matters worse, they also had to contend with Japanese sniper fire.
"One day I was talking to one of my officers," Wren said. "I was standing right beside him while he was talking on his walkie-talkie and boom; a sniper shot that walkie-talkie and two of that officer's fingers right off. Things like this happened all the time; I just trembled."
Wren, who left the comfort of home and working for his parent's dairy company to serve his country, said during these times he would pray to God to take him home.
"I made a promise to God," Wren said. "I told the Lord I would be a better Christian if he got me out of there alive. That was 73 years ago, but I never forgot that promise."
Soon after his promise, the peace treaty to end the War in Japan was signed. That was Sept. 2, and on Sept. 3, Wren was in Japanese camps freeing American, French, English and Australian prisoners of war.
Wren spent the next year in Japan as a military police officer without much trouble. Then, it was finally time to return home. Wren went back to school and majored in dairy manufacturing at Louisiana State University, got married and had five children.
There are few men left like Marcus Wren, willing to give up all for the three things he holds most dear: God, country and family.
"I'm glad to be part of the greatest generation," Wren said. "Let every adversity be a lesson to you; life is good if you make it good."