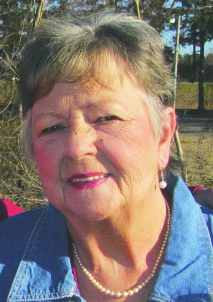 Mavis Ann Campbell Cureington was called Home to her Lord and Savior on Wednesday, March 27, 2019 in Austin, Texas, following a long illness.
Mavis was born in Chaffee, Missouri on April 15, 1946, the daughter of Ovie Campbell and Alice Emma Modglin Campell. Mavis married James David Cureington on February 14, 1965 in Jena, Louisiana. Mavis retired from the Caddo Parish School Board in Shreveport, Louisiana after 25 years of employment. She and James David lived in Minden, Louisiana for the past 17 years. She was a member of First Baptist Church of Minden. Mavis was a devoted wife to her "Bo," the love of her life, for 54 years. Mavis loved her family, especially her children and being "Mimi" to her 3 grandchildren. She was dedicated to making sweet memories with them whether it be cooking or vacationing together. Some of her favorites were "rolling in the dough", making bonbons at Christmas, "kicking back" at the beach, and annual Campbell family reunion trips to Missouri. Mavis was a beloved daughter, wife, mother, grandmother, mother-in-law, sister, niece, cousin, aunt, and friend to many.
Mavis was preceded in death by her parents; her daughter, Holli Cureington Blakeley; and her brother, Ovie Lee Campbell. She is survived by her husband, James David; son, James Anthony "Tony" Cureington and wife Judy of Cedar Park, Texas; three grandchildren, Ethan James Blakeley and Grayson Lee Blakeley of Minden, Louisiana; and Nicole Marie Cureington of Cedar Park, Texas. Also surviving are a brother, Dallas Ray Campbell of Granby, Missouri; sister, Alice Eldonna Rhoades of Tulsa, Oklahoma; and her special aunt, Lucille Modglin Halter of Chaffee, Missouri. Mavis is also survived by many beloved aunts, uncles, cousins, nieces, and nephews.
The Family would like to send special thanks to her best friend of 51 years, Gayle Russell of Shreveport, Louisiana, for loving and caring for her like family; her brothers and sisters in Christ at First Baptist Church Minden, especially Brother Bill Crider; the staff at Minden Medical Center Senior Care; the Wisteria Lane staff at Leslie Lakes Retirement Center in Louisiana; and the loving caregivers at Austin Wellness and Rehab in Austin, Texas.
A memorial service will be planned at a later date at Gardens of Memory Cemetery in Minden, Louisiana.