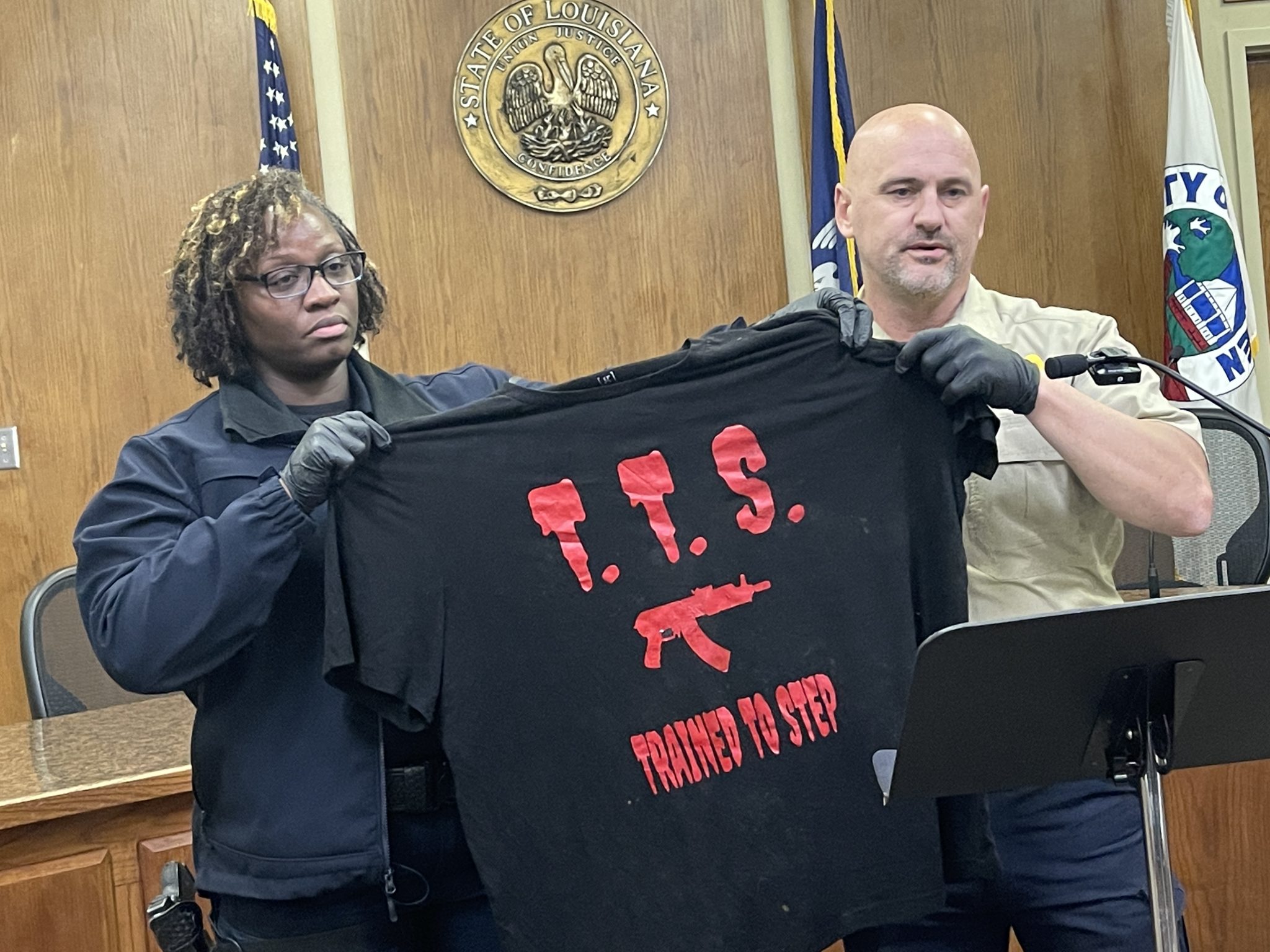 Mayor Nick Cox and Minden Police Chief Jared McIver held a press conference Tuesday afternoon to address the shooting that took place at Ewell Park earlier this week. In this conference Mayor Cox announced a temporary hold on private events held in Minden's parks and fairgrounds. 
"In response to last weekend's violence at Ewell Park, I'm placing a temporary hold on private events held at the city's recreational parks and fairgrounds that do not prove to have adequate security," said Mayor Cox.
"During this temporary hold, we are going to evaluate our policies and procedures. Make sure we are doing our best to protect the citizens of Minden."
Cox went on to encourage the public to cooperate with local law enforcement on this investigation, talking about how it will take all of us together to rid the city of those who wish to do harm to others.
"We need your help. We need to know what's going on. Notify police of crimes and destruction of property. This is our city, and it's going to take us all coming together to make it the best it can be. If you see something, say something," said Mayor Cox.
"Let me be clear, I stand beside Chief McIver. Minden is our home, our city, and this kind of violence will not be tolerated in Minden. My prayers are with those who were injured."
Afterwards Chief McIver addressed the events that took place Sunday and gave updates on the investigation and the status of the victims who were hospitalized.
"Sunday, on March 26, we had an event at the Ewell REC Center. Sadly, gunfire went out. Several different shooters were involved. We had four victims that were hit. Bullets that were scattered all about. We know one of our victims is still in critical care right now, two are stable and one was released," said McIver.
He then went on to talk about the cooperation they've received from other law enforcement agencies, and echoed the mayor's sentiment about the need for citizens to help provide any information regarding these incidents that they are aware of.
"We have since joined forces with local law enforcement agencies that surround us. The Webster Parish Sheriff's Office, the City Marshal's Office. We've also reached out to some federal agencies for their assistance in trying to conduct this investigation," said Chief McIver.
"It was a very large crime scene and, with that, we need all the help we can get. Our goal here is to bring all those responsible to justice. The investigation is still ongoing. We have multiple agencies assisting us throughout this investigation."
"I wanted to let the citizens know, there's only very few officers at one time in the city on duty, but there's a lot more citizens, thousands of citizens. That's a lot of eyes and a lot of ears that are seeing and hearing the things that are going on."
"We encourage you, call. Stop by the police department. Whatever it is. If you've seen something, say something about it. We need your help. This is all of us working together. This is you, the citizens working with us, the police department and other law enforcement agencies, so we can address these issues that continue to try and infiltrate our city."
Lastly, Chief McIver displayed a shirt that one of the members of TTS was wearing displaying their logo and gang name, and addressed these criminals more directly, saying that organized crime in this city will not be tolerated.
"Throughout our investigation, we are starting to make arrests. One of our first arrests, he was wearing this t-shirt. This is gang related folks. This is what we're not going to tolerate in our city," said McIver.
"If you are a gang member, or you have any affiliation with any type of gang activity, we are going to bring you to justice swiftly, and we are going to be asking for the maximum penalty for all charges brought on those causing the violence in this city."