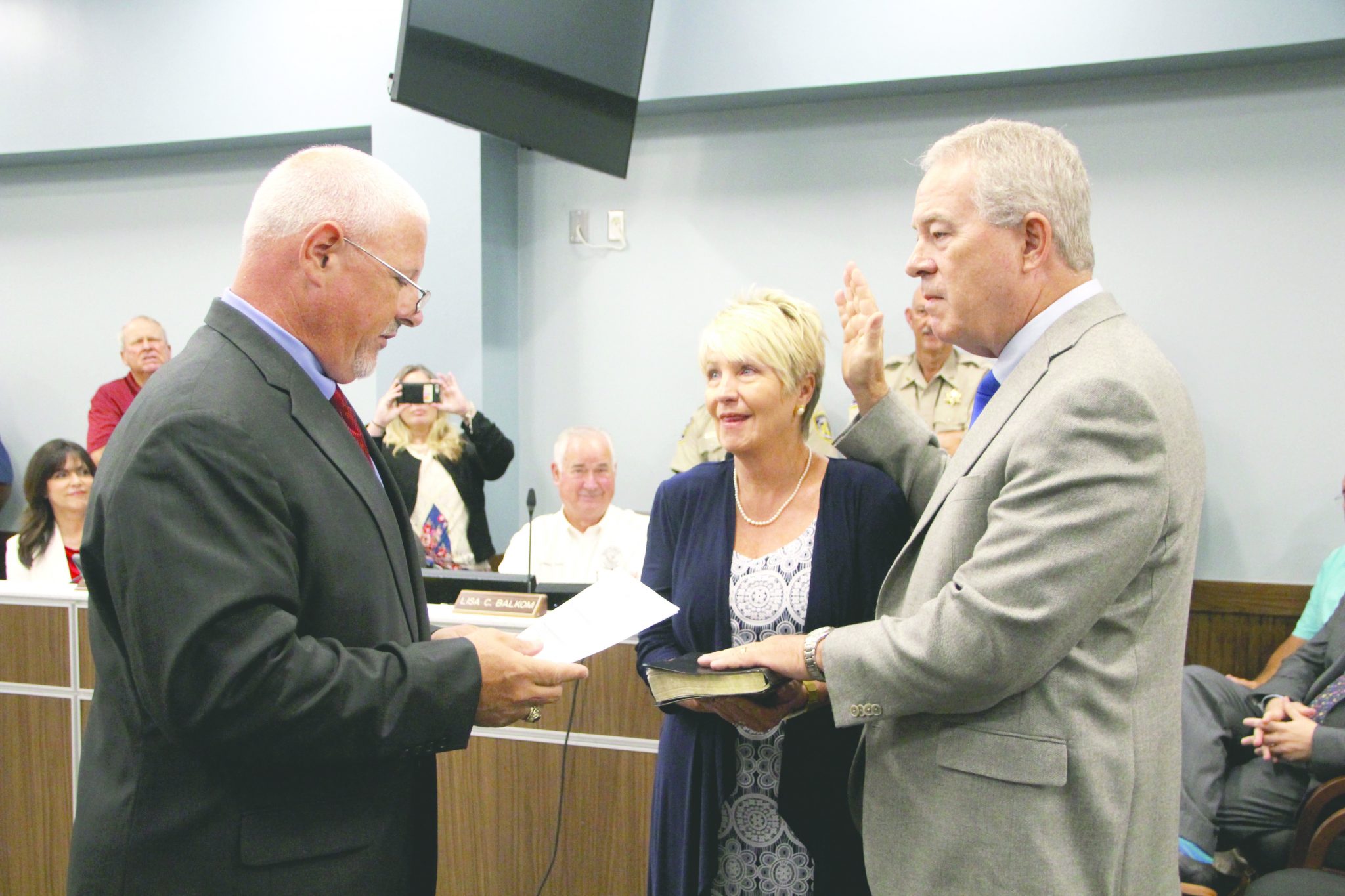 Springhill native shares goals, beliefs
Come November, Webster Parish will see a host of election races to fill dozens of government seats. However, less than two weeks after qualifying, one position has already been filled.
Springhill native and long-time veterinarian Wayne McMahen was sworn into office as the new Louisiana state representative for District 10 Tuesday morning in the Webster Parish Police Jury conference room.
McMahen filed unopposed during the qualifying period July 18-20, filling the representative seat which had been open since Gene Reynolds stepped down in early June.
"When I made our announcement on the courthouse steps about seven weeks ago, I didn't dream this day would get here this soon," McMahen said at the ceremony. "I really thought that we could get elected, but I figured somebody else would run. But God answers prayers in his own time, not always on our schedule."
McMahen ran a successful veterinary practice in Springhill for close to 40 years until retiring in January. He said he was in Dallas with his grandkids when he got a call that Reynolds had stepped down and he had been asked to run for his seat.
"I took about a week or a little more to pray and think about it," McMahen said. "There's several reasons I said yes.
One, I hadn't been working full-time since the first of the year, so I was rested up. It was good timing. I felt I could have a good opportunity to get elected if I could get a good group of Minden supporters. I felt I had the knowledge base to be a good representative for our district."
McMahen said his time on the board of directors at Springhill Medical Center for the past 15 years has made rural health one of his top priorities in the legislature.
"One thing that concerns me: how are we going to provide rural health care over the next ten years?" he said. "So many things have changed in the last three or four years, and it's making it harder and harder to keep a rural hospital relevant that can really take care of their community and have enough funds to keep it open."
Another key for McMahen is education.
"Education has always been important in our family," he said. "My dad had nine brothers and sisters, and when the kids started getting to high school, my grandfather swapped a real good farm about 20 miles outside Magnolia for some land inside the city limits so he could build a house and all the kids could have a chance to go to college."
McMahen said he is a "big believer" in the public school system.
"Being in rural America, public schools have to function to educate our kids and give them the opportunity to get out and become a citizen who can not only make a living for themselves but for a family," he said.
McMahen said he built his father's veterinary clinic from a two-person business in 1980 to a clinic with more than 20 employees and four full-time doctors. He plans to bring his business experience to bear in the legislature.
"We need small businesses in our communities in rural America," he said. "Of course, we'd love to have a company come in here with hundreds of jobs, but we've got to have the employees to fill those jobs. I think the technical college here in Webster Parish is an asset we need to leverage to attract companies to come to northwest Louisiana."
During his swearing-in speech, McMahen promised attendees that while he hopes to make decisions in the best interest of the state of Louisiana, he will not lose sight of who his constituents are.
"I'm always looking for the input of the people of District 10," he said. "District 10 is who I'm elected to represent, and I'll always remember that."
Having just been sworn in, McMahen said he would be speaking with Governor John Bel Edwards at a function in Bossier City that same day.
"The timing [for running for office] was right, and I know that God put it in front of me," he said. "So I stepped out to take it. I'm ready to get started."