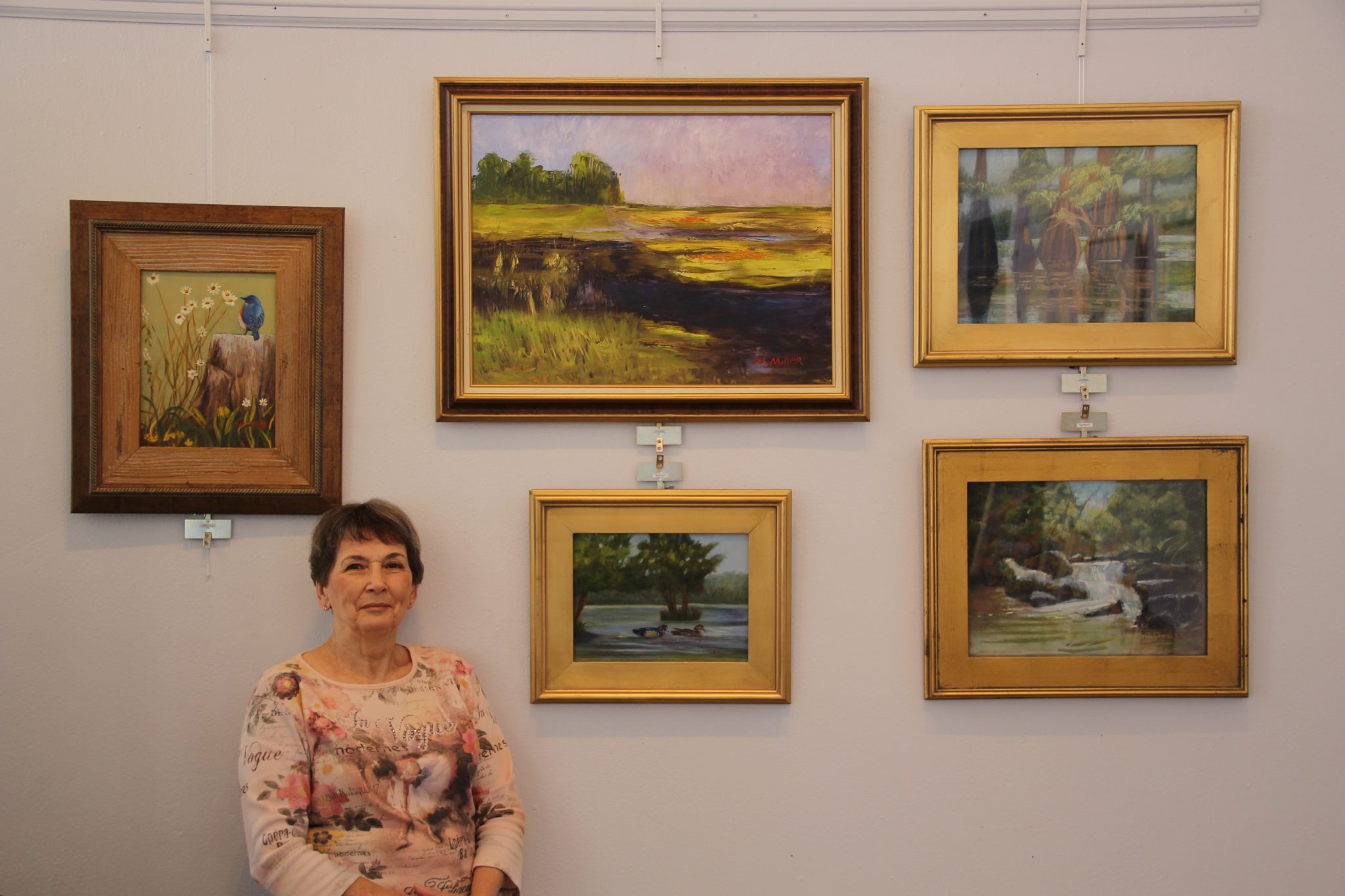 Caleb Daniel
caleb@press-herald.com
Melba Miller looks on as her paintings, collages, and other art pieces are hung on the walls of City Art Works. As she tries to explain why she loves painting animals, she points to a painting of a tiger intently watching its unseen prey.
"See that tiger right there?" she said. "I went to a workshop in Montana, and they would bring out one animal at a time. Because I was so short, they put me in the front of the crowd. I was standing there, and this tiger was right there tied on a rope, and he was looking at me. This girl behind me says, 'Do you see that tiger looking at you?' My heart was pounding out of my chest. So I got his picture, and I painted him."
Miller will be the focus of an Artist Reception at City Art Works this Saturday, April 14, from 5 to 7 p.m. Attendees can view dozens of pieces, talk to Miller about her work, and even buy some to take home.
Miller is a charter member and treasurer of the Louisiana Society of Animal Artists. She uses oils, watercolors, pastels, and mixed media and loves painting nature, landscapes, and especially birds.
"I have been painting since 1980, and I'm still learning," she said. "Some artists just do one thing, one medium. I can't do that. I've spent a lot of money and a lot of time learning to do this. It's not a hobby anymore, it became a passion."
The exhibit of Miller's art will run through May 31. It will be open Wednesday through Friday from noon to 6 p.m. and Saturday from 10 a.m. to 4 p.m.
"What bothers me is people going and buying a print down at Michaels or Hobby Lobby, framing it, and putting it in their house instead of original art," Miller said. "You can afford original art as well as you can afford a print.
And the public doesn't know it. My paintings aren't overpriced at all."
When asked how she hopes her art affects those who see it, Miller's answer was simple.
"I want it to talk to them," she said. "It always talks to me."