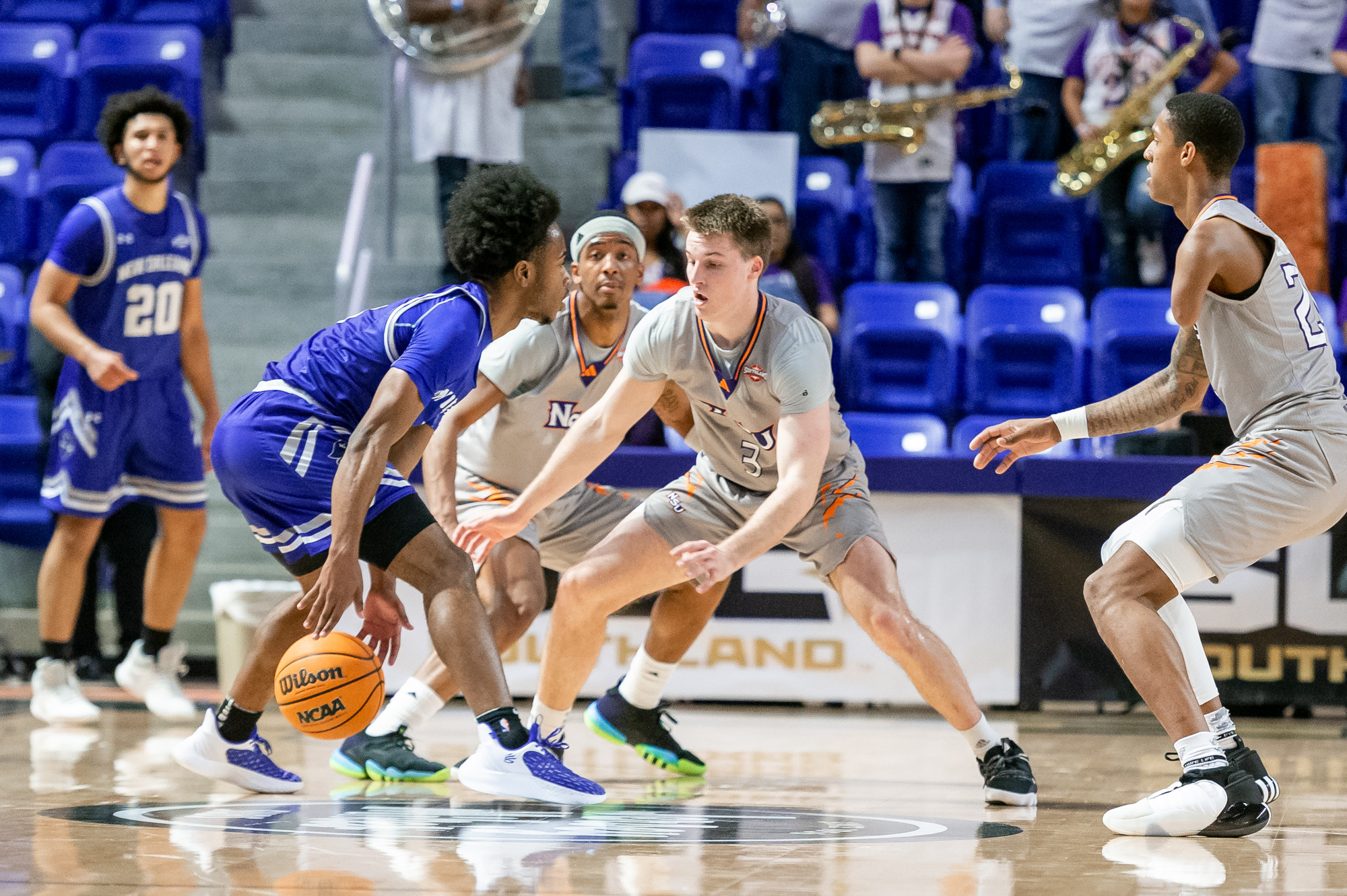 By Jason Pugh, Northwestern State Assistant Athletic Director for Media Relations
LAKE CHARLES – Throughout the 2022-23 season, the Northwestern State men's basketball team has authored quite a list of "first time since" moments.
The Demons added another Tuesday night in the Southland Conference Tournament semifinals.
Behind a vintage DeMarcus Sharp offensive performance and a masterful Isaac Haney defensive clinic, second-seeded Northwestern State held off No. 7 seed New Orleans, 74-70, to advance to its first SLC Tournament championship game since 2013.
"I was impressed with how New Orleans dug deep in the second half," first-year head coach Corey Gipson said. "They really played with some mental fortitude and almost found a breakthrough. We told our guys, a breakthrough won't be good enough. We need to blast through. I really respect how our guys were able to blast through and get some separation down the stretch."
The Demons (22-10) will face No. 1 seed Texas A&M-Corpus Christi (22-10) at 4 p.m. Wednesday on ESPN2. A win would give Northwestern State its first NCAA Tournament berth in 10 years.
A fast start helped NSU build as much as a 17-point, first-half lead, but New Orleans (12-20) whittled the halftime deficit to eight and kept applying pressure in the second half.
Each time the Privateers pushed, though, the Demons had an answer – many times coming in the form of Sharp, the league's Player and Newcomer of the Year who finished with a game-high 31 points and nine assists.
Northwestern State led for 39:01 and there was just one tie in the game – one Haney quickly broke off an assist from Sharp.
With the game knotted at 62, Sharp kicked the ball out to a wide-open Haney, who buried the 3-pointer that gave NSU the lead for good with 5:33 to play.
Haney's big bucket was one of three pivotal 3-pointers the Demons hit in the final 7:29, sandwiched between Ja'Monta Black's 3 that pushed the NSU lead to five with 7:29 to play and Emareyon McDonald's right-wing 3 off a Sharp feed with 1:07 remaining in the game.
Haney, a sophomore guard, spent most of the night chasing New Orleans' high-scoring Jordan Johnson, who had 32 points in the Privateers' quarterfinal win against Southeastern on Monday. With Haney hounding him throughout the game, Johnson finished with two points on 1-for-1 shooting while committing four fouls.
"I've got a great supporting staff around me, and anything special I do is because of the coaching staff," Haney said. "The coaching staff does the heavy lifting. They watch the film for me and sits me down. I'm just a guy who is willing to listen and do what is asked of me. The team around me, they do exactly what is asked of them. You see a guy like Johnson, keeping him off the 3-point line was the M.O., but he's still not able to back cut and come off those screens because I have amazing teammates."
One of those is Sharp, who poured in 18 of his 31 points in the second half and handed out five of his assists after the break.
As New Orleans made its initial push in the second half, Sharp responded time and again with a bucket or an assist.
One of his biggest moments came after the Privateers sliced the Demon lead to 46-44 on D'Ante Bell's tip-in at the 11:11 mark of the second half. Bell was whistled for a technical foul immediately following the basket, and the Demons responded with a pair of Ja'Monta Black technical free throws.
With possession, Sharp sliced through the lane and drew a foul on a layup, converting the three-point play and swinging momentum back to the Demons.
"I want to thank my teammates, just from everything we've been through," said Sharp, who hit 11 of 19 shots from the field. "We've got one more. I'm not even happy with my performance. Coach tells me to do what I do every game and every practice. I go out and do it. I don't thank myself for my performance. I thank my teammates like Isaac and Ja'Monta."
Black hit a trio of 3-pointers, pushing his season total to 118 – second-most in Southland single-season history – and finished with 14 points. Freshman Jalen Hampton narrowly missed a double-double, finishing with 11 points and a game-high nine rebounds to help the Demons reach their eighth Southland Conference Tournament championship game.
"We want this for the city of Natchitoches," Gipson said. "Natchitoches is known as the City of Lights. We want to make it brighter."
— Featured photo by Chris Reich, NSU Photographic Services