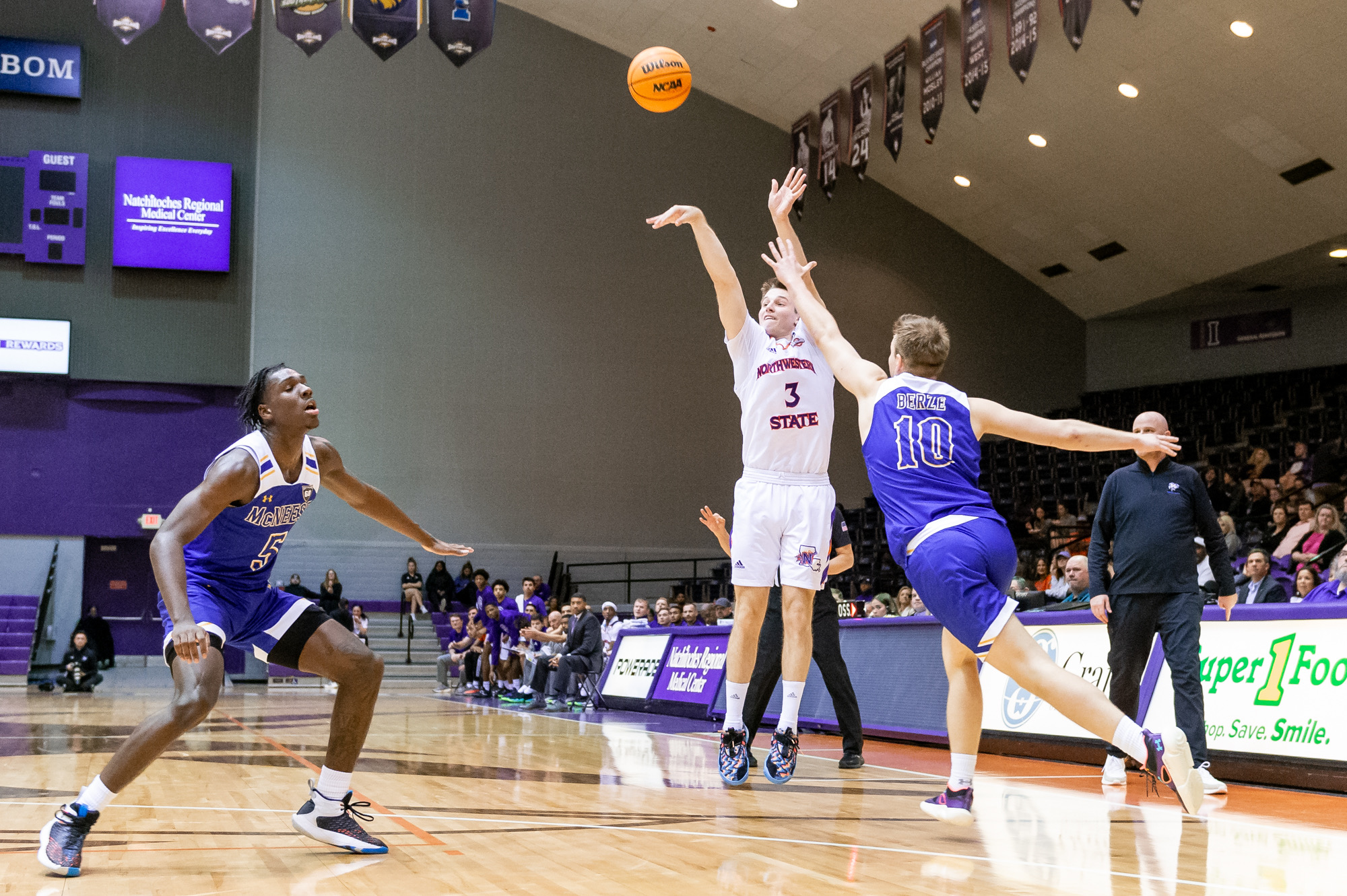 By Jason Pugh, Northwestern State Assistant Athletic Director for Media Relations
BEAUMONT, Texas – Because the Northwestern State men's basketball team held its poise on the road, the Demons' Southland Conference win streak reached six games Saturday night.
NSU made the majority of the plays down the stretch of a taut back-and-forth affair against homestanding Lamar, holding off the Cardinals 72-68 in the Montagne Center.
"The good thing is I always say these guys continue to grow," first-year head coach Corey Gipson said. "(Isaac) Haney wanted to take (Lamar's Nate) Calmese, and he did one heck of a job. His teammates did a great job of supporting him with how we handled ball screens. Proud of Haney stepping up and taking that role."
With Haney hounding Calmese, Lamar's high-scoring freshman who entered the game tied for the conference lead in scoring at 17 points per game, from the start, the Demons (16-8, 8-3) raced to a seven-point halftime lead.
The advantage grew to nine as DeMarcus Sharp hit a step-back jumper to start the second half before Lamar (7-17, 3-8) strung together a 13-0 run across the next 2:45 to build a four-point lead that stood as the Cardinals' first advantage since holding a 23-22 lead with 6:18 to play in the first half.
Following Jakevion Buckley's three-point play that gave Lamar its one-point lead, Sharp took control of the game, sinking three 3-pointers and handing out an assist on an 11-0 run that gave NSU its largest lead of the game – a 10-point advantage at 33-23.
Sharp did not miss a 3-pointer, sinking a career-best four 3s on as many attempts, highlighting another dead-eye, long-range shooting day for the Demons. NSU hit 12 of 26 3-pointers, a 46.2 percent clip, making at least 10 3s for the fifth time during its six-game win streak.
"I was very impressed with the way our guys clicked the ball and shared the ball," said Gipson, whose team had 18 assists on 24 made shots.
Equally impressive was Haney's work on Calmese.
A sophomore from West Plains, Missouri, Haney held Calmese to seven points, seven days after Calmese had 20 points in the Demons' 80-65 win against Lamar in Prather Coliseum. Haney limited Calmese to just five shot attempts.
"Haney's a great defender," said Sharp, who finished with a game-high 23 points on 8-of-11 shooting. "Coach preaches defending. Haney took charge over everybody who wanted to guard him. Haney really got the job done."
With the Demons clamping down on Haney, Chris Pryor led Lamar with 20 points, but it was the Cardinals' offensive rebounding and second-chance points that helped Lamar hang tight in the second half.
The Cardinals held a 14-4 advantage in second-chance points, a category NSU typically wins, but it was two of NSU's four second-chance points that played a key role in the Demons moving into a three-way tie for first place in the Southland Conference.
With the Demons up 64-59, Haney missed a corner 3-pointer, but Dayne Prim corralled the loose ball and put it back in to give NSU a three-possession lead with 2:04 to play.
Prim also halted Lamar's 14-0 second-half run with a jumper and added a three-point play as the second half began to take on its back-and-forth shape.
Prim finished with nine points and grabbed all four of his rebounds in the second half.
"I'm just trying to get back into game shape, get my legs back under me," said Prim, who missed two games with a concussion and has fought through a nagging ankle injury since the SLC opener against Texas A&M-Corpus Christi on Dec. 31. "It's a testament to my teammates and the coaching staff still believing in me. I'm grateful, and I'm happy to be here."
In addition to hounding Calmese, Haney finished with 12 points, sinking four 3-pointers, including one that snapped a 55-all tie and put the Demons ahead to stay.
Even after the Demons built a seven-point lead on Prim's putback, Lamar did not go away. The Cardinals pulled with three on Pryor's corner 3 with 11 seconds to play, setting off a wild ending.
Following an inbounds pass, Sharp was fouled and sank two free throws with 7.7 seconds to play to put the Demons up 70-65 before Buckley hit a 3-pointer that nestled through the net as the buzzer sounded.
After review, the referees put 2.2 seconds back on the clock. The Demons got the ball inbounds to Ja'Monta Black, who sank two free throws to account for the final margin.
Black finished with 13 points, eclipsing the 1,000-point mark in his collegiate career. Black scored the first 629 points of his career at Missouri State. Haney added 12 points, sinking 4-of-8 3-pointers.
Jason Thirdkill Jr. chipped in 15 points and a game-high eight rebounds for the Cardinals.
The Demons return to action Thursday when they wrap up a three-game Southland Conference road trip by making their first visit to Texas A&M-Commerce as an SLC member. Tipoff is set for 8 p.m. in the Field House.
— Featured photo by Chris Reich, NSU Photographic Services