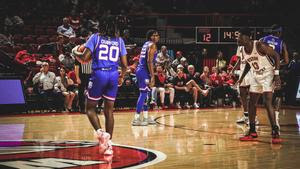 Louisiana Tech Athletic Communications
BOWLING GREEN, Ky. — For a second straight game, Louisiana Tech was unable to overcome a slow start, falling 76-66 to WKU on Thursday night inside E.A. Diddle Arena.
LA Tech (13-15, 6-11 C-USA) trailed by 13 right out of the gates and ultimately found itself down 12 at halftime. It was a first half that saw the Bulldogs shoot just 33 percent from the field while WKU (15-13, 7-10 C-USA) was 50 percent shooting, getting 14 points apiece from Dontaie Allen and Dayvion McKnight.
The Bulldogs flipped the switch in the second half, getting to within five at 48-53 after a series of three-pointers from Dravon Mangum and Kaleb Stewart.
Every time LA Tech would get within striking distance though, WKU made a quick run to increase its lead back out to double-digits. The Hilltoppers got five quick ones, making it a 48-58 game with 9:22 to go.
The 'Dogs made another late push, getting a pair of Isaiah Crawford jumpers and a putback layup by Kenny Hunter to get to within four at 57-61. The run forced a timeout by the Hilltoppers with 5:09 to play, the closest LA Tech had been since the opening minutes of the game.
Again though, WKU punched back. This time it was a 10-0 spurt that was sparked by a three-pointer from the wing by Khristian Lander late in the shot clock. He tacked on another during the run that put the Bulldogs down 14 and out of reach for good.
LA Tech outscored WKU, 37-35, in the second half while shooting 53.8 percent during those 20 minutes. For the game, they went 25-of-59 for 42.4 percent, getting a combined 30 points from Crawford and Keaston Willis (16 and 14). Kenny Hunter was also a solid contributor, registering nine points, nine rebounds, three steals, and two blocks.
WKU was 27-of-55 for the game for 49.1 percent. They also made 12 free throws, six more than LA Tech attempted from the foul line. Four Hilltoppers reached double-digit points, led by McKnight who had 19.
QUOTABLES
Head coach Talvin Hester
"I felt like we were flat and sluggish in the first half. They beat us to every loose ball. I do not think we played with pace, getting into our defense the way we needed to. I felt like we did all of those things in the second half, which gave us a chance. We have dealt with no putting 40 minutes together all year."