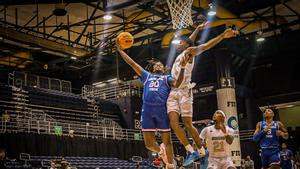 Louisiana Tech Athletic Communications
Turnovers and fouling were the difference for Louisiana Tech on Thursday night as the Bulldogs fell, 66-62, to FIU inside the Ocean Bank Convocation Center.
Despite making more field goals (23 to 22) and more three-point field goals (nine to four), LA Tech (13-11, 6-7 C-USA) matched its season high in TOs with 23 and sent FIU (13-12, 7-7 C-USA) to the free throw line 28 times.
The first 14 minutes were great for the Bulldogs, building a 30-19 advantage after Isaiah Crawford's bucket in the paint with 6:08 to go in the first half.
The next 14 minutes however was a completely different story. The turnovers started to mount, which allowed the Panthers to close the half on a 9-0 run to get to within two at 30-28 going into the locker room.
The story continued unfortunately into the second half as the Bulldogs, stuck on 30 points for nearly 10 minutes of basketball, finally stopped a bad scoring drought with two made free throws by Cobe Williams. That was after FIU ending up extending its run to 17-0 to grab a 36-30 lead.
With its largest deficit at eight with 8:18 to play, the offense finally started to come around again for LA Tech. After Kaleb Stewart drained his fourth three-pointer of the game, Jordan Crawford and Kenny Hunter connected on an alley-oop slam to take the lead back at 56-55 with 3:25 left.
FIU countered with a dunk of its own, and then tacked on seven made free throws down the stretch to stop LA Tech from going back in front.
It was a one-possession game in the final four minutes of the contest. The 'Dogs had one final attempt to force overtime down three, but they were not able to get a shot attempt off after committing their 23rd turnover.