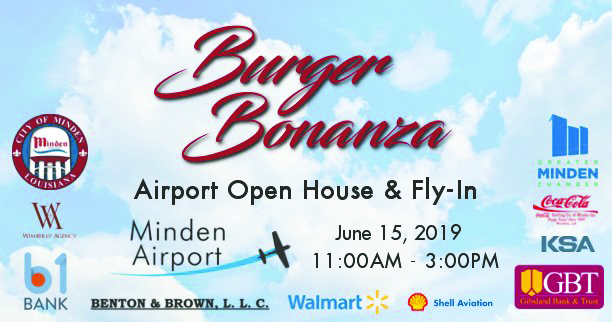 This Saturday from 11 a.m. to 3 p.m. the Minden Airport will be hosting a Burger Bonanza Airport Open House and Fly-In. This event is open to the public and will serve as a way for the Minden Airport raise awareness. "A lot of people don't actually know Minden has an airport, and those that do, they don't really understand the importance of it," said Steven Burdeaux, Manager of the Minden Airport. The event will host a variety of entertainment, including burgers, music, a spot landing competition, and hot air balloon demonstrations.
Burdeaux said that the main goal of the event is to, "Get pilots to fly in and see what we've got to offer, showcase the airport, give them a venue to visit with other pilots and aviation people."
The Burger Bonanza Airport Open House and Fly-In was created through a collaboration of the Greater Minden Chamber of Commerce, the City of Minden, and the Minden Airport itself, and will be sponsored by b1BANK, Shell Aviation, KSA Engineers, Walmart, Gibsland Bank and Trust, Benton and Brown, Wimberly Agency, and Minden Coca-Cola Bottling Company.
Given the title of the event, there will be burgers being sold, and pilots, active duty military, and first responders eat free. The burgers are being provided by the sponsor GBT. The band aptly named "Flight Delay" will be playing live at this event.
There will be a Spot Landing Contest open to pilots with an entry fee of $20. The challenge is to see "Whoever can land the closest or on a spot in the runway" according to Burdeaux. Timberland LLC is presenting that event. The winner gets a case of oil or $100 and all proceeds to go to Pilots for Patience. Pilots for Patients is a non-profit group of pilots that donate their time, aircraft, and fuel to transport sick people to hospitals.
This is also an opportunity for people to see the new developments that have been made to the Minden Airport. Burdeaux said that "The old facilities were too close to the runway. That turned into a safety issue." This meant that a lot of the buildings that were located too close had to be removed and placed elsewhere. They were able to re-do most of the airport, minus the runway, through attaining "Federal Aviation Administration and the Louisiana Department of Transportation and Development Grants, with little to no cost to the taxpayer" according to Burdeaux.
This event will take place at the Minden Airport, located at 100 Aviation Drive, from 11 a.m. to 3 p.m. on Saturday, June 12.