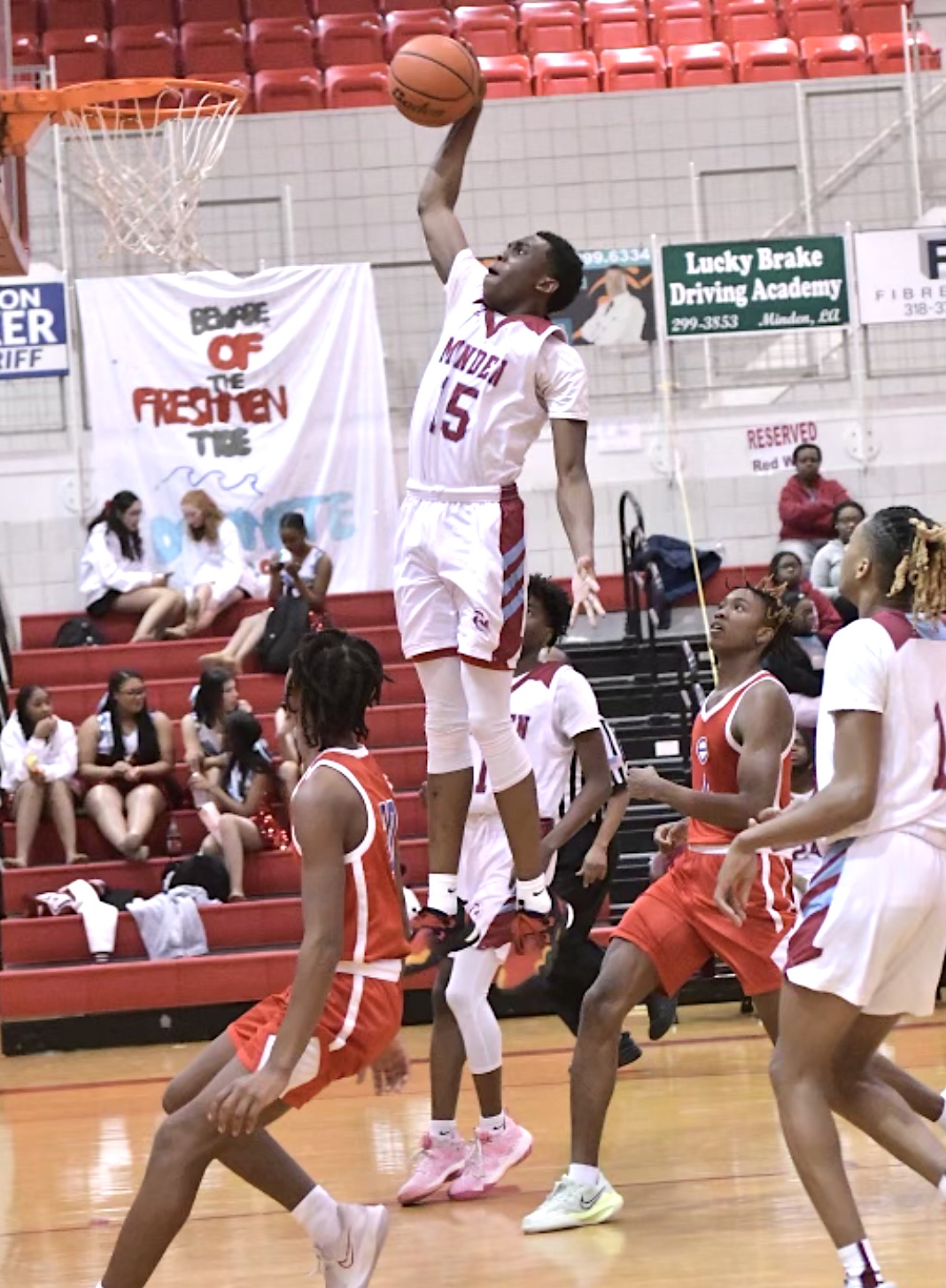 The Minden High School boys hoopsters fell to 0-2 in Disitrct 1-4A play Tuesday evening as the Crimson Tide fell at home to Evangel Christian, 66-39.
Evangel grabbed an early advantage, building an 18-10 lead by the end of the opening stanza before taking control in the second quarter by outscoring the Tide 22-4 to build a 40-14 lead at halftime.
A big part of the game came from the 3-point line, where the Eagles connected on eight-of-15 of their shots while Minden only managed to net two-of-20 attempts.
"Evangel just took it to us," said MHS coach Rennie Bailye. "We couldn't make a shot. We couldn't hit out long ones while they were making a bunch of theirs. And we're not playing good defense right now. We have to find a way to try and refocus and play better basketball."
Mijai Batton and Maurice Rabb scored eight points each to lead the Crimson Tide while Jaiden Franklin added seven, Stafford Bailey chipped in with six, Jaylin Williams hit for five and Kell Hawk totaled three.
Minden, now 8-15 overall, will next play host to Huntington (18-7, 2-0 in 1-4) at 7:30 tonight.
TONIGHT'S PREP BOYS SCHEDULE
• Wossman (21-3, 3-0 in 1-3A) at North Webster (0-16, 0-4 in 1-3A)
• Lakeside (7-15, 0-2 in 1-2A) at D'Arbonne Woods (3-15, 0-3 in 1-2A)
• Arcadia (12-9, 5-1) at Glenbrook (5-11, 2-5 in 1-1A)
• Castor (11-1, 0-1 in 1B) at Doyline (20-2, 1-0 in 1-B)
WEEKEND PREP GIRLS SCHEDULE
• Huntington (18-6, 2-0 in 1-4A) at Minden (9-11, 2-0 in 1-4A)
• Wossman (20-2, 3-0 in 1-3A) at North Webster (7-11, 0-4 in 1-3A)
• Lakeside (7-15, 1-2 in 1-2A) at D'Arbonne Woods (6-12, 1-2 in 1-2A)
• Arcadia (18-6, 5-0) at Glenbrook (5-11, 2-5 in 1-1A)
• Castor (14-6, 1-0 in 1B) at Doyline (12-7, 0-1 in 1-B)