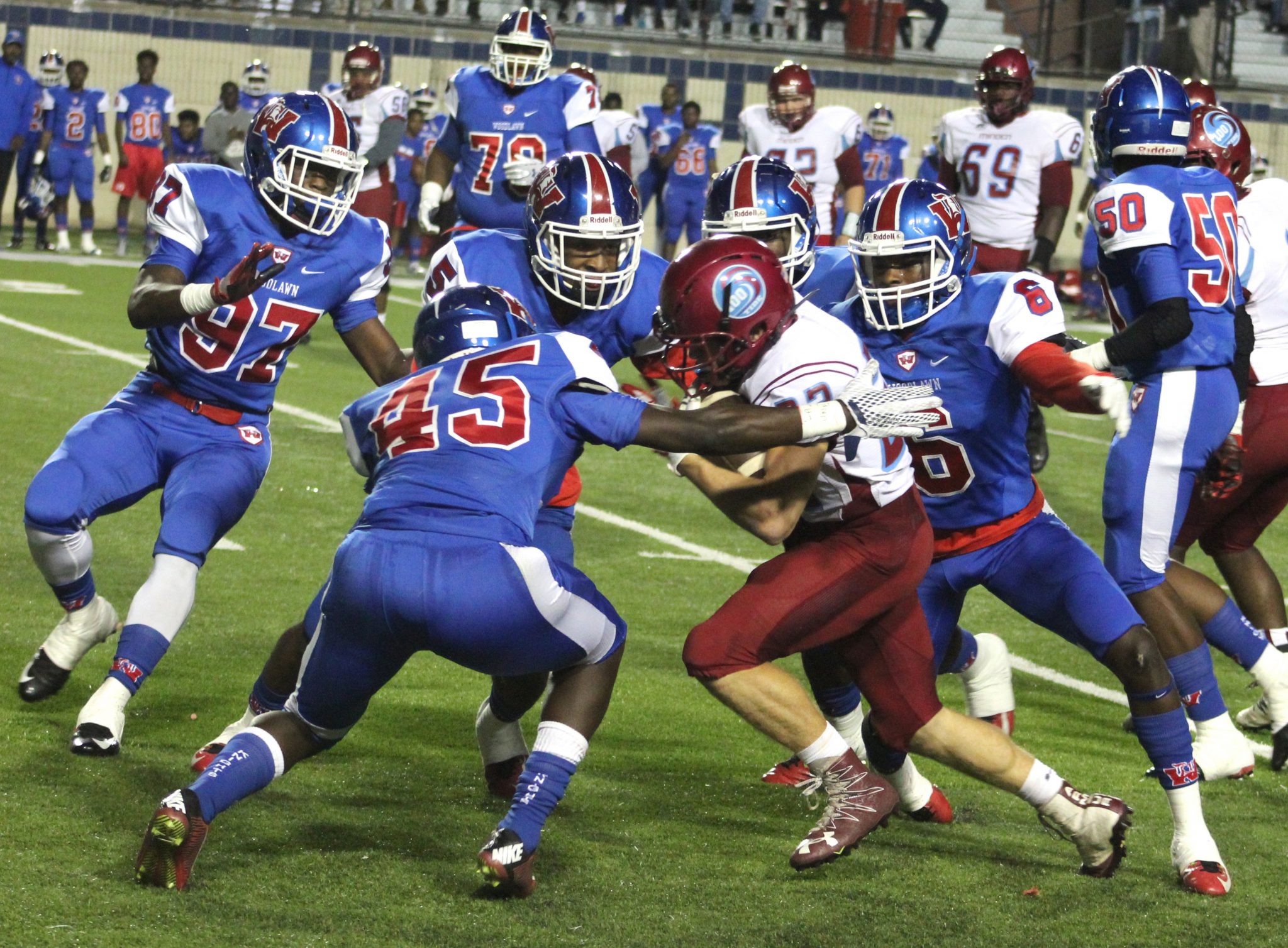 SHREVEPORT – For the first time this season, the Minden defense had no answers for an opposing offense.
Minden (9-1, 6-1) fought back with vigor, almost erasing a 32-14 deficit with 9 minutes to play in the fourth quarter, but the Woodlawn Knights (9-1, 7-0) had one more big play in them than the Tide could survive. Knights' quarterback Joshua Mosley accounted for 5 touchdowns (3 rushing, 2 passing) and the Woodlawn defense held Minden to just 286 total yards as the Tide fell for the first time this season, 38-30.
With the loss, Minden must wait yet another year for a chance at a district title. The Tide nearly completed a miraculous comeback during a furious fourth-quarter rally, but if not for a lackluster first half, they wouldn't have needed it.
"We didn't convert enough first downs in the first half," Minden head coach Spencer Heard said. "We had some drops that stopped drives, and that led to our defense being out there longer than they should have been. But that's no excuse, our defense didn't do enough to get themselves off the field. They controlled the clock, that was really the story of the game."
The other story was the play of Mosley, a Southwood transfer.
"We were worried about being able to contain him going in," Heard said. "That proved to be the case, we had a hard time doing it. A lot of their scores came from him just running around and making plays with his legs."
Running back Trivensky Mosley was equally effective in the first half, but suffered a leg injury that sidelined him for most of the second half. That's when Minden began to surge.
Trailing 32-14 in the fourth quarter, Minden quarterback Antonio Rivette found Tavarius Edwards wide-open over the middle for a 22-yard touchdown strike.
The Minden defense forced a 3-and-out, which led to a kick-catch interference call on the ensuing punt. With good field position, Minden needed three plays for Patrick Heard to find paydirt on a 27-yard run that electrified the Tide's large road following.
An onside kick attempt was unsuccessful and Woodlawn went to work on a long drive to kill the clock that included a gutsy reverse to convert on fourth-and-2, a pair of delay of game calls and a defensive pass interference call on fourth-and-27 that, while justified, upset the Minden fans in attendance hoping to see their team complete an undefeated regular season.
"It was pass interference," Heard said. "It was a good call. Looking at the film, we hit him right in the neck/shoulder pad area before the ball got there. The game was more about us than any calls that were made."
The back-breaker came on the next play, a fourth-and-12, when Joshua Mosley avoided what looked like two sure sack attempts from Ethan Culp. Mosley kept his eyes downfield the entire time, and eventually found Jordan Hester for an improbable touchdown to extend the Knights' lead to 38-30.
Minden's last-gasp drive didn't go as planned, with the Tide's fourth-down play falling incomplete on a deep ball to Kelcey Miller.
"There was no big adjustment in the second half," Heard said. "We just tackled better on defense. It seems like we were able to get some drives going and our defense was getting off the field. It was just a case of too little, too late."
Rivette finished 9-of-23 with 2 passing TDs and 1 rushing. Patrick Heard topped the 100-yard mark once again with 113 yards and a score, and Adrian Flournoy finished with 41 yards and a score to lead Minden receivers.
On Sunday, the LHSAA Class 4A playoff bracket was released, and the Tide were able to remain fifth in 4A.
Minden will face the No. 28 seed, Franklin Parish, at home in The Pit for round one of the playoffs. The Patriots are 3-7 on the season, with one of their wins coming against the team Minden could see in the second round, Bastrop. The Patriots also played No. 4 seed Tioga to a 3-point game, so the
Tide have to be ready to play this week in a do-or-die situation.
"We just told the guys we have to put this one behind us," Heard said. "It's going to hurt over the weekend, but we start a new season on Monday and we have to be ready to go."