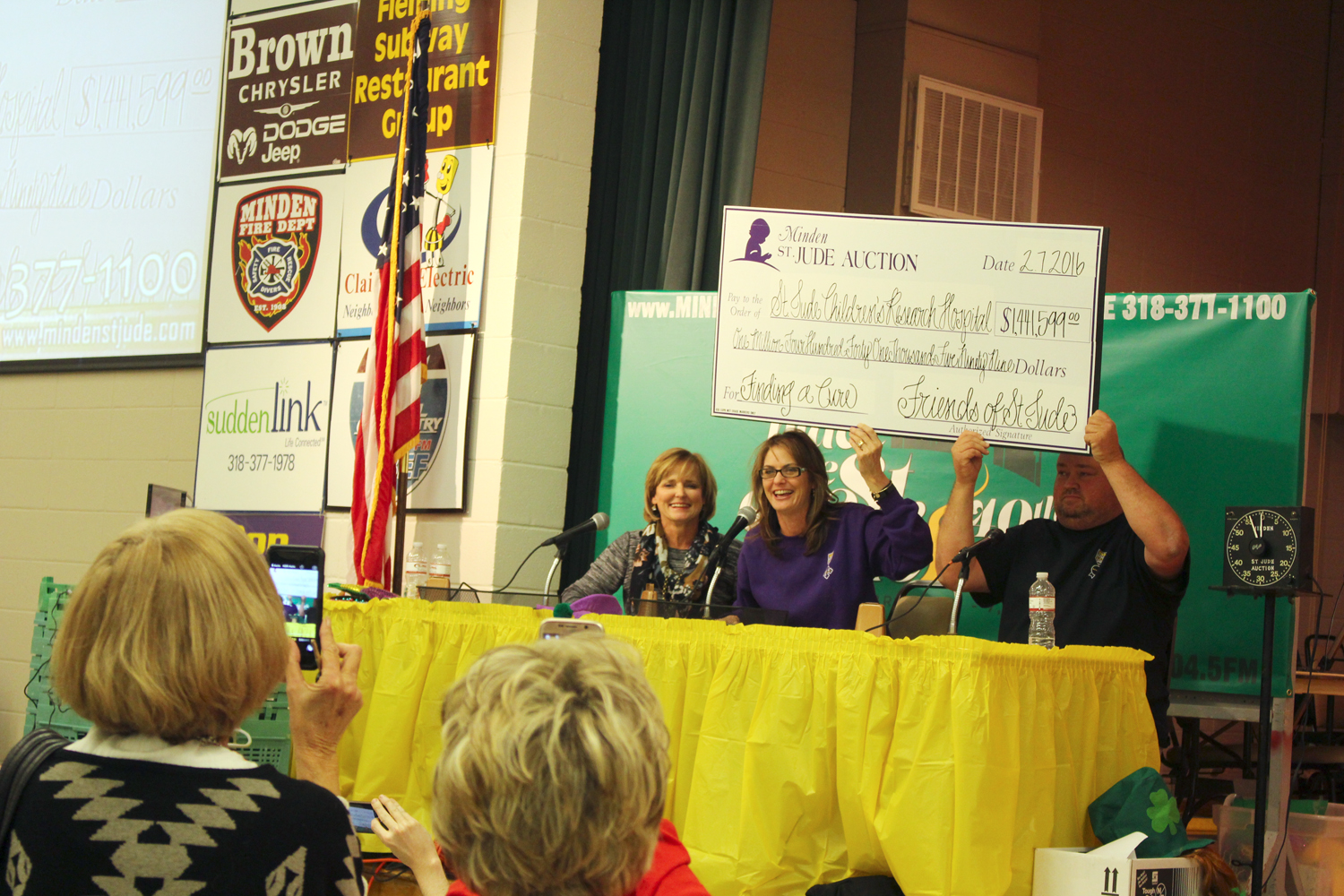 Minden did it again.
The 40th annual Minden St. Jude Auction made history Sunday evening by breaking the 2015 record and bringing in $1,441,599 for the children's cancer research hospital.
"Once again our community has far surpassed anything we could dream of," Christie Ruple, co-chair of the auction said. "Thank you, thank you, thank you Minden, Webster Parish and beyond."
Thousands converged upon the Minden Civic Center from Thursday to Sunday to place bids on items and help break all records for the 40th annual auction, themed 'There's no place like St. Jude" – a nod to the popular 'Wizard of Oz' fairytale.
Saturday morning, more than 1,600 runners took to the streets of Minden for the annual Minden Run for St. Jude 5K, 10K, half marathon bringing in more than $75k for the auction. Following the run, cooks from around the region fired up the pots to take part in the 25th annual St. Jude Chili Cook-Off, which brought in more than $7,500.
Students of Webster Parish also chipped into the cause. Fundraisers at area schools Friday brought in more than $140 thousand to go toward the final total.
Last year, the auction broke all records, netting more than $1.3 million. This year, the number of tickets for the grand prize, a 2016 GMC Denali or $50,000 in cash, was raised from 1,500 to 4,000.
This year's 40th annual event not only beat last year's total by $121,969, but also garnered 2,985 grand prize entries.
The Internet once again helped surge donations past to the million-dollar mark. Before the start of the auction, more than $60,000 was brought in on online raffles. In the end, more than $400,000 was raised on the auction's website, www.mindenstjude.com.
"That is where our growth is at – an 800 percent increase since 2007 (the year the auction included online sales,) she said. "That's huge."
Delbert and Kathy Green of Keithville took home the grand prize.
Partners in Hope ($20 pledge per month for one year) prizes included a Rolex watch that Shan McKinney of Minden took home, a Disney World trip for four that went to Bush Carnahan of Minden and a LG 55-inch TV with a Texas Rustic TV stand that went to Lynn Richie of Minden.
Other big winners were Olivia Elkins of Cotton Valley who won the Indian Motorcycle. Tammy Farley of Minden whose name was pulled for the Wizard of Oz themed playhouse and Kathy Kirk whose named was pulled for the Honda side-by-side.
In the 40 years of the auction, Minden has raised $13,923,763 (not counting this year) for St. Jude Children's Research Hospital. That's more than any other city in the United States.
The first year of the auction, the grand prize was a boat and raised $10,000.