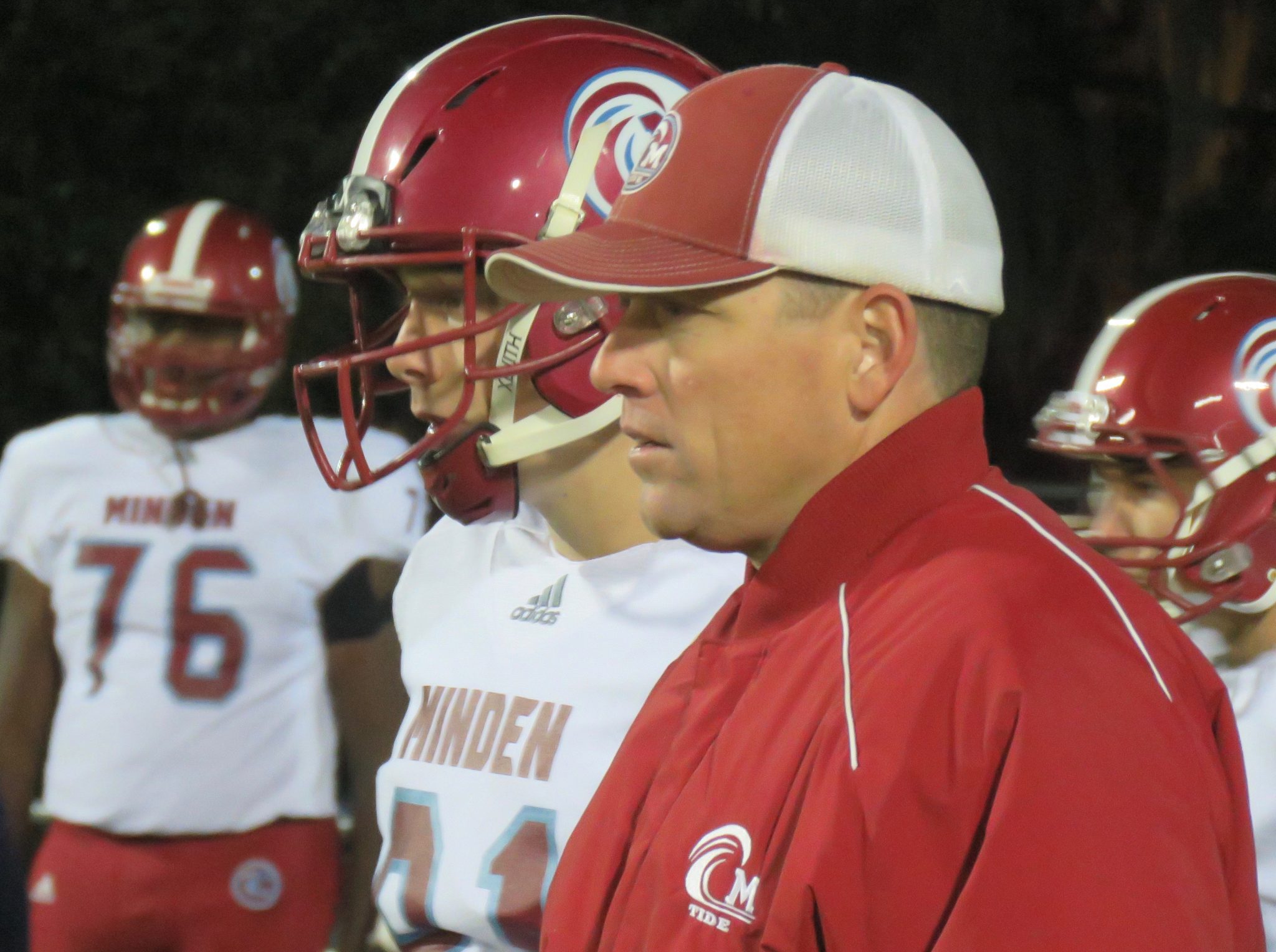 By Aaron S. Lee
Special to the Press-Herald
NEW ORLEANS—The 32-seed Minden Crimson Tide were in need of a miracle to pull off an upset against unbeaten No. 1-seed Edna Karr on the road in New Orleans at Behrman Stadium Friday night.
Despite being down only four points (14-10) at the end of the first quarter following a gutsy first 15 minutes of play, the overall team speed — especially at the skill positions — proved too much for Minden to overcome as they fell in the opening round of the 2018 LHSAA football playoffs 34-10.
"Our guys came out and were ready to play," Minden head coach Spencer Heard said. "We weren't intimidated by them being number one in the state."
Arriving just one-hour prior to the start of the game following a six-hour bus ride from Northwest Louisiana, Minden came ready to play and showed no signs of backing down in the early stages.
Trailing 6-0 following a 20-yard touchdown reception to Khalfani Simmons from quarterback Leonard Kelly and a missed extra point kick on the Cougars opening drive, the Tide immediately responded with a 60-yard kickoff return from senior Jacareon Lathan.
After failing to punch it in from the 20, junior kicker Gavin Jackson nailed a 32-yard field goal to put Minden on the board with 4 minutes 3 seconds to play in the first quarter.
However, the Cougars needed only three plays — thanks to a costly personal foul penalty against an aggressive Tide defense — to hand another six points on the board. This time a 26-yard strike to a wide open Larry Junior. Edna Karr up 14-3 after tailback Ronnie Jackson took it in for two.
"They are a good team," Heard said. "We held up well in the box against the run like we did all season. They have a very talented quarterback and their receivers got over the top of us on multiple occasions."
Still in the first quarter and the Tide not out of it yet, Sophomore quarterback Trent McLaughlin hit Lieric Robinson on a short screen, and the junior running back rambled 27 yards to set up teammate Seth Johnson's 39-yard end-around for six. Jackson's successful point after pulled Minden to within four, 14-10 with two minutes remaining in the quarter.
"We just tried to earn respect," Heard said. "I thought we did that. After the game, you could tell that team respected us. Our guys really battled."
From there it was all Edna Karr.
Despite being hurried by the Tide defensive front, Kelly hooked up with Junior once again, this time on a 45-yard pitch and catch for the score. Cougars extend its lead, 21-10.
"We continued moving the ball relatively well as the game went on, but we had a couple of situations in the second quarter where field positioning hurt us," Heard said. "The wind was blowing about 25 miles an hour. We had to punt into that wind a few times and gave them great field positioning."
On the following possession, Kelly hit Destyn Pazon on an 8-yard slant to with 25 seconds remaining in the second quarter. The Tide blocked the point after to trail 27-10 at the half.
Kelly finished the game 17-for-21 passing with 226 yards.
Robinson led the Tide with 52 yards on 19 carries.
"It was one of our goals to be in the playoffs," Heard said. "I'm proud of the way our team continued to battle through this season and persevere through some negative things that happened, things that didn't work out for us or that we didn't really thing would happen before the season."
Minden finishes the season 3-8 with a number of close losses.
"Against the best team in the state, we didn't go outside of what we did all year," Heard said. "At the end of the game, we earned their respect."
JJ Marshall contributed quotes and statistics to this story.