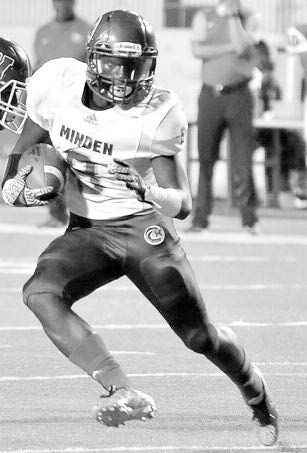 NEW ORLEANS – The Minden Crimson Tide defense held McDonogh #35, the No. 10 team in Class 4A, to less than 200 total yards of offense.
If not for the Tide's well-documented offensive struggles continuing, an upset could have been possible; however it was not meant to be as Minden's season came to an end following a 21-6 defeat.
The Roneagles' Eddie Tillman III scored two touchdowns, one in the first quarter via the pass and a 4-yard rushing TD in the fourth quarter, to lead McDonogh #35, while wideout Caleb Ezidore found the end zone in the second quarter on a 24-yard toss from quarterback LeJohn Howard.
Minden's only score of the game came with 3:47 remaining in the fourth quarter when Patrick Heard broke the plain from 1-yard out. The Tide managed only 138 yards of offense, the culmination of a season's worth of frustration on that side of the ball.
Patrick Heard finished with 57 rushing yards and one touchdown and quarterback Seth Tyler finished 10-of-17 passing for 87 yards, with Heard and Decoriun Brim each racking up 42 receiving yards.
Minden committed two turnovers; McDonogh #35 had none.
"We needed a couple breaks and we didn't get them," Heard said. "I thought the effort was there. We just had some offensive struggles. It is what it is, but we bring back 95 percent of the defense and we got a lot of experience under our belt for next year. There's some young talent coming up we're looking forward to coaching."
The Tide finish the season with a 5- 6 record, their first losing season since 2013; however, this was Minden's fourth-straight playoff campaign under Heard's leadership.
Minden will aim to develop offensive playmakers over the offseason, but the defense should be back in Crimson Swarm form in 2018 with 10 starters and a handful of supporting players returning.