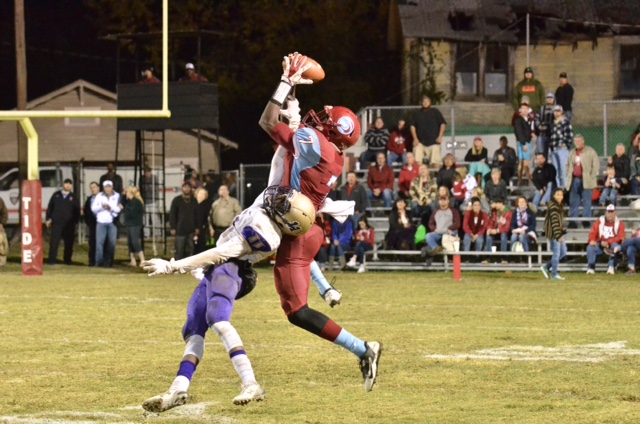 Ninety-five years and a mascot change were not enough for Minden to win a long-awaited rematch with Warren Easton.
Minden's historic centennial football season came to a close Friday at The Pit, as the Crimson Tide never found their footing against a formidable Eagles team the day after Thanksgiving.
The Tide trailed 18-12 early in the second half, but the Eagles dominated the game's final quarter to hold off a desperate rally and end Minden's season, 34-20.
It was an emotional night for the Tide's 28 seniors and their fourth-year head coach Spencer Heard.
"We had trouble moving the ball inside," Heard said. "(Warren Easton) was one of the bigger teams we've seen throughout the course of the year. There are a few things we could have done a little better to help ourselves, but I think that was one of the big stories of the game; not being able to move the ball inside."
The Tide were limited to 68 yards rushing in an uncharacteristic performance. Kolby Jackson led the team with 25 rushing yards on only 4 carries, while Antonio Rivette and Patrick Heard combined for 39 yards on 24 carries.
Minden's air attack was equally-ineffective against Warren Easton, as Rivette finished the night 17-0f-38 with 2 touchdowns and 3 interceptions.
Minden's defense did their best to contain an explosive cast of Easton backs and receivers, but with the offense sputtering as often as it did, the Eagles were able to tire out the vaunted Crimson Swarm.
"The defense played pretty well," Heard said. "That was a talented group they played tonight. We held up good in the run game, but they made some athletic catches and stuff when they had to. Overall, I think our offense was the big thing."
An emotional Zi'Kerrion Baker could be seen throughout the second-half trying to motivate his comrads to victory, but Easton answered every attempt Minden gave at swinging the momentum.
The decisive play came from the Eagles' defense with 5:36 to play, when Damien Tate Jr. stepped in front of a Rivette pass for an interception and returned it 47-yards for a score that put Easton comfortably ahead at 34-12.
Rivette managed to lead a scoring drive late to cap his stellar career with a 1-yard touchdown run. Rivette finishes as Minden's all-time leader in touchdowns and yards.
Tavarius Edwards finished with 6 catches for 65 yards and a score in his final outing, while Kelcey Miller added 4 catches for 47 yards in his final game. Adrian Flournoy had a 40-yard catch, also playing in his last game for the Tide.
It was a group of seniors who meant more to Heard and the Tide football program than they will likely ever know.
"I told them to keep their heads up," Heard said. "This game wouldn't define who they are as men. These guys have meant a lot to the program and set a great example for the younger guys coming back on how to approach practice and the weight room. It definitely hurts, but these guys have nothing to hang their heads about."