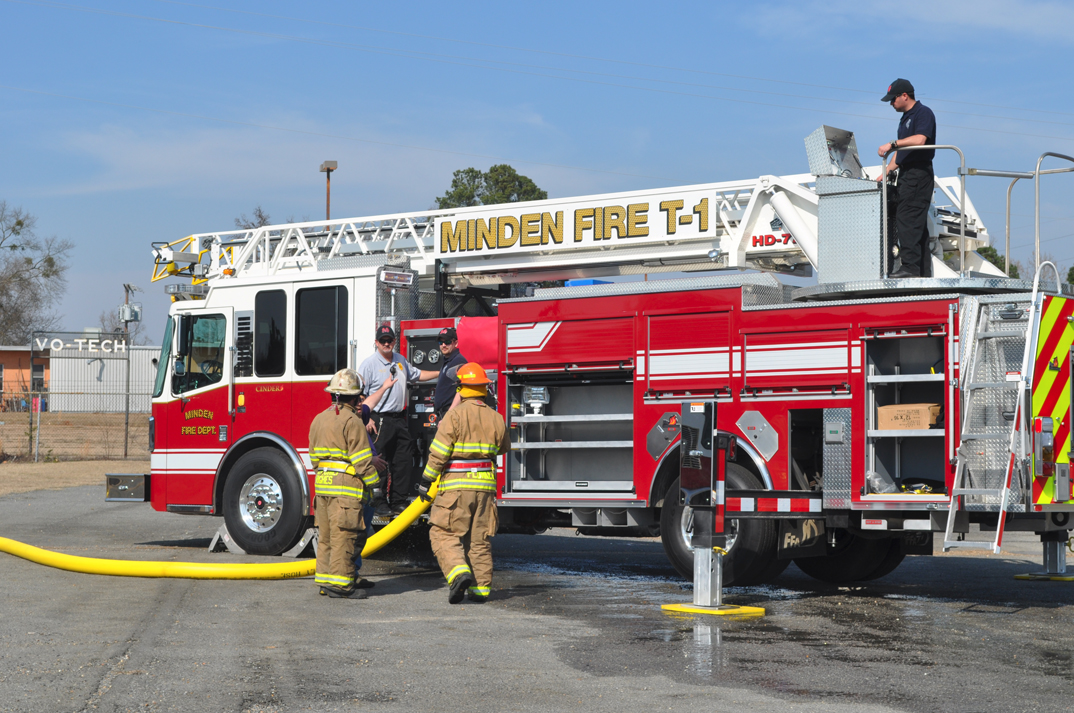 Minden firefighters have another weapon in their arsenal and it's one Chief Kip Mourad believes will get plenty of use.
For three days this week, the department's 15 full-time firefighters have been learning the ins and outs of their newest fire truck, one which has among its many features a 77-foot extension ladder complete with directional water nozzle which can be operated remotely.
"We've had the full-time guys on our three shifts learning how to operate the aerial feature and it's been going very well," Mourad said while watching his firefighters put the new equipment through its paces at the Minden fairgrounds. "We should have (the truck) ready for service by the end of this week, and we plan to roll it often."
Firefighters have been undergoing classroom and field instruction delivered by Brad Seabaugh, an instructor for Ferrara Fire Apparatus, Inc. of Holden. Seabaugh travels across the country conducting training seminars for departments where his company's equipment has been purchased.
Cost of the new fire truck, approved by the Minden City Council, is just under $620,000.
"That's including all the equipment and safety features," Mourad said.
Features that Mourad says will add new dimensions to the department fire fighting capability include the directional nozzle that can pour thousands of gallons of water on fires from ground zero to fully extended.
"We can put water on the fire without having to get a man up the ladder to operate a hose," Mourad said. "That's a big advantage in some cases because we can deliver water to an elevated fire source without endangering our people."
Mourad says the water nozzle can be retracted so the ladder can be used in a rescue mode.
"We can fully extend the ladder or lower it for a low-level rescue if we need it," he said. "This unit has some amazing features, including stabilizers which keep everything level even on sloping ground. If for any reason the platform isn't level, the unit will shut down. Our guys say it may be firefighter proof."