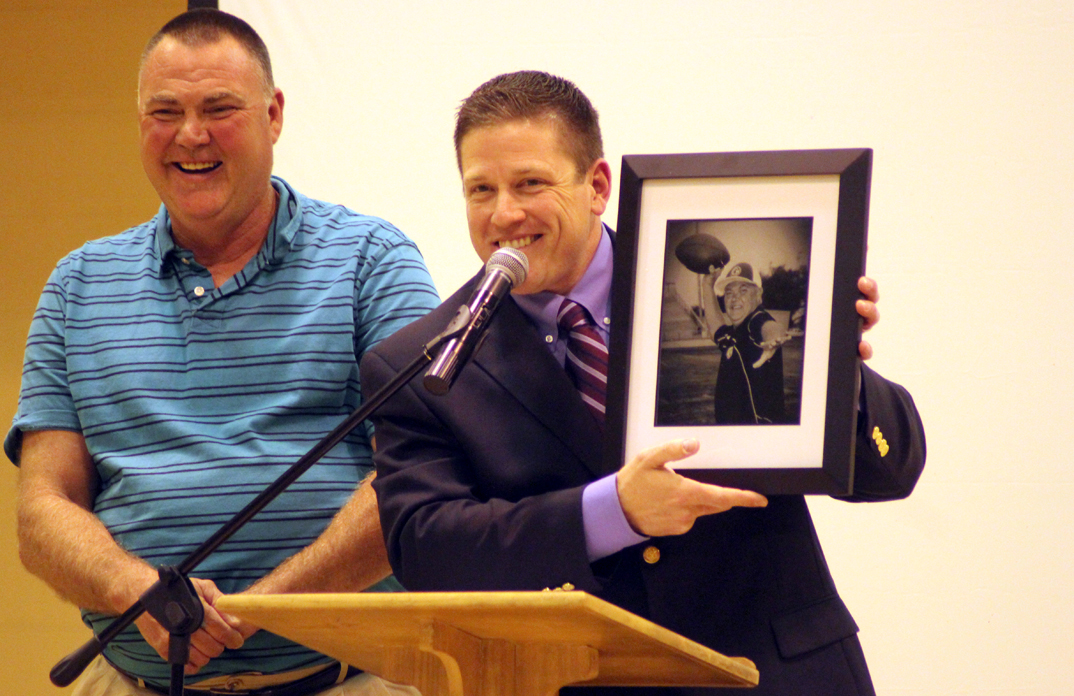 Minden High School held its annual football banquet Monday night at First Baptist Church in Minden as the Crimson Tide officially turned the page to next season by handing out individual awards as well honoring team manager Dick Lawson and team trainer Christina Chester.
The evening started with a meal and a highlight video full of the Tide's best plays from throughout the season. Then, the freshmen football players were honored for their hard work during the season.
The position coaches then took a few minutes to talk about the hard work put in at each spot.
Next, it was time for head coach Spencer Heard to take the podium.
Heard talked at length about the special group of players on this year's team, citing the work ethic these young men put in to make this season so successful.
"These guys were willing to work everyday," Heard said. "It took everyone on this team to accomplish what we did this year."
Heard then spoke to his graduating seniors.
"This is a special group of young men," Heard said. "These guys have laid the foundation for you returning guys to keep building. I'll always have love and respect for you guys."
Finally, it was time for the individual awards.
Senior Bolshevic Green won the best defensive lineman award, capping a stellar senior year. Fellow senior Taylor McKissack won best linebacker, earning high praise from Tide defensive coordinator Alan Ensminger. Marcellous Moses took home the best defensive back award, making the defensive position honors a senior sweep.
Best offensive lineman went to senior Chris Dollar, followed by the best receiver award which went to sophomore Tavarius Edwards. In what was a tough decision for the Minden High coaching staff, Kolby Jackson took home best running back, while ZiKerrion Baker accepted the utility award for versatility on the field.
Then came the MVP awards for offense, defense and special teams.
Sophomore Antonio Rivette accepted the offensive MVP award as Heard talked about how his young-signal caller only will only develop into more of a nightmare for district 1-4A.
Junior L'Jarius "JJ" Sneed took home defensive MVP for disrupting offenses all year both in coverage and in run support.
To wrap up the awards, Senior Dillon Herrington took home special teams MVP for his relentless effort. It was clear how much Heard enjoyed Herrington's determination and leadership for the Crimson Tide.
The night ended with a special thanks from Principal Robin Tucker to the Minden High coaches and parents for their tireless efforts and support for Crimson tide football.
Before the night wrapped up Heard asked the team to gather around the seniors to pray and "call it up" one last time.
It was the perfect ending to a wonderful season, as the Tide will now set their sites on an even better year in 2015.