Minden's home gym, dubbed "The Palace," has hosted some great games in its 10-year career.
One could argue the pristine hoops hall is hosting the most important regular season game in its brief history when the Benton Lady Tigers visit the Minden Lady Tiders Friday night at 6 p.m.
The atmosphere should be nothing short of electric as the Lady Tigers, Class 4A's top-ranked team, and Minden (23-1, 4-1), currently ranked No. 3, do battle. Benton (17-4, 5-0) is the only remaining undefeated team in District 1-4A.
Both teams have reason to believe they're the favorite. Led by star senior Emily Ward, the Lady Tigers trampled the Bossier Lady Bearkats, the only team to defeat Minden this season, 56-35 Tuesday.
Minden counters with several impressive wins and four tournament titles this season, including a victory over North Caddo, who has defeated Benton, in the finals of the Airline "Doc" Edwards Invitational. They've also already topped a top-ranked team this season, taking down West Ouachita earlier this season in the Haughton Jack Clayton Invitational.
For Minden, this season has been the culmination of years of hard work and dedication. Those who follow the team closely knew something special was in the works two years ago when a group of freshmen and sophomores led the Lady Tiders into the playoffs before falling to Carencro.
The following year, Minden had an even more impressive season, running through the regular season with a 24-5 record and making it to the second round of the Class 4A playoffs where they fell to A.J. Ellender.
"I knew back when they were in middle school," Lady Tider head coach Jacob Brown said. "I was in my fifth year hear and someone came up and told me there was a group coming up that's going to be special. With that said, you know it's going to be a process to get where we wanted to be. You want it to happen fast. Your freshman year, your sophomore year, your junior year; you want it then, but it doesn't always happen that way. Stepping into the playoffs a couple years ago propelled us to last year and last year has propelled us to this year. This year it just feels like it's all come together."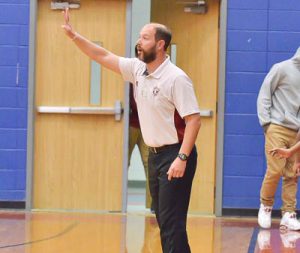 The talented group of Lady Tiders have been groomed for this moment, tried by fire and fueled by those defeats.
"We grew closer as a team through those difficult situations," senior Sha' Whiting said. "On the court, if one player messes up, you have to pick them up and encourage them so they don't get down on themselves."
Good luck finding a weak spot on Minden's roster these days.
Whiting, Bre Rodgers, Sha'Terra "Strawberry" Batton and Whitney Aubrey make up what could be the state's best backcourt. Rodgers is tall and long, the female version of Kevin Durant offensively, but also a terror on opposing offenses, who can shut down passing lanes with her length. Batton is lightning quick in the open court and can finish near the rim, pull up from 15-feet and make any pass on the floor. Whiting is a defensive stalwart with elite quickness and a surging offensive game. The same could be said for Aubrey, who has played a starring role off the bench this season, coming up huge in Minden's win over North Caddo in the "Doc" Edwards championship game.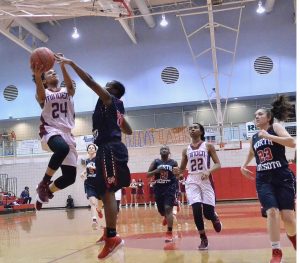 The front court is equal parts skilled and rugged, led by Derrica Gilbert and Destini Powell. Both players hit the glass hard for rebounds and can score through contact, however neither is afraid of stepping outside to knock down a 3-pointer, and both can do so at a high rate. Tayler Banks lacks the sheer size of Gilbert and Powell, but is relentless on the floor while rebounding and playing defense. Like the rest of this team, she too can hit the open trey. Jazzmyn White, a newcomer to the team and its youngest contributor, has come off the bench and played well as of late after a slow start.
The group's core has played together since seventh grade with the Minden Tarheels AAU team coached by Jerome Blalock.
"Tarheels started off as a family thing," Aubrey said. "It was something for the summer to keep us together and teach us how to fight it out."
"It definitely helped with our team chemistry," Batton added.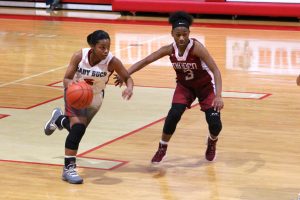 Those games and the camaraderie built during the offseason have strengthened the Lady Tiders when they take the floor with Brown, who has done a masterful job of managing minutes, expectations and complacency with his best team ever.
All of it leads up to Friday night at The Palace with 4A's top team looking to take a commanding two-game lead in the standings, something that will be hard to overcome should Minden wish to win a district championship and have a shot at home court throughout the playoffs.
"Fortunately, we've put ourselves in a good position with a high ranking," Brown said. "But yes, we want to win our district. It's been awhile since we've won one around here. I know our girls share the same goal and want that just as much."
The first step is slowing down Benton and Ward. Minden is at their best when they're flustering opposing offenses with pressure and creating turnovers. Doing so helps Brown's team limit their own turnovers and usually leads to easy buckets and big leads. It will be interesting to see the methodical Benton offense work against the stout Minden defense.
"Defense can win you the game," Whiting added. "Our defense boosts our offense. We need to contain them and get them frustrated."
"We have to slow down their guards," Aubrey said. "If we force them to take hard shots and we box out and rebound, we'll be good."