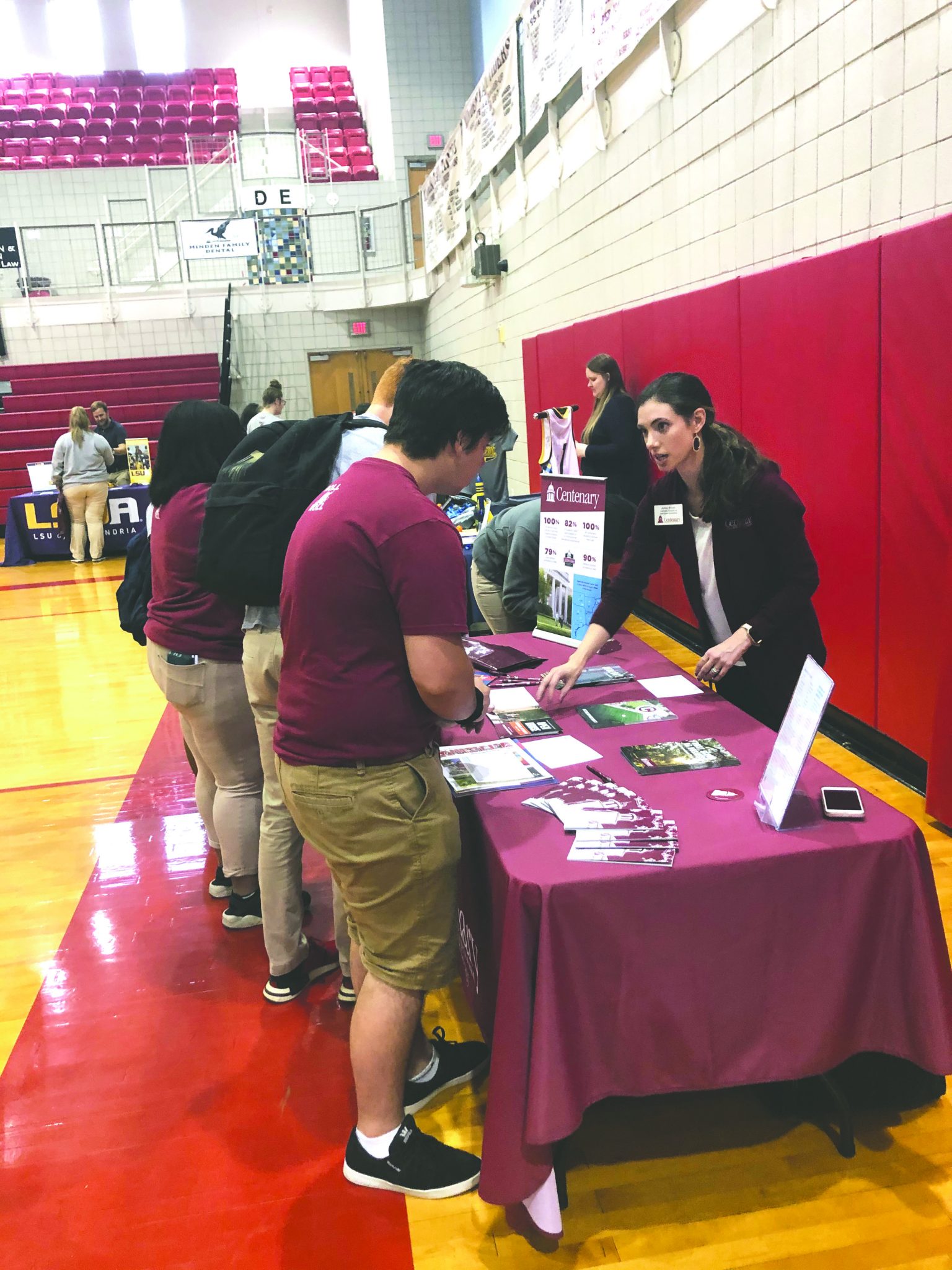 College recruiters lined the walls of the Minden High School Gymnasium Tuesday morning at a college fair that was being held there. Juniors and Seniors of Minden High School, Lakeside High School, and Doyline High School took part in order to get an idea of what the colleges in our surrounding area are offering.
"We have colleges from all over the state of Louisiana, Arkansas, and Texas as well as some branches of the military that are here to meet with our Juniors and Seniors from South Webster Parish, just to give them an idea of what options are out there for them, so they can start exploring their futures and what they want to do after high school," said Whitney Cane, Guidance Counselor at Minden High School.
The college fair used to take place during the night, but they changed it do a daytime event in order to assure more students could attend. "Well it used to be at night and we moved it to during the day so we could make sure that every Junior and every Senior walks through here," said Cane.
Various Colleges and Universities were in attendance such as Texas A&M Texarkana, LSU, Ouachita Baptist Church, Dillard, ULL, SAU, BPCC, NLTCC, SUSLA, LA Tech, ULM, Centenary, SAU Tech, NSU, LSUA, LSUS, SUBR, Louisiana College, and Southern Arkansas University.
To give an outsider's perspective on why she thinks going to college fairs like MHS is important for the students, Morgan Lunsford, Admissions Officer at Arkansas Tech University, said, "College fairs are really good opportunities for students because they get a chance to have everyone come to them and see their options. A lot of students don't start thinking about college until about the eleventh or twelfth grade, and it is nice to have everyone come to them in one area. That way, in a place that they're comfortable, can walk around and get the information they need."
Some teachers play a part in the college fair as well, such as, "Making sure students know how to talk to a college recruiter and what questions to ask. I think it's a great opportunity to get students acquainted with what all is out there, what programs are at different schools, and just making a personal connection with some of our college recruiters," said Cane.