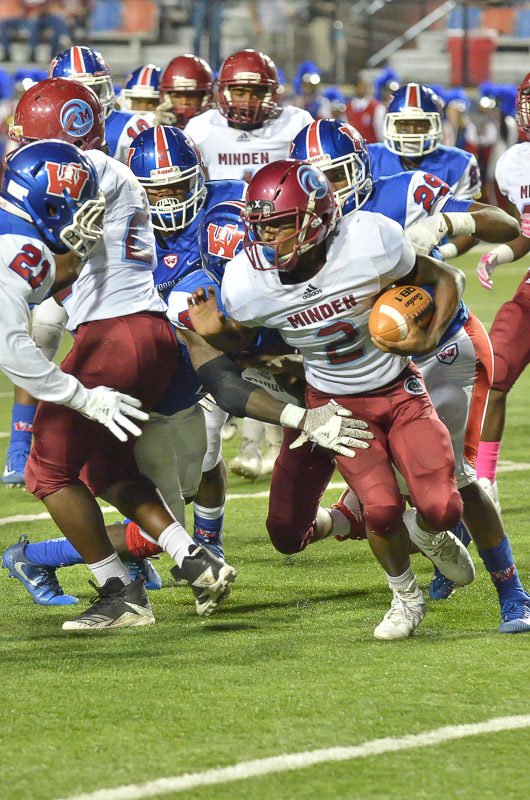 Tide tangle with 'Kats on homecoming, looking to improve playoff position
It's been a rough month for the Minden Crimson Tide, as they have gone winless in October following matchups with Benton, Woodlawn and Northwood, a trio of top-10 teams in Class 4A. Head coach Spencer Heard and the Tide are looking to shed that three-game losing streak this Friday against the Bossier Bearkats, who come to The Pit this week as Minden's homecoming opponent. It's also the final home game of the season for Minden (4-4, 2-3) and one they desperately need to win with North DeSoto looming in the regular season's final week. The Tide currently sit at No. 21 in the Class 4A power ratings, but a loss to the Bearkats would likely knock them back into the high 20's, where a loss to the Griffins could remove Minden from postseason play.
With high stakes for this showdown coupled in with the distractions of homecoming, Heard still isn't concerned about where his team is mentally. "I haven't really talked to them about it at all," Heard said. "We've been in big games before and played in front of big crowds. We just have to go out there and play football." Bossier (2-6, 0-5) began the season with back-to-back victories before reaching district play where they have gone winless. Heard said that what these Bearkats lack in talent, they make up for with fight. "I would categorize them as a scrappy bunch," Heard said. "They get after it. They have a couple of pretty decent athletes on both sides of the ball and are going to play hard til the end. We have to come out and play our 'A' game."
Bossier employs the option offense out of the wing-T, but will switch it up and run some spread formations when the time is right. Defensively, the Bearkats have yielded plenty of points, meaning Minden's stagnant offense could finally break out of its slump. Over the past three weeks, Minden is averaging a lowly 9.3 points per game.
Defensively, the Tide have been taking their hits as well, allowing an average of 43 points over the last three weeks against some of the state's best offenses. If all goes according to plan, which, according to Heard, is to get back to the building blocks of the offense, Minden will be able to control the ball, score more points and limit Bossier's possessions. Heard said he is hopeful his son Patrick can return for this contest from the ankle injury that's held him out of the team's last two contests. Bringing back the lightning-quick senior would boost Minden's chances tremendously. However, it's more important to have him healthy for the final test of the regular season against North DeSoto and then the playoffs. Junior defensive end Stephan Wheeler is also hoping to return to action this week, while running back Zack Gage should be closer to 100 percent. Also, Heard said safety Zi Crawford is likely to miss this week's game with a cracked rib. "We might get Stephan back," Heard said. "We'll just have to see how Patrick feels. He kind of tweaked the ankle again at practice, so we'll have to wait and see." Before the game kicks off, there will be a free community tailgate with several area business lined up on Ash Street giving out free food and Tide rally towels, courtesy of the Minden-South Webster Chamber of Commerce. The tailgate begins at 5:30 p.m.