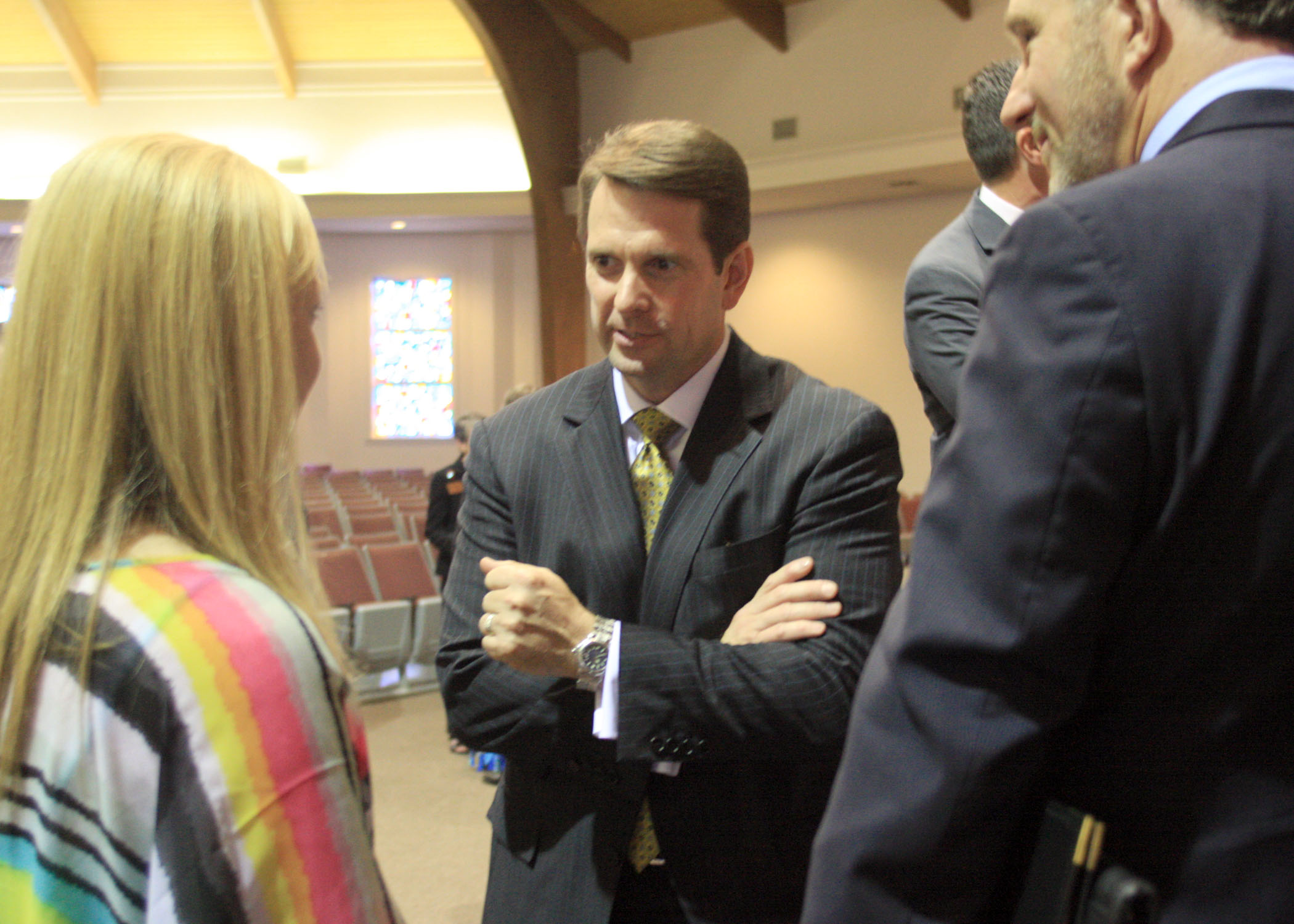 MARSHALL– The East Texas Baptist University Board of Trustees elected Minden native Dr. J. Blair Blackburn to serve as its next president.
The announcement came from ETBU Board of Trustees chair Hal Cornish after a special called trustee meeting Tuesday afternoon.
"Dr. Blackburn is an exceptionally well qualified and highly experienced individual ideally suited to be ETBU's next president," Cornish said. "The Board of Trustees and the entire ETBU community is very excited about the University's bright future under the presidential leadership of Dr. Blackburn."
Dr. Blackburn will succeed Dr. Samuel W. "Dub" Oliver who left to become the president of Union University located in Jackson, Tennessee, on June 1, 2014.
Dr. Blackburn currently serves as the executive vice president at Dallas Baptist University. He has been in this position since 2002, reporting directly to the president, and has 20 years of service with the institution.
In his role as executive vice president, Dr. Blackburn provides visionary servant leadership to three institutional divisions and oversees all aspects of campus operations, administrative affairs, student affairs, athletics, and enrollment, partnering with over 250 divisional employees.
Prior to his two decades of leadership at DBU, he served in three other institutions of higher learning in East Texas, including University of Texas at Tyler, Lon Morris College, and Paris Junior College.
Dr. Blackburn will join ETBU as its 13th president effective June 2015.
"I am excited and humbled that the Lord has called me to serve as president of East Texas Baptist University," Blackburn said. "Having been raised in northwest Louisiana and living in east Texas for many years, I have known and respected this institution for its unwavering commitment to stand as a beacon for Christ-centered education.
"It is my desire to partner together with the faithful faculty and staff of ETBU and build upon an incredible foundation as we press forward in the vision of building East Texas Baptist into an institution of greatness for the glory of God, he continued. I believe that as followers of Christ, we are called to live a life of excellence, and as a Christ-centered university, we are likewise called to pursue excellence in all aspects of our mission to train and equip men and women to be contributors for the Kingdom, in whatever and wherever the Lord calls."
"Michelle and I look forward to the opportunity God has granted us to serve the East Texas Baptist family. We want to reflect a model of Christ's servant leadership and to foster an engaging environment where transformational leadership is embraced and encouraged."
Dr. Blackburn has an associate of arts degree from Tyler Jr. College and graduated from the University of Texas at Tyler with a bachelor of science degree in political science. He holds a master of science degree in higher education administration from Texas A&M-Commerce. He earned his doctor of education in educational administration degree from Baylor University.
Dr. Blackburn went to Dallas Baptist University in 1995 to serve as assistant vice president for development. From 1996-1998, he was the assistant vice president for enrollment and administrative affairs. He served on two occasions as dean of the college of adult education (1997-1998; 1999-2001). The other positions he has served during his long tenure at DBU are vice president for enrollment and administrative affairs (1998-2001), senior vice president for enrollment and administrative affairs (2001), senior vice president (2001-2002), and acting director of athletics (2003-2004). He was extensively involved with DBU's reaccreditation process in 1998 and 2008.
The president of DBU, Dr. Gary Cook, says, "I have had the privilege to work side by side with Blair for 20 years. Over the course of that time, he has served in a variety of roles, each time meeting and exceeding expectations. He has worked closely with faculty and staff members in matters of accreditation, enrollment, advancement, student life, spiritual life, athletics, and construction, and he is so highly respected by his peers."
Dr. Cook added, "I know of few other leaders who are as diligent and driven as Dr. Blackburn, and while we are sad to see him leave DBU, I know that the Lord has wonderful plans for him and for East Texas Baptist University."
East Texas Baptist University offers graduate programs in business, counseling, religion and education, as well as 40 undergraduate degree programs. ETBU provides a Christ- centered education that emphasizes the integration of faith and learning. The ETBU experience is known for "Embracing Faith, Engaging Minds, and Empowering Leaders." For information, visit www.etbu.edu.