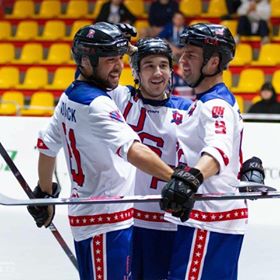 Minden native Josh Lodatto returned from Slovakia this month after representing Team USA in the Dek Ball Hockey World Cup.
Dek ball is a variation on the sport of ice hockey where the game is played outdoors on foot, or with inline or roller skates using a ball or puck.
"It was an awesome experience," Lodatto said. "It was an honor to represent the USA and the local hockey community in Shreveport."
Lodatto was pleased with his performance at the World Cup, but considers it a learning experience to help him improve.
"As an athlete, I will be preparing for the next World Cup in two years to work toward an opportunity to make the team again," he said.
After the Shreveport Mudbugs ice hockey team folded in 2011, Mudbugs owner Tommy Scott started a ball hockey league that has been developing ever since.
"We now have two adult leagues for advanced or beginners, as well as youth leagues" Lodatto said. "Tommy is definitely working on growing the sport. The way to do that is to get the kids involved."
Lodatto said getting involved in the sport is much easier with ball hockey than ice hockey, as players are not required to have skates.