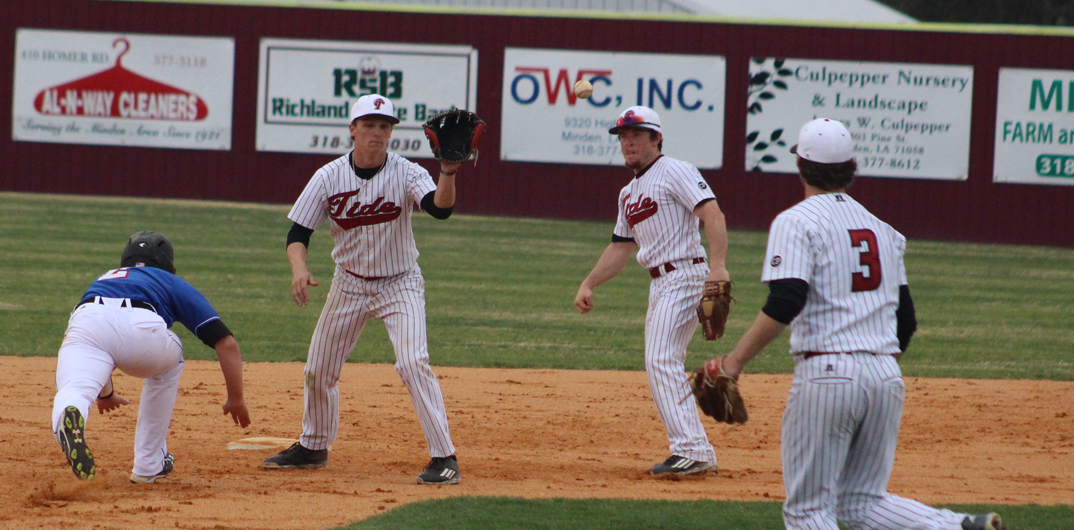 Several area baseball and softball teams took the field Thursday, some already underway and some playing the first game of their 2016 season.
Minden High, Lakeside and North Webster baseball all played their first games in the North DeSoto Tournament happening in Stonewall, while Minden and Lakeside softball had home games and North Webster's Lady Knights hosted Doyline and the Lady Panthers.
The Doyline boys had a road contest with Quitman.
Here are the results from what was a wild night on the diamond.
Baseball
Minden
STONEWALL – The Minden Crimson Tide started their season off the right way with a 6-0 victory against the Southwood Cowboys in the North DeSoto Tournament.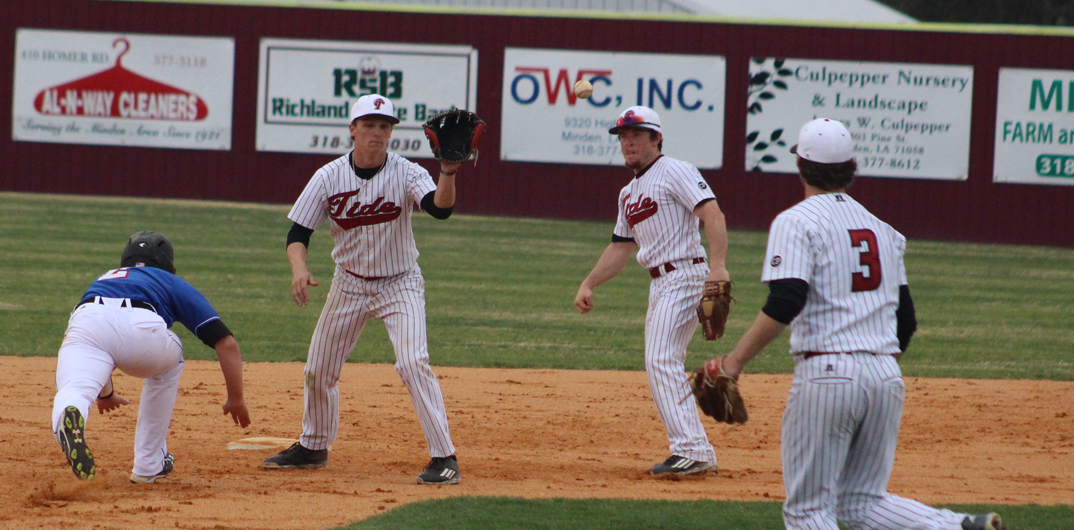 The Tide were effective at the plate totaling seven hits and even better on the mound en route to a shutout.
"I thought we would be kind of nervous with it being opening day," Minden head coach Dean Francis said. "But with our experience my kids stepped on the field and were ready to play."
Minden sent senior Clint Ray to the mound and got a stellar effort.
"The way Clint pitches, you know he's going to be around the plate," Francis said. "He just throws strikes and going in I told them defensively to be ready. Every ball they hit we made some good plays and backed him up really well. I think we scored every inning but two, and when you can score about every inning you have a good chance to win. Just a good ball game all together."
Peyton Gray went 2-3 with a pair of singles to lead the Tide at the plate, followed by Justin McCready who went 1-3 with a triple. Trace Francis, Gavin Smith, Matt Eskew and Gunner Stephens all added hits, while Cade Coleman had an RBI sac-fly to score McCready from third after his triple.
Ray's final line read seven strikeouts, three hits and no earned run, moving him to 1-0 on the season.
Today at 6 p.m., the Tide will take on North Webster in Stonewall.
"They have a good young team," Francis said. "They beat Southwood and Downsville already, I'm looking for a good game. It's our first time playing them in two years. Trace will be on the mound and hopefully he'll throw well, we'll hit the ball and we'll be okay."
Lakeside
The Lakeside Warriors had a tough go of things in their season opener against St. Mary's falling to the Tigers, 7-3.
The Warriors got solid efforts from their starters but missed opportunities at the plate and in the field have the team sitting at 0-1 on the young season.
"We still have a lot of work to do," Lakeside's Bob Gray said. "We're not doing the things a team needs to do to win games. The pieces to our puzzle are still jagged, but once we figure it out I think we'll be a pretty good team."
Brayden Jones went to the mound for Lakeside and gave the Warriors five innings, striking out five, giving up four hits and allowing two earned runs.
Jake Gray had an RBI double to lead the Warriors at the plate, Josh Prince went 2-3 with a pair of singles, Tanner Page went 1-2 with a double and Cameron Gray and Jayke Stewart added singles for Lakeside.
North Webster
North Webster defeated Downsville 10-5 to run their record to 2-0.
The Knights have a matchup with Minden today in Stonewall that should be an exciting ball game between the Webster Parish rivals. First pitch is set for 6 p.m.
Doyline
QUITMAN – The Doyline Panthers suffered a tough loss to Quitman, 14-4 on the road.
Leading the way for Doyline was Hunter Carter going 2-3 with a pair of singles and an RBI. Bryce Taylor added the other Doyline hit with a single.
Cameron Smith pitched well for Doyline but took the loss. He struck out two batters and gave up three hits while allowing two earned runs.
Softball
Minden
The Minden Lady Tider softball team picked up a win over Union Parish, 11-9.
The Lady Tiders had an offensive explosion to start their season.
"Most of our runs came off good, pure hits," head coach Taleshae Haulcy said. "We had some first game jitters but the way we hit the ball is really encouraging."
Olivia Osborne went 4-4 with two doubles and two singles while striking out seven batters to earn the win in the circle. Miliyah Newman and Antasia Rhodes each had a double and two singles, followed by Halie Cross and Shelia Dillard with doubles.
Minden takes on North Webster on Monday, Feb. 29 in Springhill at 5 p.m.
North Webster
SPRINGHILL – The Lady Knights defeated the Doyline Lady Panthers by 10-run rule, 11-1.
Next up for the Lady Knights is the home showdown with the Minden Lady Tiders, while Doyline will take on Loyola today in Shreveport at 7:30 p.m. in the Southwood/Northwood Tournament.