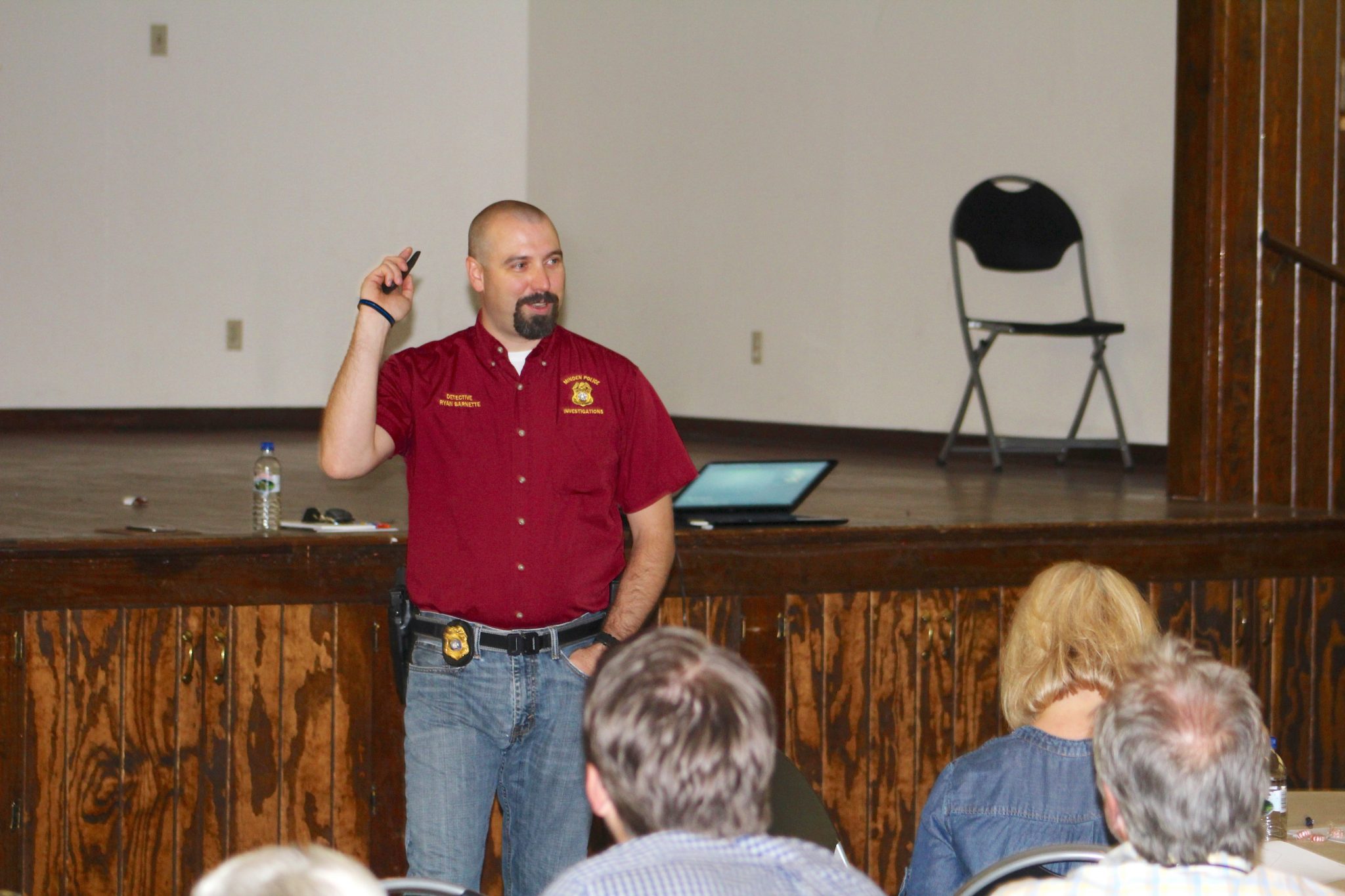 It's a moment few like to think about, but preparedness can save lives.
The Minden South-Webster Chamber of Commerce teamed with the Minden Police Department and Detective Ryan Barnette for an active shooter seminar Thursday morning at the Minden Community House.
Barnette, whose wife Stephanie serves as Chamber president, rose to the rank of sergeant in 2012 and works as a team leader on MPD's Special Response Team (SRT). He has been a certified active shooter response trainer/instructor since 2014 and was transferred from patrol into criminal investigations in July 2016.
With fellow officers in attendance to lend assistance, Barnette led the class through a two-hour lecture on the importance of knowing the definition of an active shooter, where these events are most likely to take place, instances of past tragedies, phases of an incident, legal rights of citizens permitted to carry firearms and what to do if placed in an active shooter situation.
"I think everything went really well," Barnette said. "I hope everyone can say they left here with more knowledge than when they came. I hope that they are now better prepared to handle situations like this and the severity of being prepared. It's important to have the right mindset and quality training to better understand what will happen with themselves and the police response. Hopefully, everyone's better prepared to save lives, because that's the ultimate goal."
The National Tactical Officer's Association defines an active shooter as, "One or more subjects who participate in a random or systematic shooting spree, demonstrating their intent to continuously harm others. The overriding objective of an active killer appears to be that of mass murder, rather than other criminal conduct such as robbery, hostage taking, etc. It also includes anyone who uses any other deadly weapon to systematically or randomly inflict death or serious bodily harm on others over a continuous or extended period of time."
Barnette presented a 2014 FBI study of 160 active shooter incidents in the United States between 2000-2013, showing that 45.6 percent of those shootings took place in the workplace – 27.5 percent in businesses open to pedestrian traffic – while 24.4 occur in schools.
Coincidentally, or not, the majority of the audience was made up of business owners and their employees. Also present were several church pastors or church security detail members, sensing the need to protect places of worship in the wake of recent attacks on churches. Several attendees approached Barnette after the seminar to bring his knowledge to their employees or church.
One area Barnette spent an extended amount of time was decision making. To express how fast a situation can develop, Barnette had two officers assist him with a mock active shooter entering the Community House, testing the audience to see if they could remember how many shots were fired or how long he was shooting.
He referenced what is known as the "OODA" Loop:
Observe the situation
Orient yourself appropriately
Decide what to do
Act accordingly
If ever confronted with an active shooter, Barnette outlined the proper protocol for fighting back or defending one's self if absolutely necessary.
"Identify any potential weapons," Barnette said. "If you're in the hospital, it could be a syringe or IV pole. In a regular office, it could be a stapler or another solid object that you could grab and use as a club."
Working together, trying to distract or challenging the suspect are also important responses, as Barnette points out active shooters are often stopped by their intended targets who may even be unarmed.
Questions from the audience led to topics such as when to shoot and when not to shoot, how many times to shoot a suspect and how to safely operate a firearm.
Additionally, Barnette addressed the four fundamentals of shooting your gun and four important gun safety rules.
Gun Safety Rules
1. Treat every gun as if it's always loaded
2. Know your target and what is beyond it
3. Keep your finger off the trigger until you are ready to shoot
4. Never point the gun at anything you are not willing to destroy
Gun Shooting Fundamentals
1. Sight picture
2. Sight alignment
3. Trigger press
4. Follow through
"I strongly encourage everyone to be familiar with the four gun safety rules," Barnette said. "Seek out reputable training from a qualified instructor and know what it actually means to carry a gun on a regular basis."
Also in attendance were Devin Martin and Jeff Simmons of SecurityPro, a company specializing in alarms, cameras, automation and other security measures.
"We started in this business in 1999," Martin said. "We have camera systems, access control systems, commercial security systems; we do panic buttons, we do safe rooms and anything with low-voltage systems like VOIP phone systems, audio systems, etc."
"We're seeing a rise these days in armed robberies at businesses, so we're putting in a lot of panic buttons and HD camera systems so we have good, quality images to give to our police officers. A lot of time we get called out to pull up the footage for detectives and they like when they can get a clear picture so they can see the logo on a suspect's shirt or markings."
On display at the seminar was one of SecurityPro's HD four-camera systems complete with DVR for playback. Martin said purchase and installation for that system runs about $1500, but the company offers much more, including a cellular app for customers to have playback and zoom at their fingertips.
"You can live-view the cameras from your phone or playback the footage," Martin said. "We have motion detectors, door detectors with text notification. Even if the power goes out, you get a text. It keeps you connected to your property, whether that be a home or business, no matter where you are in the world."
SecurityPro is located at 801 Broadway St. above Geaux Fresh, the new eatery owned and operated by Martin's wife, Jodie.
For more information on active shooters or to setup an active shooter seminar for your business or faculty, contact Detective Ryan Barnette via email at rbarnette@mindenusa.com or by phone at 371-4226 (Ext. 259).