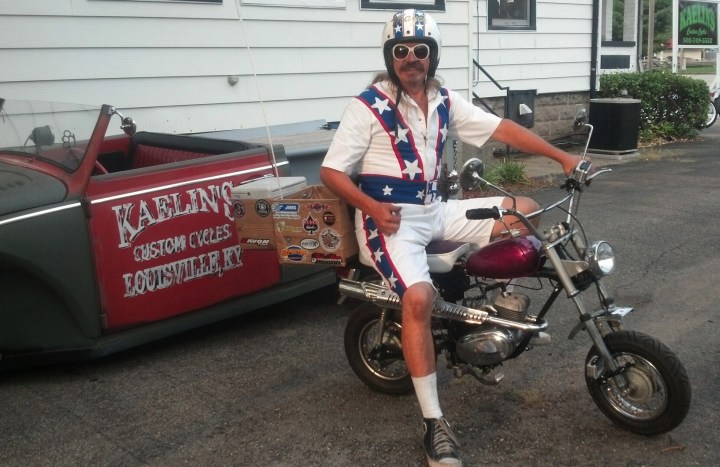 A man who broke the mini-bike riding record will be coming through Minden Thursday for a special cause.
Kevin Bean're, known to most in the motorcycle world as "the Mayor of Fun," or the "Motorcycle Nomad" will be coming through Minden to raise awareness of Adrenoleukodystrophy, or ALD. Bean're and Tim Ford will be at the Dorcheat Historical Museum, located at 116 Pearl St., at 6 p.m. for a book signing and a slide show presentation.
ALD is a deadly genetic disease that affects one in 17,000 people. As it is an X-linked genetic disease, it most severely affects boys and men. It is a brain disorder that destroys myelin, the protective sheath that surrounds the brain's neurons, the nerve cells that allow us to think and to control muscles.
Bean're is riding cross-country, known as "Aidain's Mini Bike Ride." The theme for the ride is taken from the "Blues Brothers" movie. Like the movie, Bean're and Tim Ford are "On a Mission from God" to help children."
"Jake and Elwood were doing it for a children's charity and so are we," Bean're said. "We are trying to promote awareness and education along the way about ALD and we thought what better way to get people's attention? So for 21 days, Tim and I will be Blues Brothers across America."
Aidan Jack Seeger was the son of Bean're's best friend and passed away from ALD at a very young age. The ride is to raise money and awareness of how this
disease can be detected at birth and treated so young boys and men don't have to endure what Seeger did. Bean're and Ford will be passing through state capitols along the route to carry some legislation about mandatory newborn testing and screening in states that don't provide it.
A fundraiser will be held on Sunday by Rick Fairless' Strokers in Dallas. Legislation will be taken to the Texas State House before Bean're and Ford head west. They are expected to arrive in San Diego, California in about three weeks.
As part of the fundraiser, t-shirts, patches and stickers will be available online at the Aidan Jack Seeger Foundation website www.aidainhasaposse.org.