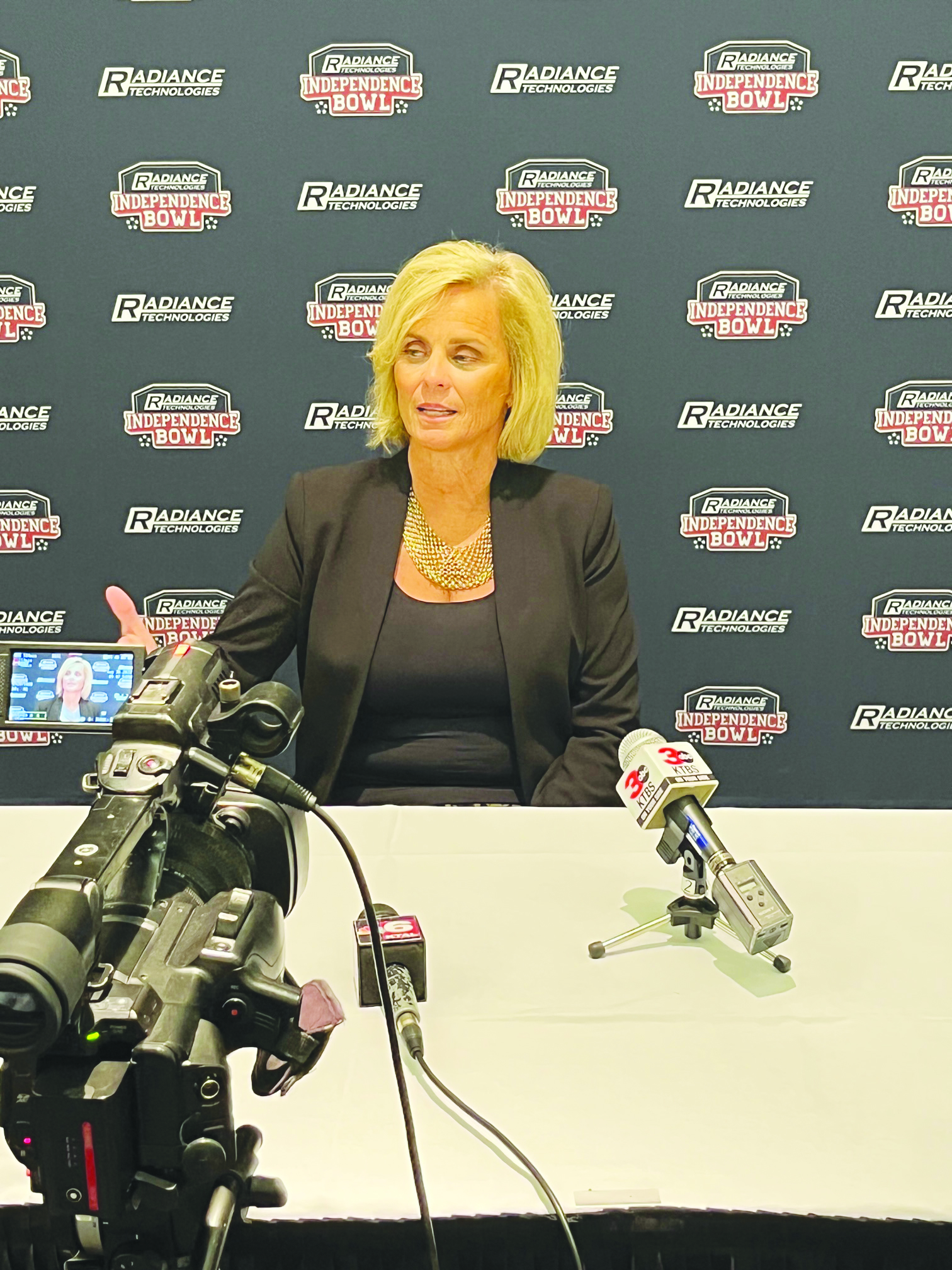 OK, there were probably a few in the audience at the Radiance Technologies Independence Bowl Kickoff Dinner recently at the Shreveport Convention Center that knew, a couple of her former players and some coaching colleagues perhaps, others that have heard her speak before.
The jokes were very slightly risqué. "I want to tell a joke. I don't know. Is it OK? Are the preachers going to be all right?, Mulkey asked in mock concern before she told the first one.
Both brought down the house.
Mulkey, the Women's Head Basketball Coach at LSU, gave an entertaining speech that lasted about 25 minutes. Of course, humor was just a part of it.
In the first part, she spoke about why she decided to take the LSU job in April of 2021 after turning Baylor from a low-level Big 12 program into a three-time national champion.
Simply put, it was about coming home.
Mulkey grew up 40 miles from LSU in Hammond. She then spent 19 years as a player and assistant coach to Leon Barmore at Louisiana Tech before heading to Waco,
Her incredible resume is well known — four-time high school state champion at Hammond, All-America and two-time national champion as a player at Louisiana Tech, Olympic gold medalist, national champion as an assistant at Tech and the success at Baylor.
For Mulkey, Louisiana is the place to be. She extolled the virtues of the state. "Where can you go in this country where there are parishes instead of counties? Scratch that one off. That's a positive," she said generating laughter.
Did you know that the state drink of Louisiana is milk? Mulkey does.
Mulkey acknowledged Louisiana has issues and problems like just about anywhere. She said she came home because she wanted to be a part of the solution.
"I came back to Louisiana because I think timing in everyone's life is so important," she said. "The second reason I came back is because I wanted to be a positive for our state. I wanted to be a positive. I didn't know what it was. I knew they wanted me to win basketball games at LSU. They wanted me to help change the culture. I get all of that.
"But there was more inside of me that said I can be a positive for our state. Yes, we're going to hear about crime, yes we're going to hear about poverty, yes we're going to hear about education. Well guess what, it's like that in every state.
"You can choose to be the negative that repeats it or we can choose to do something about it. And I feel like me coming back to the state of Louisiana hopefully sent a message loud and clear that I'm proud of where I'm from."
She also spoke about leadership, naming five principles — communication, trust, care, responsibility and pride.
She talked about how she is never surprised about winning and that as a leader you can never expect to fail or be afraid to fail.
For the latter, she used her move to Baylor as an example.
"I left my alma mater to take over a program at Baylor University that was in the bottom of the Big 12," she said.
"But I wasn't afraid. I'm not afraid to fail. I don't like to fall, but I'm not afraid of it."
She wrapped her speech talking about the difference between average, good and great players.
"Average players, they want to be left alone," Mulkey said. "The good players, they want to be coached. The great players want to be told the truth. Tell me the truth. Brutal honesty is all I ever wanted from my coaches. Sometimes I didn't agree with them. Sometimes I didn't agree with what they said to be true. But they always gave me the brutal truth."
Last week, Mulkey dropped a little truth on the Convention Center audience in her own unique way.