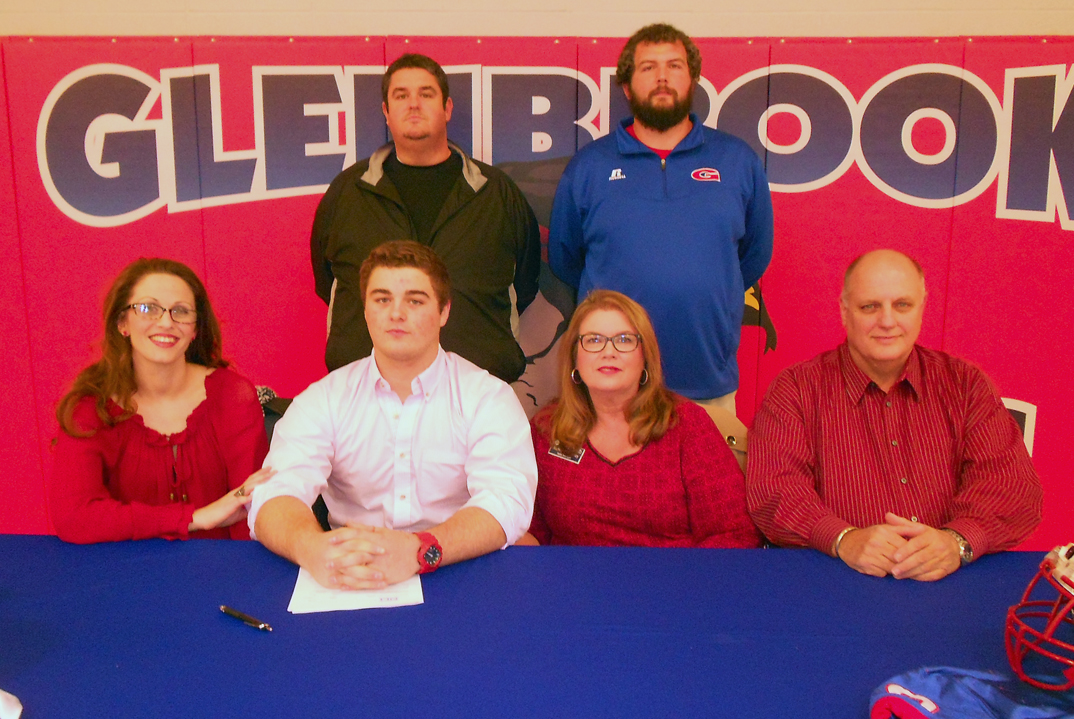 Wednesday marked National Signing Day for high school athletes signing Letters of Intent to play college football.
Six area athletes were lucky enough to put pen to paper Wednesday, officially agreeing to continue their playing days at the schools of their choice.
There were five athletes from North Webster High School who signed and one from Glenbrook School.
Signing to play with Chadron State in Chadron, Nebraska, was Glenbrook senior center Austin Harris.
Harris came to Glenbrook as a junior last year, making an instant impact on the offensive and defensive line.
Chadron State took notice, and now Harris couldn't be happier to be an Eagle.
"I talked about it with my family and coaches and decided it was a good fit," Harris said. "It's a full tuition paid scholarship, and I'll be majoring in Kinesiology."
Harris's mom, Crystal Walden, was also especially happy.
"I'm very proud and excited for him," Walden said. "I'm looking forward to what the future holds for him and I know he's going to do great."
Glenbrook head football coach Chris Norton said Harris has a chance to shine at Chadron State.
"He has a chance to be a good player in a great program," Norton said. "He has everything you need to be a great player. Austin is somebody everyone has rallied around and leaned on. His work ethic is very strong in his two years here and he's been a great player for Glenbrook."
Chadron State of Division II is where current NFL player Danny Woodhead of the San Diego Chargers went to school.
North Webster
North Webster High School held a school-wide assembly to honor their five signees, an impressive number for any Webster Parish school.
Trey Thomas, Lyntravious Gipson and Ryan Washington all signed on the dotted line for Southern Arkansas University.
Thomas – as his head coach John Ware described him – was a late bloomer. He will play center for the Muleriders.
Gipson, an athlete, was one of the areas premier playmakers this season.
Washington will sign with the Muleriders as a linebacker.
Defensive back Darius Gilbert picked the University of Houston. Gilbert will get to play in the Cougars brand new and improved stadium for the next four years.
JeKyren Miles was a ballhawk all year for the Knights. He will take his talents to Arizona Western, one of the top junior colleges in the country.
"To have five young men sign was a very special moment," Ware said. "Not just for me as their football coach but for this school. People want kids from winning programs and these guys have worked extremely hard to get to these spots. It's just an exciting day."