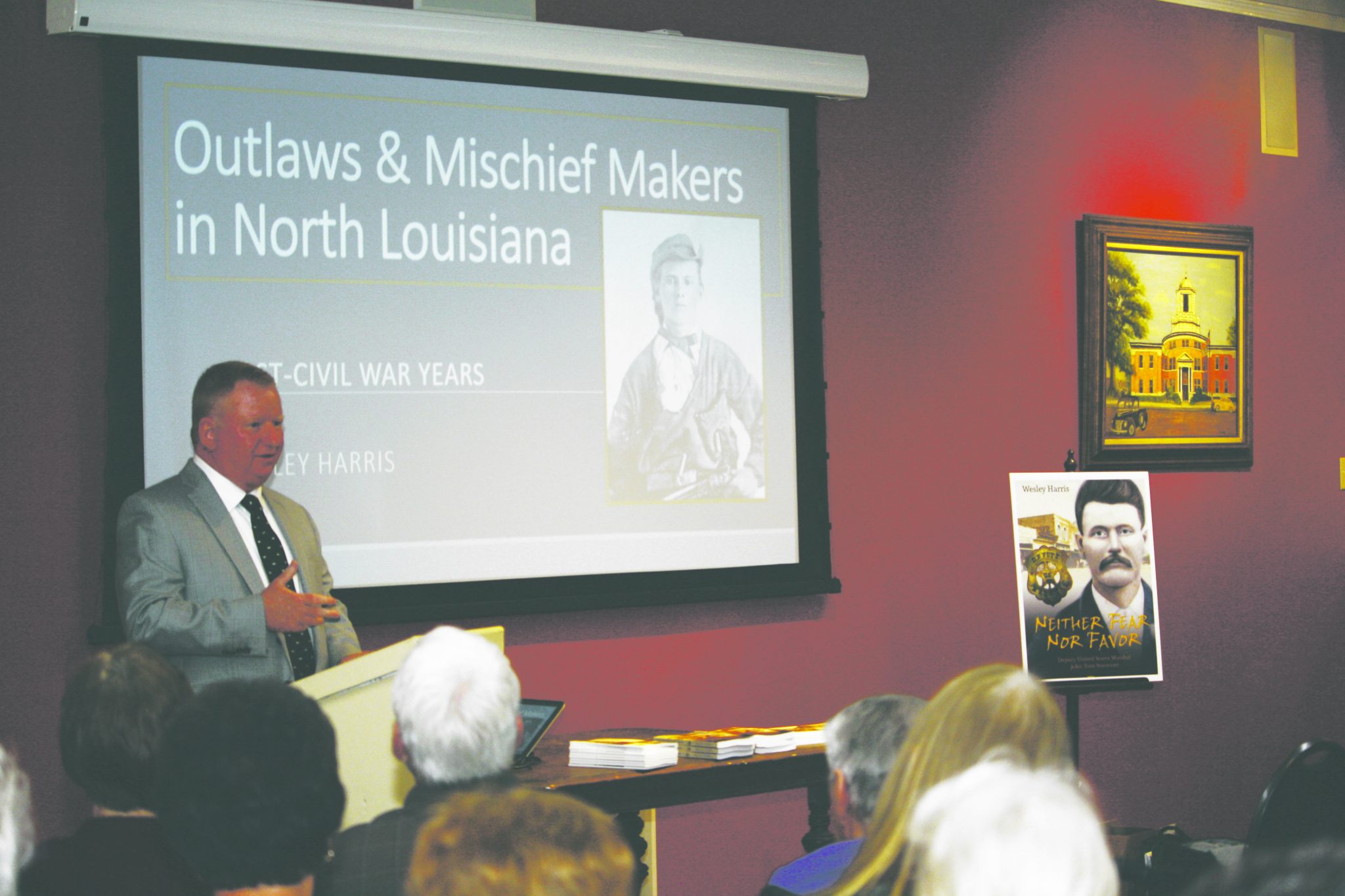 Wesley Harris paints a colorful picture of webster parish history
The Dorcheat Historical Association Museum held its 64th Night at the Museum, event on Monday evening in the Media/Learning center. After being closed for weeks due to electrical upgrades, the museum opened its doors welcoming writer and crime researcher, Wesley Harris.
Schelley Brown Francis opened up the program by briefly speaking on the upcoming silent auction to be held in September. The money raised this year will go towards starting on the new building next door that was purchased a couple years ago, that will more than double their space. Francis said, "I would like to see that happen within the next year. It's going to be really nice. We've got lots of stories to tell, but we just don't have the space to tell them and over there we will be able to tell a lot of stories."
Ty Pendergrass came to the podium to speak on his cousin, Wesley Harris' background. Harris is a native of Ruston and earned his B.S. and M.A. from Louisiana Tech. He is currently the manager of Lake Claiborne State Park, serves on the criminal justice faculty of the University of Phoenix, and is the President of Lincoln Parish Museum. He has written professionally for more than three decades, authoring several books and articles on police procedure and American history, including his latest book "Neither Fear Nor Favor." Harris also has a law enforcement career spanning more than 40 years, serving in nearly every position patrol officer, detective, trainer, section commander, and police chief.
Harris spoke on the subject of early outlaws and mischief makers of the post-Civil War era. He highlighted the "West-Kimbrel Gang," the Nightriders, and the double stagecoach robbery of Jan. 1874.
The robbery took place on a stagecoach line that stretched from Monroe to Shreveport. The Monroe stage would travel west and the Shreveport stage traveled east with them crossing during the day. The west bound stage was held up and robbed in between Arcadia and Minden by five outlaw men. While that was taking place the east bound stage coming from Shreveport came up on the outlaws, where it was held up and robbed, as well.
Harris said, "There are only eight double stagecoach robberies that have ever taken place. Seven of those were in Arizona and this is the other one."
It is believed that Jesse James may have been one of the five outlaw men responsible for this robbery, along with his brother Frank, Cole Younger, Bob Younger, and Arthur McCoy.
Harris spoke briefly on the Coushatta Massacre, Abraham Lincoln Waggoner, Big Jim Curie, and Maurice Barrymore. He closed out the program by taking questions from the group in attendance. Harris will be back in May to discuss the history of US Hwy 80.
Webster Parish Historian, John Agan, will be the guest speaker of the 65th Night at the Museum to be held on April 8. For more information contact Schelley Brown Francis at 318-377-3002 or visit www.museuminminden.blogspot.com to sign up for the museum email blast. The Dorcheat Museum also has a Facebook page which includes up to date information, including upcoming events.